Hello and Welcome 🙂
In the following few months, we will take you on a trip around kitchen programs and food workshops in Vancouver.
Our Group Members
Ya Wen, third year dietetics; I am passionate about food and nutrition education. I love cooking with kids and helping them understand the importance of healthy eating.
Lingyun Pei, third year nutritional science student; I am interested in nutrition and human health, and also want to know more about healthy eating.
Peiying Wu, or you can call me Alice, also a third year nutritional science student; I like baking, enjoy sweets, love music and meeting new people. Always thrilled to listen to the different stories others have and get to know their experiences!
Ya Gao, third year nutritional science student; I love cooking, and I enjoy planning my own recipes that help me eat more healthy. I am also a big fan of rap music and Eminem is my favorite rapper.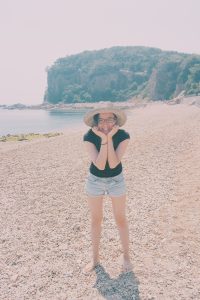 Yanzhao Wu, third year food and nutritional sciences double major student; The only reason why I choose food and nutrition is actually very simple, all for foods. I love trying different foods of different culture, and love cooking Chinese food and creating new dishes.
Christine Hsu, fourth year in Food, Nutrition, and Heath. The quote by Dr. Lewis Smith "You are what you eat, but that's a whole constellation of foods, not just a single food or a single component of a food" inspired me to understand that food and health are strongly related to one another. Food Nutrition has been my biggest passion and dream since grade 7. This passion has driven me to move to Canada alone and to study at UBC.
Why Van FAM?
        The reason why our group chooses Vancouver Food Asset Map (Van FAM) project is because we all strongly believe in Asset-Based Community Development! In our mind, mobilizing the assets created "by the community" to serve "for the community" is one of most sustainable way to promote community development. After checking Toronto's "Food by Ward" website, we were amazed by how they identified thousands of local food highlights and use them to help local people. We are glad to hear that the same initiative is happening in Vancouver, and we would really love to be a part of it and provide help!
        Our love of cooking and our nutritional science background make us particularly interested in the Kitchen or Food Programs. Through our studies, we all understand that food security is not only about obtaining the food (Food Accessibility), but also relying on the knowledge and skills to prepare the food into safe and nutritious meals (Food Utilization). That's why community kitchen programs and food workshops, in our point of view, are great resources to support local food security.
        Our goal is to identify these wonderful, local-initiated resources and then bring them back to the locals. Through working together on this project, we hope that we can achieve a better understanding of community food system, we hope we can obtain various research skills, including excellent communication skills, creating harmonious teamwork environment and rigorous logic application, above all, we hope we can harvest pure friendship.
        Having worked as a group to perform presentations and fulfill every given task in LFS 250, we are now equipped with a great deal of problem-solving capbility. At this moment, we are like warriors full of spirit and energy, ready to face challenges and difficulties on our way! We are looking forward to our project!
About Our Project
Objectives
        Our project focus on the development of a Vancouver Food Asset Map and has 3 main goals.
To provide a tool to community members and agencies for locating community food assets that is current, dynamic, and easy to use.

To build capacity and support food access for community members dealing with food insecurity.

To make it easier for Vancouver community partners to view and utilize community food assets strategically
Organization and Community
        This project is collaborating with Vancouver Coastal Health and is led by a Public Health Dietitian, Teya Stephens, MSc, RD. In the second component of the project, our group will work with our community partner, Grandview Woodland Neighbourhood, one of the oldest neighbourhoods in Vancover. A key feature of this neighbourhood is its ethnic diversity. Besides English, Mandarine, Cantonese, French, Spanish, Italian and Tagalog are also major languages (spoken by more than 2% of the population) in this neighbourhood. Working with people from ethnically and culturally diverse backgrounds will definitely be challenging but rewarding!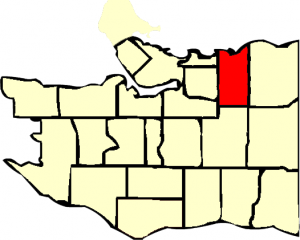 Grandview Woodland Neighbourhood
(Picture credits to Buchanan-Hermit and photo credits to Iota 9, CC BY-SA 3.0)
Our First Impression
        Until now, we have been working on this project for a week. During this week, we have done the following things:
        

Set up our team

        

Met with TA (Fransisco Gomez)

        

Met our organization partners (Teya Stephens, MSc, RD from VCH)

        

Got familiar with the project

        

Started first-round research on kitchen & food workshop assets
        Meeting with Teya in Evergreen Community Health Centre is definitely the highlight of our first week. Her impassioned presentation greatly enhanced our understanding on this asset-based community project. She also mentioned that although it is the Vancouver Coastal Health (VCH) that initiates this project, they hope that eventually the Vancouver community can take over the ownership of the map in the future. We love this idea because it is promoting a self-sustained and self-reliant community where residents could recognize and continuously build on their local assets.
        We are happy to learn that we will have many of the chances to interact with our local communities and organizations, "to listen to them, instead of just tell them what to do" (Ernesto Sirolli, TED Talk). We especially like the second component of this project: trialling the asset map in a partner community. As what Ernesto said in his talk, "first principle of aid is respect"! We are fully aware that the key factor to accomplish our project is to respect the local people, to acknowledge their true needs and to embrace their historical, ethnical and cultural believes.
        Since we will be working in an ethnically diverse community, we also hope that by listening to the locals, we could make the asset map more equally accessible to people with different backgrounds, and subsequently promote food justice in the community. Although our project is only three months, we will try our best to make it perfect.  
    Go, Group 9!