I stole the title of this blog from the global music radio show I hosted in the 1970s in Madison, Wisconsin, but it seemes a fitting title for a rumination on universities in the global era.
As I write this, I'm on the highway from the downtown of the mega-city of Chongqing to the Sijuan Fine Arts Institute. The weather here in Chongqing is humid and 40 degrees, but I feel quite at home, having worked on-and-off through my adult life in the Caribbean. Indeed, even the spicy Sijuan food is a natural for me. I'm here as part of a UBC delegation to the municipality of Chongqing to sign a wide-ranging memorandum of agreement with the municipality and with the city's many universities – it's the first agreement of its kind in China where an entire city pledges to work with a foreign university for research, faculty exchange, student exchange and public impact.
Chongqing is often thought of as the gateway to the west and southwest of China. With 32 million people, it's the size of Canada, so imagine that UBC is now working with the universities and a political entity the size of our entire country! Nestled along the bend of the great Yangtze river with the Jialing river and its tributaries running through and around the city, and ringed by mountains, this is a huge manufacturing city and the only city run directly by the central government that's not on the Eastern seaboard (the others are Beijing, Tianjin, and Shanghai, and Hong Kong now falls in this category too). The universities with which we're meeting include the comprehensive universities of Chongqing University and South West University as well as some more specialized universities: the South West University of Politics and Law (SWUPL), Chongqing Medical University, the Sijuan International Studies University (SISU), and the Sijuan Institute of Fine Arts (SIFA). Among them they present a rich set of opportunities for researchers collaborations, and some will make great partners with which to create joint and dual degrees or with which to exchange students for short-term study.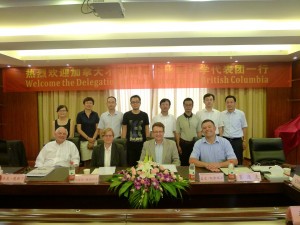 With the deans of the South West University of Political Science and Law. First row, L to R: Senator Jack Austin, Dean of Law Mary Ann Bobinski, me, and Yves Tiberghien, Director of the Institute for Asian Research.
I've believed for decades that North American universities need to look out on global horizons: no great university can be anything other than a global university. For our students to be competitive in a world of international travel, trade, and communication, they have to be world-ready, proficient in intercultural communications, and intellectually cosmopolitan. They need the opportunity to learn as they travel and to engage with international students in and out of the classroom at UBC. Our professors, whose research interests already span the globe, need good quality partners, co-researchers, and supportive institutions abroad. They need to travel, collaborate with leading researchers in foreign universities, present their findings in global contexts, and publish in other languages, and so we need to find ways to smooth their path and to facilitate exchange.
No country in the history of the world has ever invested more in postsecondary education than China has in the last decade and a half. Starting in the late 1990s China built from scratch more than a thousand universities, which joined many already established universities such as Tsinghua, Shanghai Jiao Tong, Beijing and Hong Kong University. The Chinese are investing to bring their leading universities upwards in global rankings, and China will, within a decade or at most two, be a major importer of students from all over the world. Chinese universities are determined to make sure that their students travel as part of their studies to learn from the experiences of universities abroad, and they are keen avoid the isolation that characterized the period before the 1980s.
I knew that many of the facilities would be new and impressive, but what was most surprising in the trip was the advanced sense of pedagogy among university administrators and faculty. They have limited lecturing in many places to less than 50% of class time and have converted traditional lecture halls into practicum facilities for simulations, debate, and problem solving. At SISU, I toured great facilities for Model UN meetings, negotiation-simulation rooms to train diplomats, and very contemporary computer-classrooms. This is right in line with our own goals, but the Chinese, as usual, seem to be able to turn the ship faster.
UBC is Canada's Gateway to Asia, and agreements like this one with the Municipality and universities of Chongqing will deepen and broaden our engagement with China and with Asia in general. You may have also heard that we've launched the China Council at UBC (www.chinacouncil.ubc.ca), with our Vice President Research & International and former Senator Jack Austin as co-chairs. This too will help UBC to collaborate, coordinate, and communicate on China much more efficiently and effectively. Arts is perfectly poised to be the key player in advancing our Asian interests, with both the Institute for Asian Research and the Asian Studies Department within the Faculty, but also with key Asian-focused researchers in Economics, Political Science, History, Art History, Sociology, Anthropology, Geography, Music, Philosophy, Social Work and more.
As a visitor to Chongqing, the trip can sometimes feel like a long sequence of banquets, with many, many toasts, but the reality is that these visits build friendships, partnerships, and concrete plans for advancing our collaborations beyond the standard language of memoranda of agreement (MOUs). The Chongqing hospitality is legendary, but more important is the optimistic, open, spirit of cooperation with which we've been met. The 21st century may turn out to be the Asian Century, but initiatives like this are intended to make sure that Canada, and especially BC and UBC, are key players in this Century. And of course our strategic interests with Chinese universities aren't confined to a city, and our international collaborations span the globe. For example, on September 3rd, after Imagine Day festivities, I take off for Menton and Rheims, France, to meet and engage with the first of cohort of dual degree students between Sciences Po (university) and UBC. But right now, I'm thinking about all the ways that this partnership can help our students and faculty, and, as always, thinking about how we keep our eyes on the horizon.