Are you beach body ready? The societal pressure for women (and men) to look a certain way is detrimental to both one's physical and mental health. While body positivity movements have led to greater acceptance of different body types over the past few years, it feels as though we have taken two steps back as a result of our addiction to social media. Instagram has become a tool for us to compare ourselves to complete strangers on a daily (or hourly) basis. We are constantly being inundated with photos of fitness transformations and influencers leading seemingly amazing lives in their perfectly toned bodies. While the pressure to have the "perfect body" is not a new phenomenon by any means, the advent of social media has inadvertently encouraged it.
The above advertisement for a weight loss supplement illustrates this problem. The ad portrays an incredibly fit and beautiful woman with the tagline, "are you beach body ready?" indicating that one must lose weight and look like this model in order to have a body worthy of being at a beach. Although this ad came out four years ago, the idea that one must attain a particular body type in order to pull off a bathing suit is still prevalent today. For instance, Kayla Itsines' world-renowned twelve-week "BBG" workout program stands for "Bikini Body Guide," implying that by accomplishing her workout plan, one could obtain an appropriate bikini body. Famous fitness influencers (or "fit-fluencers") post quotes on their Instagram accounts stating things like, "summer bodies are made in the winter." As a society we are perpetuating these unrealistic expectations of the way women's bodies should look, under the notion of promoting self-confidence and body positivity – it's toxic.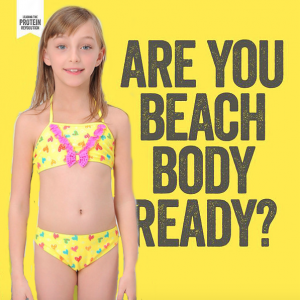 In my jammed version of this advertisement, I used a child in place of the model. While I was attempting to demonstrate how absurd the "beach body" mentality is through this juxtaposition, when I see this jammed advertisement I just feel sad. I would never think to judge the body of a young girl, but I also know that I was likely around this child's age when I began to feel self-conscious and critical about my own body. With social media platforms like Instagram so easily accessible these days, I can only imagine how detrimental this platform for comparison must be to the body images of developing young girls. A study examining the implications of this phenomenon found that comparing one's appearance with others via social media influenced the level of body dissatisfaction in adolescent girls (Makwana, Lee, Parkin, & Farmer, n.d.). This is incredibly concerning considering the fact that up to 80% of adolescents have social media accounts, with the starting age being twelve-years-old on average (Howard, 2018).
So at what age do we normalize these unrealistic expectations of women's bodies? When does it become socially acceptable to judge others on the basis of their appearance? Had I selected a teenage girl instead, would this jammed advertisement have appeared less absurd?
As mentioned above, the conversation is changing. Body positivity is on the rise, and while this more accepting mentality may not be enough to overshadow the never-ending comparisons of our virtual selves, perhaps it can positively influence the body images and attitudes of the next generation. The negative backlash that the initial advertisement received in 2015 (prompting the removal of all "beach body" ads in the U.K.) is also encouraging (Andriako, 2015). Society as a whole has become less accepting of the promotion of a singular ideal body type. However, social media users must retire the endless self-promotion and body shaming under the guise of healthful living and acceptance before any real change can truly be enacted.
References:
Andriakos, J. (2015, April 30). Controversial 'Beach Body' Ads Will Be Removed in the UK. Retrieved from https://people.com/bodies/controversial-beach-body-ads-will-be-removed-in-the-uk/
Howard, J. (2018, June 22). What's the age when kids start social media? Retrieved from https://www.cnn.com/2018/06/22/health/social-media-for-kids-parent-curve/index.html
Makwana, B., Lee, Y., Parkin, S., & Farmer, L. (n.d.). Selfie-Esteem: The Relationship Between Body Dissatisfaction and Social Media in Adolescent and Young Women. Retrieved from http://www.in-mind.org/article/selfie-esteem-the-relationship-between-body-dissatisfaction-and-social-media-in-adolescent
https://www.aliexpress.com/item/HIHEART-2015-Brand-Summer-Girls-Swimwear-Cute-Heart-Print-Baby-Kids-Swimsuit-Halter-Little-Girl-Bikinis/32315103489.html