– Under Construction

LEARNING ACTIVITIES
The Faculty of Education recommends this course to students interested in applying to their program.  Students are welcome to develop learning activities for students of all ages.  A teacher's guide with learning objectives and support materials is required for this type of project
TRAIL GUIDES
This type of project can take a number of forms.  Some students develop interactive guides (for example, UBC map on website to the left in conjunction with activities, such as Key).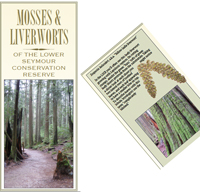 Erica Hunter developed a guide to common bryophytes of the Seymour Conservation Reserve.  In her trail pamphlet, Erica not only describes the species and gives the reader a good overview of bryophytes, but they are illustrated with her own coloured drawings.
Other students develop pictorial guides to specific trails or garden locations as well as do vegetation survey.