Scott McMillan
By Scott McMillan on April 29, 2014
WordPress 3.9 "Smith" details here. Enjoy!
By Scott McMillan on March 14, 2014
We have disabled XML-RPC across the network. This is is to prevent the UBC Blogs service from becoming a launch pad for DDOS attacks Any WordPress site with Pingback enabled (which is on by default) can be used in DDOS attacks against other sites. Note that XMLRPC is used for pingbacks, trackbacks, remote access via […]
By Scott McMillan on March 3, 2014
Couple new themes added both responsive both clean and modern, so give one of these a go and get rid of your old non responsive theme already! Bushwick inspired by Medium. Bushwick is a lightweight, responsive blogging theme, designed to show beautiful content alongside beautiful imager. *Add a featured image to your post to show […]
By Scott McMillan on January 23, 2014
Couple new themes added. Both themes are responsive so ditch the old school theme and give your mobile visitors a proper experience. Book Lite One column classic book style blog theme. Fully responsive, large fonts and very easy to read. Clean and Minimalist design with focus entirely on content — Content First. McKinley McKinley is […]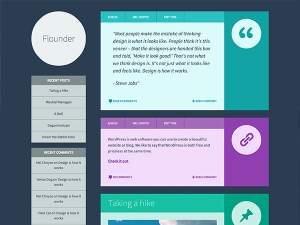 By Scott McMillan on January 13, 2014
We've added a couple new responsive themes to the mix check them out. Suits For blogs and websites. Sleek design and solid code. Suits make you look good. Features: black, custom-background, custom-header, custom-menu, dark, featured-images, full-width-template, gray, microformats, one-column, right sidebar, threaded-comments, two columns, white Flounder Flounder is a flat, minimally styled theme for bloggers […]
By Scott McMillan on October 2, 2012
Twenty Twelve continues to improve over Twenty Ten and Eleven. Twenty Twelve theme for WordPress is a fully responsive theme that looks great on any device. Features include a front page template with a its own widgets, an optional display font, styling for post formats on both. Check it out.
By Scott McMillan on August 20, 2012
This was long overdue but UBC Blogs now has the french language translation files enabled. To enable this on your blog goto Settings-> General -> Site Language Currently the following themes have translation files (more to come): TwentyTen TwentyEleven Responsive *Not all plugin and themes have multi language support so milage may very but if you […]
By Scott McMillan on July 6, 2012
Another new theme today. This one is very tumblr'ish. Single column just about the content, features include a custom header, custom background, and maximum three widget areas in the footer.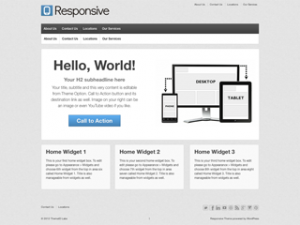 By Scott McMillan on June 28, 2012
This weeks new theme is Responsive as you might guess by the theme name this theme is "responsive" (for those that do not know that just means it will adapt to the device size). That's not all this theme has to make it awesome, it also comes with several customization features via the theme options where […]
By Scott McMillan on April 23, 2012
WordPress has been updated to 3.3.2 this was a security update. http://codex.wordpress.org/Version_3.3.2