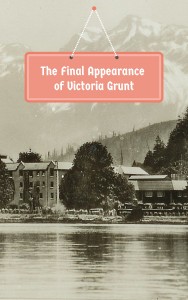 Sandy had compartmentalized the ingredients for our Thursday dinner—spaghetti with tomato sauce; no meatballs, as per usual—on the kitchen's speckled brown granite counter by the time I unlocked the condo's front door. An Italian loaf, a heel of Romano, and bagged basil were clustered on my side; on his, a medium Walla Walla onion, garlic cloves, and a package of noodles sat atop a maple cutting board.
Pasta is one of the few détente meals we've developed—Sandy's happily carnivorous but harbours a child's steadfast fussiness about herbs, fruits, and vegetables other than potatoes; my no-mammals diet, meanwhile, comes conjoined with the unbending regulations of a Soviet-era bureaucrat. We eat out often.
Adhering to our school year routine, I'd taken the bus directly from campus, passing by my apartment ten minutes before.
This together-but-separate compact bothers our few friends, who possess an untroubled faith that common-law living represents an evolved—and somehow morally pure—step, and that in stubbornly maintaining two places we're ignoring both cosmic laws and the elephant in the room. Group-mind pressures aside, we've reached a kind of equilibrium about our lot, contentment even.
The jump to living together is momentous enough, and there's cost-prohibitiveness to factor in as well: two offices (at-home work a rare instance of career overlap) and two bedrooms (one a thundering snorer, the other a light sleeper, even with ear plugs) in the city centre demands a mortgage steep enough for stomach walls to sprout bulbous ulcers. We rarely set aside an hour for relationship stock-taking with cohabitation on the agenda; I think that's a healthy sign.
Anyhow, there's no blame, no resentment, only resignation minus the heavy sighs. The circumstance is there, a fact of life. He drinks 2%, I prefer soy: keep two cartons in the fridge. An agony-free solution, right?
We swapped stories about trans-continental conference calls (his) and contemporary lit classes (mine) while prepping—I sliced basil into a heap of chiffonade and grated cheese while snacking on sawed off chunks of bread; Sandy helmed the gas stove. Vintage zingers courtesy of The Golden Girls launched in the background.
"Look what arrived today." Sandy thumbed at a card resting in the raku mail bowl, in a creamy shade of vellum that's standard for wedding invitations.
"Yikes, now who's getting hitched?"
"Nope, check it out."
The front was embossed with an image of clustered building in a lopsided H nestled Swiss-like between a barrier of mountains in silhouette and serpentine lakeshore.
"Congratulations on Your Anniversary!" ran along the zone where, in reality, cold lapping water met trucked-in sand. Verso: "Special Offers* for a Special Day." For us, discounts on a boat tour, luxury treatments for two at the Healing Springs Spa, and, sensibly, a Heart Smart! three-course meal at The Copper Room. The asterisk defined the precise extent of our worth: "Offer limited to one discounted amenity."
"Even with that exclamation point, 'rich in plant sterols and anti-oxidants' should not be associated with a dessert unless we're both recuperating from bypass surgery."
"Check out the addressees," he said, raised voice competing with the ventilation hood.
"Mr. and Mrs. Krouze."
Sandy had reserved a room one month earlier, worried that the resort would be full and we'd be stuck without a suitable destination for our fifth Special Day.
"That would make me Mrs., I suppose. I'm not so sure. I could pass in Croatia, maybe, a grieving widow with a shadowy mustache and a black kerchief. At night. You, on the other hand… Your skin is smoother. And you haven't been shaving since junior high."
"Next year."
"It might be fun to pull Victoria Grunt out of the tickle trunk. I'd wager you-slash-she could still rock a miniskirt."
"Yeah, right," he said, ignoring my compliment, "fun for you maybe."
At that fragrant, Italianate second we would have never guessed we'd be residing together landlocked in a suburban rancher in northern Texas before then. Next year felt as remote as childhood, a lifetime away.
We'd weekended at the resort four times; pretty and well-run, it had not managed, despite marketing efforts and new American owners, to attract droves of urban spenders from Seattle and Vancouver, who instead sped to a vertiginous ski resort that was nearer and, of equal importance, offered a respected scene identifiably—dependent on your birthdate—"rather chic" or "rad, dude."
As the card showed, the resort's three buildings—the first erected in the 1920s—faced a lake and mountains. Other details, even a master embosser couldn't convey: after the fire that razed the lugubrious St. Alice Hotel and Bath House ninety years ago, an entrepreneur bought the land for cheap and rebuilt directly above the rubble, situated at the valley's narrow terminus and mere steps from a deep frigid lake whose far shores butted against a sullen range dense with conifers; banks of low, weighty clouds skulked there, lending a permanently gloomy—and, after sunset, Transylvanian—disposition to an area so rain-sodden the ground felt spongy as late as August. The resort had served as a women's sanitarium during World War II; pulling in on a sunless day you'd swear a residual miasma of loss and sadness lingered on the grounds.
Neither trendy nor cool, and learning that affluent tourist couples are a tricky demographic to rely on, the resort courted wedding parties and corporate groups that kept capacious banquet rooms humming.
The fabled spring itself, where—we imagined—scalding liquid burbled out of the earth with attendant steam, was located a fifteen-minute hike away. If the resort didn't exactly pipe in the mineral waters by stealth, neither did it advertise that distant point of origin. Not that the forgivable subterfuge mattered; the place attracted sedentary guests, not nature worshippers. Older couples, invariably heavy set and white as if sculpted from the fat of New York strips, lined the sinuous edges of the warmest pool, speaking Slavic words in hushed tones.
With the exception of occasional and short-lived wedding reception boisterousness, the getaway was resolutely unfriendly. Soaking as cumulous formations glowered, rained, or snowed did melt the stress away, just as the brochures promised.
If accountants and realtors on two-day retreats kept the resort in the black, the "the jewel in the crown" at the tip of another wing, a formal restaurant highlighted by promotional material, ushered in intimate celebrants—advanced-year birthdays and anniversaries.
Window-lined, The Copper Room opened to pleasant views of shrubbery and pools, but the perennial centrepiece was a parquet dance floor and a low stage for The Jones Boys, a quartet that had been playing waltz-velocity songs on that spot for decades. The band's lead singer took on MC duties, and between bits of Lawrence Welk patter he'd announce special occasions—"Walter and Inez, together for forty years! Let's give them a hand" or "Frank Petrovsky, 65 years young. Here's to the next 65!" Here, the word "rascal" circulated with greater frequency than in daily life, no irony intended.
Despite the name, the merest tracings of copper caught the eye. We figured that while once upon a time whole sheets of the hammered metal had lined the walls, subsequent renovators viewed the style as oppressively medieval and carted away the material. The room now basked in powdery pastel hues.
Evenings there unspooled in a set pattern. Following a few minutes of resistance to the MC's congenial strong-arming, one confident couple would finally wind through the crowd of tables; other pairs soon joined their waltzing or fox-trotting, living testimonies to enduring love. The facade of enduring love, anyway, we'd remark sharply, drawn in nevertheless by the undeniably quaint vision. We watched from tables we'd reserve near the edge of the dance floor.
Under the sway of muted chandelier light and hummable songs, I viewed the receding parallel history of our own pre-relationship dancing—shirtless until sunrise at a basement after-hours that served bottled water only because every sweaty Ecstasy swallower knows better than to drink alcohol—with different eyes, not fondly, but as shabby and unwholesome. That inquisitorial spark quickly died. I'm a relativist at heart and automatically discerned kindred species of pleasure-seeking on both dance floors.
For us, The Copper Room presented a familiar Homosexual Moment: being part of a crowd but not card-carrying members of the ruling elite. Seated at our tables, we felt thrown back in time to 1950, where, to all eyes, we were confirmed bachelors and the only male pairing in sight, peacocks in a room of practical sparrows. While we might want to dance—but could not: male-male waltzing not an aspect of our upbringings—we understood that in doing so we'd alter the atmosphere of the restaurant for the worse. Like party crashers, we'd be stared at, a ruinous spectacle, and perceived as troublemakers refusing to respect decorum and the paying guests. Making a scene. Ultimately, the line of least resistance proved easiest to toe. We didn't feel guilty or ashamed; this chameleonic hiding in plain sight was virtually instinctive, still a fact of life outside of urban safe zones despite liberal laws and legislated tolerance. And dancing in order to score a political point would have felt, well, petty. Besides, I imagine Lenin himself grew weary of ideological stridency on every single occasion.
During one of our earliest conversations, about childhood, Sandy and I had discovered that both our fathers had been fond of "Son, you have to pick your battles." Under the sway of the Copper Room's traditions, we always decided—with no syllable of a "Should we or shouldn't we?" debate—that a room of elderly heterosexual partygoers did not need to have their worldviews or gender norms challenged. The oceanic momentum of tradition can crush the most fervent of critics.
Victoria Grunt and scattered drag performances on black plywood stages in Halifax were a distant blip in Sandy's past, the place and the times so remote that they ordinarily elicited that peculiar shrug reserved for events filed under Follies of Youth. In Nova Scotia's City of Trees, for a period of three months, he'd been Sandy-the-competent-bartender by day and Miss Victoria Grunt, up-and-coming lip synch star wobbling in kitten heels, "on the circuit"—two bars downtown and another, rougher, across the bridge in low-rent Dartmouth. Wobbling is my contribution to the picture; he's never mentioned how confidently he walked in heels.
This chapter of autobiography was missing when we first met. Bowdlerized for self-protection, I'd bet, and to avoid scaring off me, the prospective catch. The strategy is understandable; there's little doubt that months had passed before I mentioned a miserable summer of being on welfare or cheating on a former boyfriend while visiting his hometown.
We're all guilty of this selectiveness, at least according to my knowledge of prime-time soaps. In place of a living disaster called a past, we unveil a palatable—though not too bland—narrative: the Born Again mother, the father with an incessant wandering libido, and the bedpost notched into oblivion will eventually be exposed to the harsh light of your partner's scrutiny and judgement; but before that prolonged series of "I've been meaning to tell you" conversations, there's an agreeable, relatively benign history, nothing all that far from the statistical average. I suppose an opposite tack comes into effect if a cloistered childhood is yours, and a bad boy with a faux hawk has become the object of your affections.
Like spectral knocks at a seance, Victoria Grunt's first manifestation arrived in the form of sounds: a conversation fragment I overheard while picking through a table of hors d'oeuvres at a party celebrating summer's late arrival. Boisterous but not yet sloppily drunk and clingy, Andrews, Sandy's oldest friend and our host, had threatened to show a caught-on-tape performance.
Though Sandy migrated from the east coast to the Pacific over a decade ago, trailing Andrews by a few months, his friend made certain that this refashioned Vancouver self—confident, gregarious, untroubled—was never entirely untethered from an Atlantic wellspring. A born storyteller with a mean streak at mid-inebriation, Andrews, who'd abandoned his first name en route, apparently thought a moment of Toto revealing the life-sized man behind the curtain felt propitious.
"Go ahead," Sandy had replied. "Just remember: two can play that game. The tales I could tell—"
Andrews let the matter rest and ambled on to a new conversation.
"So…." The party had turned into a loud mess, and we were walking along one of the quiet narrow streets that scrolls through False Creek. Bracing wafts of ocean air suggested a season winding down before it had properly begun.
"So?"
"Don't be coy, Ms. Dietrich. I want to hear all about your brilliant career. I had no idea I was sleeping with a celebrity."
"Oh, it was just something I tried out back in St. Olaf. My roommate's friend needed someone to fill in when one of his back-up singers bailed on the day he was set to perform 'Where Did Our Love Go.' I was the Florence Ballard. Back then I was on the water polo team; I was a rake." Sandy's tone was neutral, as though describing driving a relative to the airport: whatever, no big deal.
The star in the Diana Ross role, Derek, but stage-named Lotta Tuck—and who apparently never grew tired of a signature bit, "I'm Tuck, Lotta Tuck"—had veins that reputedly flowed with poison. The queen bee liked hierarchy, any hierarchy in fact so long as her heels towered above the rest of the pile.
Tuck's weight gain and onstage humiliation with a split miniskirt gave Sandy's stage debut a satisfying vaudevillian finale. Or maybe there was a backless dress with no bra and water balloon boobs and gravity and two embarrassing packages dropping to the stage floor. Something like that; my memory for details isn't always stellar, but I'm sure the comeuppance for Ms. Tuck created a stir.
Eyes twinkling, Andrews brought up the VHS cassette now and then. Cold-hearted blackmail isn't the right phrase for his agenda. My best guess: he enjoyed having dirt about his best friend. Who doesn't? Over time I heard less about the tape because I'd settled comfortably into the relationship and stopped feeling obliged to make nice with Sandy's inner circle; they weren't whom I was getting close to, after all.
Whenever Sandy referred to that era, there'd be modified details and an elaborated psychological backstory, a hospital dietitian's colourless broth gradually suffused with complex spices.
After coming up with a short list of finalists, for instance, he settled on Victoria Grant for his drag handle, in homage to Julie Andrews in Victor/Victoria. At the impromptu christening over early evening pints, he announced the name to the veteran performers. The reply was unanimous: "Bitch, that is not the way we do things." He'd learned then that every community, regardless of its outlaw status, fastens on to lore as well as non-negotiable laws to shore up borders. And they'd explained—with begrudging kindness—why the chosen name couldn't be someone you admired ("Jesus, Mary, and Joseph, we'd be wall-to-wall with gals calling themselves Judy, Donna, and Cher"). Instead, the character ought to reflect personality: Crystal meant classy, Coral Sands implied comedienne à la Sinatra-era Vegas, anything with Ivana hinted at a bottomless appetite for sexual innuendo, et cetera.
"How about Victoria Grunt," said Chantooz, who was apparently semi-classy. Cowed to acquiescence, Sandy agreed, picturing only Blueberry Grunt, the gummy dessert his grandmother had loved to serve on Sundays, while thinking For now. The name stuck.
Russian dolls and onion layers are the usual figures associated with the revelatory strip-tease, but they're inadequate in Sandy's case. Since the story was about roots, I guess a tangle of strands at the nucleus makes better sense.
He revisited the climactic months of his coming of age intermittently, for his own benefit as much as for me. In part because mine lacks gripping tensions—after packing the station wagon, my parents drove me a few hundred kilometres to a basement suite in Victoria a month before my first day on campus; I met my first boyfriend in a philosophy class early in the spring semester and brought him for the Easter long weekend—I relished the exoticism of his. Also, the story featured significant sound and fury.
"They were a nasty gaggle of bitches," Sandy later mentioned. "You wouldn't look twice at them on the street, and they knew it. With a wig and paint slapped on and draped in a cheap sequin concoction, right, they turned into absolute Gorgons, mean as snakes and at least that toxic. They'd eat their young if they had any. But they didn't, so they'd strut around, acting out like snarky juveniles and sabotage everyone's self-esteem. Who needs that?"
Later still: Panicked about coming out and twisted with anxiety at letting down his father, a devout but kind teetotaler with clear expectations for grandkids, Sandy took a hiatus from university (a secondary cause for guilt: until he moved away from home, he'd been happily following his father's dream of law school). Drinking heavily after shifts at the pub, he once or twice drove his Tercel recklessly, half-formed thoughts of instant death via a head-in collision with a Trans-Canada semi giving way to a scheme with better potential: barreling to Moncton for gas before arriving settler-style in Montreal fourteen hours later—penniless, with the clothes on his back, and ready for a reformation.
At the tail end of one desultory bar shift, Sandy's roommate had introduced him to Derek, who then parted the sparkly curtains of the Halifax drag scene. Sensing an alternative to familial disappoint back in Cape Breton and a real community—a feathered nest in an otherwise roughnecked city—Sandy embraced the meeting as a rare stroke of good luck. Victoria Grunt, then, had not been pure whimsy.
A later clarification: "I was in a barbershop quartet. After I left school, I went through an I'm-going-to-be-straight-or-else-die-trying phase. I lived at home and joined my grandparents' church and the choir. The choir master thought I'd be a perfect fit for this quartet he led, so for about four months I sang. I met a guy through there, who arranged an interview for me and I got a job that lead to my returning to Halifax. Oh, and I was also having an affair with a woman I worked with who was stuck in a miserable marriage, and I had to break up with her when I moved back to Halifax. What a mess."
The final revision before the story's gel set: he'd tried out for plays while at university and had acted in supporting and starring roles throughout high school, so there wasn't any reluctance about the limelight. Dresses and wigs, though, initially brought on the intestinal distress he shared with his father's side of the family.
"No wonder you hitched your wagon to the west coast."
I've never seen the VHS cassette and I'm not convinced it actually exists. Andrews has a haphazard relationship with the truth.
Victoria Grunt would have begun and ended as a crowd-pleasing anecdote set in far-off Nova Scotia were it not for my own late-blooming drama, starring unreachable tenure as the principal villain.
Complaint—railing, spitting, seething—about work had been a source of perverse pleasure for years, even though any fool would intuit that sentence by sentence the angry, self-pitying, and habitual monologues steadily wore away Sandy's impressively resilient veneer of patient optimism.
Sure, like any -oholic I could stop, just not for long. My brain burned through untold calories thinking up ways to bypass the employment problem, conjuring plans both practical (beefing up the résumé, shipping application packages to worthwhile schools) and wildly improbable (teaching English at Hyundai factories in Korea, vengeful fertilizer bombings).
And I felt compelled to share all of these findings with my better half.
While I pictured myself as magma-filled dome with a heaving surface—the image purplish melodrama, and I knew it—the date of eruption never arrived. A moment of perfect clarity blossomed instead. In late spring, I'd agreed to attend a sold-out lecture by a celebrated scholar from Berkeley: with a grey suit and side-parted short hair, black brogues and t-shirt, and sensibly devoid of makeup, she could model as the Platonic Idea of seriousness. The philosopher lectured about the "ontology of the pre-contractual body" and "interpenetrated discourses of mediated civic subjectivity" with an ease that suggested ordering a grande Americano at Starbucks. Within the web of her polysyllables, though, a leitmotif emerged: precariousness, precarity, the precariat, and "San Precario, the patron saint of precarious workers."
Empirically, she addressed a swooning young audience of politicized graduate students—shapeless thrift store clothing, sandals, '80s-referencing asymmetrical haircuts—prepared to applaud at the least bon mot. I felt she saw only me in all my dark despair, as with that old song by Roberta Flack. The sensation—her, unruffled at a birch lectern under a spotlight, speaking to me, the single spotlit being in an audience of hundreds—was patently false, even silly, but felt compelling. Her words spoke to me.
I left the auditorium recharged, called Sandy as I cycled across the Granville Street bridge, and gave him an account that skipped over the epiphany; once seated at my computer I stayed up past midnight updating my CV and typing an inspired, grotesquely keen cover letter trumpeting well-rounded accomplishments that would raise the profile of any English department that chose to hire me. Between the lines: here's a hot commodity, so act fast.
Precariousness—permanent second-class status and a yearly contract subject to budgetary considerations—was mine to reject. With "Tenure. Anywhere." as a newly-coined personal motto, I began contacting universities I'd never heard of the following week. Lowered expectations soon yielded passable results.
"Remind me again, why are we doing this?"
Sandy had just finished a thorough lint brushing of the dress. He stretched out on a floral armchair, bare feet resting on the bed.
Our overstuffed room, on the top floor of the resort's oldest wing, looked to have been remodeled during the craze for Laura Ashley chintzes. Seeing that we'd opted for a long weekend stay in August, room choice had been dicey.
"Um, it seemed like a good idea at the time?"
With my accepting the job offer from Texas—a long shot paying off, faculty contractually "on duty" before Labor Day—the whimsical vision of Victoria Grunt's eventual return had mutated into a question: make it happen, or let it be?
"Oh yeah, right."
Sandy had been happy to let the resurrection plan wither and die. I pushed for an opposite outcome, adopting sales pitches that at first accentuated the gall but culminated with words like "hidebound," "lacking in adventure," and "boring old married couple."
He capitulated.
In league with all spouses throughout all of history, I knew which buttons to push.
Sweating the details hadn't cross my mind then. In an alternate universe, I'd be part of the clown entourage in those Jackass movies, living by the slogan "Act first, ask questions later": one minute the gang's picturing the riotous humour of fitting a dupe's penis with a field mouse costume and then taunting a bullsnake hungry for rodent, and the next there's firecracker shrieking of laughter and pain.
I can't name the exact day we decided to realize our farewell Special Day, but soon enough the plan lurched into motion. We swapped jokes, and then Sandy called to say he'd just booked a room at the resort and that I could pay the bill as a reward for my persistence.
On past weekends, we'd observed that the women dining at The Copper Room chose modest declarations of finery: jewelry equally sparse and petite; floral print chiffon wraps hugged dresses in gentle aquas, roses, and creams; we'd never caught sight of deep cleavage, bare arms, catwalk heels, or anything above the knee. Dignified was evidently the aspiration, not sexpot-at-sixty.
Dismissing flounces ("Too fluttery") and boxy mother of the bride dreariness at Sears, we moved on to vintage boutiques. Sandy sped through racks and made expert snap decisions—metronoming between "No" and "Too kitsch"—until he zeroed in on a sleeveless column of maroon velvet at our third stop.
"Blending right in, I see." I'd been leaning toward the camouflage of a matronly outfit.
"Victoria Grunt was always about style," he said, aware of the implausibility of the statement. "Okay, we still need to locate a crochet shrug or something to cover up these"—a he-man flex—"guns."
We visited a shoe store for transvestites and what the chatty young sales assistant called "working girls," but Sandy rightly concluded that slick PVC was oil to the water of age-appropriateness. Fortunately, the Army and Navy's womenswear buyer anticipated size 12 feet; silver sandals with modest height cost next to nothing.
I'd opened a discussion about a turban as a way of sidestepping the hair quandary, but Sandy said he'd rather stroll naked through the restaurant than look like a design Edith Head rejected while sewing for Sunset Boulevard. He hunted down the solution in an afternoon—'Whim' by Eva Gabor Wigs, in Smoked Walnut.
In the manner of superstitious brides, he decided against a dress rehearsal at which I was present. I'd be granted a preview once we hunkered down at the resort.
Sandy unfastened his watch and stood up. "How about you go soak for an hour?"
"I can hang around here."
"No, I'd like some alone time."
"You're not going to share the mystery of the tuck?"
"Girl, that's for initiates only." A wide smile didn't disguise tension. "There's still time to switch places, then I can show you all the nitty-gritty."
"That's okay. I'll see you in fifty-five."
I wandered, restless and curious, from pool to sauna to jacuzzi. A miracle in reverse, the yelping joy and tantrums of children on holiday transformed former Slavic respite into the candy-bright chaos of an amusement park.
As Mrs. Krouze, Sandy could have been a cousin of Julia Child; while his creation did not come near to evoking Stacie Q, the leggy pop starlet in sequined minis and teased blonde strands he'd used as a role-model in Halifax, at a distance she could pass for stately, statuesque.
"I'm having real doubts."
"The lady doth protest too much, methinks."
"It's not too late for you to shave your arms, you know."
"It'll be—."
"If you say 'fun' one more time—."
"Okay, how about 'I owe you'?" The moment demanded apologetic placation.
"That works for me." He pursed his lips and dabbed on a reddish plum. "Hold on a sec, there is no way on earth I'm going to take a whiz during dinner."
I sat on the bed and watched him wrestle with the velvet. "Do you need some assistance, Mrs. Krouze?"
"The less you say, the better." He shut the bathroom door.
Sandy linked his arm with mine as we stood before the bureau mirror, unmistakably a couple and plainly middle aged, if youthful. Six feet in sandals, Sandy had gained an inch over me.
"The Krouzes," I said. "I guess Grunt was your maiden name. You married up."
He laughed. "We forgot to buy a purse."
"Don't worry, cupcake, I'm buying."
By the time we arrived at The Copper Room, giddiness had infected us. We'd calculated the evening's biggest challenge would not be waiters or patrons, but hallways brightly lit with wall sconces dangling with crystals. Navigating stair flights and strolling along two endless halls we gave thanks, for once, to excitable children, whose parents seemed too harried to take notice of the tall woman struggling for composure in a dress that was considerably more restrictive than customary jeans. I noticed that wobbling in heels had been an accurate guess.
"Krouze for two," I said at the dining room's reservation desk. Sandy lingered a few steps away, comfortable in the romantic light cast by low-output bulbs. The maitre'd barely looked up. "Right this way."
After the waiter brought menus, a teenage busboy poured water and left a covered basket. "House-made artisanal breads," he recited with cue card stiffness.
"Great, thanks," I said.
Sandy remained quiet, intent on the silverware.
"Are you going to say anything?"
"Mrs. Doubtfire's voice works really well because it's all actors. In a movie. With a script. On a set. Right now, I'm working up the nerve to meet someone other than you in the eye."
"Okay, just asking."
I ordered a bottle of white—a New Zealand sauvignon blanc, our favourite—and pointed, rejoicing, at diners clustering around the reservation desk.
The waiter returned with a silver ice bucket, aiming to make a production of the wine-tasting. "I'm sure it's fine," I said. "I'll pour in a few minutes, thank you."
"Thank Christ," Sandy said, hand decorously in front of his mouth.
"We're doing alright, Cio-Cio San."
In a roundabout way, the experience was reminiscent of a movie: Some Like It Hot, or one of those scenarios where a soldier has to escape enemy territory dressed as a nun—at once nerve-wracking for the characters and exhilarating for the audience. We'd scripted no back-up plan in case the disguise was uncovered; but I thought, really, what's the worse that could occur?
Once we felt secure no waiter or patron was paying close attention to us, Sandy relaxed, saying "Delicious" when the waiter asked about our salads. The accent touched on British royalty.
Minutes earlier I'd striven to draw the attention by ordering our meals. The blurry quality of Sandy's heavy makeup hinted at oddness of some kind, and we didn't want the waiter to notice and stare, speculating that perhaps this woman in velvet was covering up a devastating ailment and the anniversary dinner our last. Or that she was my aunt—the wig a tad geriatric—and the anniversary acknowledged a sad fact like the passing of a beloved husband. The goal, or one of them anyhow, required Mrs. Krouze to be completely visible while escaping notice.
"She'll have the prime rib, the lady's cut, naturally," I'd chuckled, intending to promote guy-to-guy camaraderie about women's mystifyingly dainty appetites. "Very good, sir," he said, and, moving off, nodded discreetly at Sandy. "Ma'am."
"I thought that made sense for the character."
"Very funny," Sandy muttered between bites of bread, "I'm starving."
"Do you want to fix your lipstick?" Our dinner plates had been cleared; somewhere, dessert was being plated.
"No purse means no mirror, and the lipstick's back in the room."
"Right."
Practiced entertainers, The Jones Boys kept the room animated with pairs readying to dance, or wrapping up. I'd dropped by in the late afternoon to reserve a strategic table—on an awkward corner of the dance floor that restricted traffic flow. Only three couples eventually passed by, smiling and polite as they said, "Please excuse us."
The pitched absurdity of playacting triggered, I guessed, a nervous adrenal response that crushed any living desire of mine to dance. Still, we thought that making so much effort only to back away from a grand gesture would represent a colossal, regrettable failure of nerve.
When I'd reserved the table waiters had been busy setting up; I'd ambled over to the stage unescorted, remembering the giant novelty cognac glass encouraging song requests alongside deposits of five-dollar bills. Provided the song fell within their repertoire, The Jones Boys obliged.
Panicked, I wrote "September Song, pls." In no sense was it "our song"; no such tune existed. Crossing the dance floor, the few lyrics I could remember the MC singing—"Sometimes When We Touch," "At the Hop," and "Lying Eyes"—appalled me, each wrong for us in a different way.
I'd been tempted to write "For the Krouzes on their anniversary." The image—singled out by the MC, the first couple on the dance floor—turned my knees to jelly. An anonymous request gave us an out; without peer pressure, we could pretend the special song belonged to another couple and spy the room for them expectantly.
When the band returned from a break, the MC greeted the crowd. "We hope you're ready for more rug-cutting," he exclaimed, beaming. "But, folks, we're going to slow down the pace for this next set." Murmurs and faint clapping sounded around the room. "And here's a request, an oldie but goodie from the Dirty Thirties." The pianist opened with the familiar mournful bars of "September Song."
"Um, this is the song I requested."
"God," Sandy said. "It's lovely, but so sentimental."
"Well, I tried, but the Sidney Samson Remix of Kylie's 'Get Outta My Way' wouldn't fit on the Post-It."
"Gotcha."
The floor stood empty as couples, bowing to convention, paused for the lead dancers. Three lines in—at "But the days grow short"—we watched a thin elderly man in a light grey suit with western-style stitching guide his wife, a younger brunette in aqua, to the edge of the floor. I hadn't anticipated coinciding special songs, but breathed a sigh of thanks.
We'd practiced waltzing halfheartedly at Sandy's place, recalling lessons from junior high and occasional dancing with relatives at weddings. "All feet" would be a kind description of our halting progress, missteps interwoven with "Oops," "Crap," and guffaws.
"Shall we?"
"We don't have to, you know."
"Yeah, I know, but I think we should"
Sandy stood. "Lead the way, my dear."
An inlay design at the floor's centre—a compass, of obscure relevance—was the spot furthest from all the seated viewers, and I walked there, legs mechanical, with Sandy's warm hand in mine.
"Ready?"
"Ready."
Ignoring an automatic juvenile impulse to make out to any slow song, we faced one another at arm's length; as per instructions from YouTube experts, I rested my right hand lightly on the small of his back. The moment descended without precedent; I couldn't pin down a uniform emotion, though queasy deliriousness sounds apt.
Sandy's expression had set; I imagined then that those black plywood stages in Nova Scotia taught him how to brace frayed nerves.
"A-one, an-a-two," he said.
Cautious box stepping, I thought, left foot forward. I willed my leg to move.
Listening to the band while maintaining focus on Sandy's double face and nearby couples in unpredictable motion made me relieved that neither of us drank to quell anxiety.
Sandy slid like a pro. "This is kind of fun," he said.
"Sort of." Pleasure appeared in glimmers: the song was winding down and I'd finally begun to intuit the movement.
As we slowed, I reached to the corner of Sandy's mouth with my thumb. The lipstick had smudged and I could see the need for a repair effort.
We trailed behind another couple heading toward our table, where two peach galettes now sat in a moat of melted vanilla ice cream
I pulled out the chair for Sandy. "So, how much is this going to cost me?"
"The jury's still out on that," he said, dabbing his upper lip. "Just remember, though, these shoes fit you too."