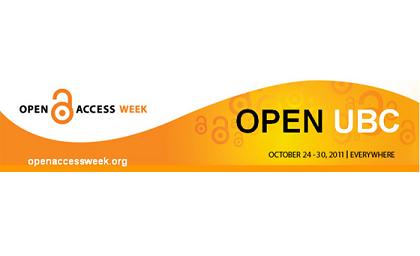 Open Access Week @ UBC 2011 will be happening at UBC on October 24-30, 2011!
Open UBC is held in conjunction with International Open Access Week, which encourages the academic community to come together to share and learn about open scholarship initiatives locally and worldwide.

Open UBC showcases a week of diverse events highlighting areas of open scholarship that UBC's researchers, faculty, students and staff participate in. These events include discussion forums, lectures, seminars, workshops, and symposia on topical and timely issues from every discipline. We invite everyone to participate either by organizing events, highlighting events already coinciding with the Week, or attending the events to be scheduled.

All of these events are FREE and open to the public, students, faculty, staff and schools.
With an open "Call for Participation", this is your opportunity to get involved and share your scholarly research and/or tools with fellow UBC researchers, faculty, students, staff and the public.
Did You Know?
Previous Open Access Week @ UBC event presentations are archived in cIRcle, UBC's Digital Repository. A variety of topics included open research data, scholarly rights and responsibilities, open source software, and open access journal publishing. Browse these topics and more within the Library Events collection in cIRcle.
Above image and excerpt in italics are courtesy of the Scholarly Communications @UBC website
May 10th, 2011 by jpopo | No Comments »