Beginnings
Hi there,
We are group 22 in LFS 350; a collection of UBC students passionate about cooking and eating good food. We chose the name "Cooking With Friends" for our blog because, not only does it fit our common interests, but it is also the name of a community project we will be working with at Charles Tupper Secondary School for the next couple months. We are so excited to start cooking together!
Here is a quick introduction of our team members.
Lucy is a Food Science major. She says: "I'm really interested in sensory properties of food and ways in which we can make processed foods (such as ice cream) healthier. I'm also in support of educating younger generations about the importance of a nutritious and balanced diet."
Ya studies Food and Nutritional Science. She says: "I am interested in finding out the relationship between sugar sweetened beverages and obesity in the younger generation. I believe it is important to show and teach the younger generation that healthy diet could be tasty too."
Sharon studies Nutritional Science and is interested in food safety and international nutrition. She says: "I'm curious about the reasons causing malnutrition and over-nutrition in different countries. I want to get more hands-on experiences by working with schools and community members before graduate."
Shirley is a Food and Nutritional Sciences major. She says: "I would enjoy so much being a nutritional consultant and sharing my ideas and experiences with others. My first goal for this project is to convey some knowledge related to food and healthy diet to the people joining the club. I also want to see more communications between the students and their parents."
Kelly is a Food Science major interested in food product development. She says: "My personal goal in this project is to gain more insight on high school students' eating and cooking habit and how do they perceive healthy and nutritional eating."
Vita studies Global Resource Systems and loves to cook. She says: "I am interested in how community actors work together to make a project, and what works or does not work in terms of organizational structure, communication and planning."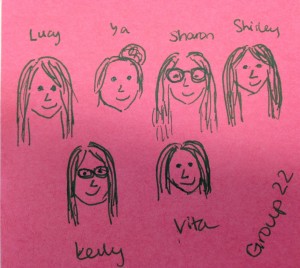 As a group we are interested in working with younger students, sharing recipes and promoting nutritional eating habits and a healthy lifestyle. The main reason why we chose this project is because we all love to cook and want to share our expertise, knowledge and skills. We also want to spark an interest in high school students to cook more at home in their spare time. We hope to refine our facilitation skills, communication and teaching skills as well as create and become part of a more engaged school community at Charles Tupper Secondary.
Homework Club @Tupper & Cooking with Friends
After meeting with educators and community members at Charles Tupper Secondary School this past Wednesday, it is clear to us that Homework Club is a long upheld school tradition; a space where students can meet after-school to do homework, enjoy some snacks and socialize if they choose. It happens on casual terms every Tuesday and Thursday from 3-6pm. According to organizers, attendance can be anywhere from 30 to 75 students.
To enhance homework club, the school wants include a food and nutrition focus, with healthy recipes prepared by students and maybe even some interactive educational games and workshops. Food preparation will take place on select Wednesday afternoons with a handful of interested secondary school students. Community partners include the local Hillcrest Community Centre, Little Mountain Neighbourhood House and us, LFS 350 students!
Overall, the objective of the Cooking with Friends initiative at Charles Tupper Homework Club as we see it and alongside community partners is to empower students with resources and skills to make their own affordable, nutritious and tasty snacks.
Our main goals are to (a) provide the after-school program with healthy recipes, (b) source the ingredients within a predetermined budget, (c) facilitate cooking with small groups of students and (d) lead a nutrition-related activity or workshop.
In reflection, the process of this LFS 350 community project so far has already been a learning experience. As a group we started getting ahead of ourselves and worrying about specifics before we met with the school community organizers on Wednesday. What are our project goals? Any recipe ideas? Should we all cook with the students? These questions and many others came up in early group conversation. According to Ernesto Sirolli, Asset-Based Community Development begins with listening to what a community wants before making any plans, yet alone taking action. Once we met with the school community, they told us their desired outcome of the project. From there, we have been given freedom to make a nutritional plan within the structure of to the assets they already have in place, namely the Homework Club and Cooking with Friends programs, access to school rooms and kitchens, community volunteers and teacher-support. We are now confident that the implementation of this project fits the asset-based community development framework because all of the components necessary for change are already present in the Charles Tupper community and ready to be mobilized with a little bit of teamwork.
This is going to be an amazing opportunity to put in-class knowledge into practical experiences.
Updates coming soon!
-Vita (on behalf of Group 22: Lucy, Ya, Sharon, Shirley, Kelly and Vita)