The 3rd Visit to Tupper Secondary: Making Different Types of Dips With Student Volunteers!
Hi everyone, I'm glad that you come back to check our third post!!!!
Are you curious about how to make high school students like chickpeas?
Here is what we did; we made hummus dip!!!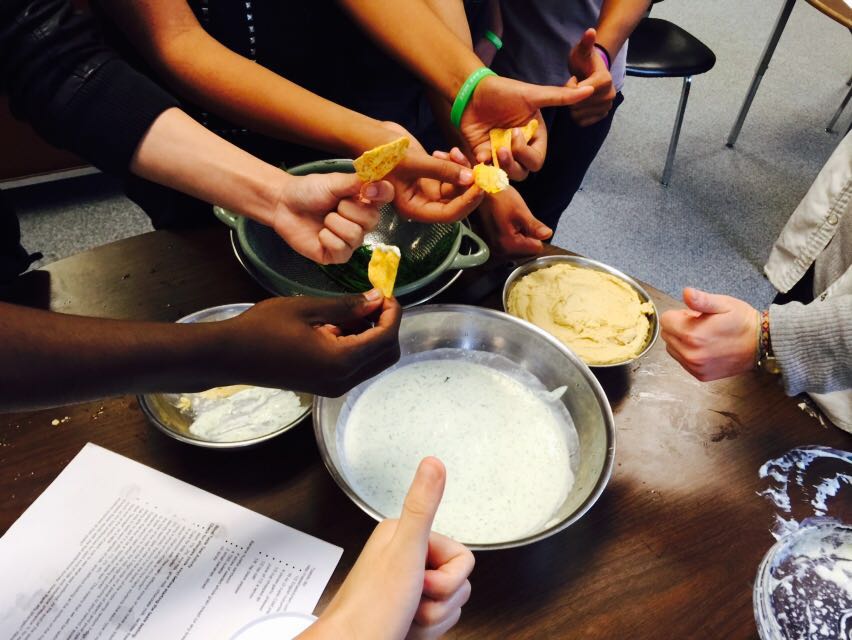 Our objective this week was to get an idea of what students like for snacks from the first survey and make an improved snack recipe with healthier alternatives. However, when we went to pick up the surveys this Monday, the feedback was not what we expected.Our community partner said that the kids found it overwhelming to have surveys that were short answer questions because a lot of them just wrote "I don't know" and so there was no clear answer or opinion for our group to use. Moreover, many students don't like chickpeas and refuse to try them, which resulted in a lot of leftovers.
To be honest, we did feel a little disappointed because the recipe that we provided did not satisfy the students Tupper. The good thing is, this experience makes us to think more about the reality. The students at Tupper don't have as much nutritional knowledge as we do. The teachers there are not LFS graduates. It is unrealistic to make them suddenly start to eat healthy and nutritious food according to our standards. Therefore, we decided to make some changes from our original plan and adapt some ideas for the homework club leaders because they understand the students' preferences much better than us.
This reminds me about Dan Barber's story from the podcast (452: Poultry Slam 2011). Adapting a new method into the environment takes time. And there will be a lot of unexpected challenges throughout the process. For Dan Barber, it took him 3 years trying to adapt the new method to raise his geese and it still has not succeed every time. For us, we only have 4 sessions in total to help the school to take in this healthy eating idea. It is normal to experience some difficulties because we learn the most from our challenges. The key to success is to learn and adapt.
Therefore, on Wednesday's session, our group made hummus dip with chickpeas and tahini (so that we could use up the chickpea leftovers from last week) and tzatziki dip with yogurt and dill. For chips, we bought veggie and rice chips for students to try different chip alternatives.

For those who were interested in the dip recipes, here's are the links: http://www.inspiredtaste.net/15938/easy-and-smooth-hummus-recipe/
http://natashaskitchen.com/2013/10/10/tzatziki-sauce-recipe/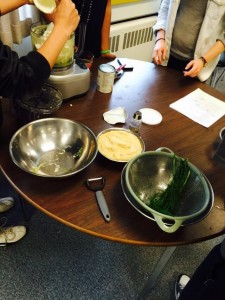 There were 5 student volunteers and a community worker who came to help us chop vegetables, measure and mix the ingredients. Students were hesitant to try the new dips at first, but because they tasted the dips with a familiar food like chips, and because they were involved in the cooking process, they were more comfortable in trying a new food!
We also took an idea from the Tupper community team to plan a "blindfold taste test" activity, which will be held on Thursday. The teacher will handout different milk samples (skim, 2%, goats, soy and almond) to students and ask simple questions like how many different kinds of milk have you tried? What kind of milk is you favorite? At the end of the activity, they will count up the total preferences for each kind of milk and determine preference % to see if any students are surprised by their picks. A simple questionnaire will be given out just as last time, but with short answer questions substituted by yes/no/neutral questions.
The 3rd visit to Tupper went really well. The ingredients only cost $40, which is perfectly under the $60 budget. The volunteers who came to help us seem to like our recipe and we hope the kids from homework club will like it too. The grocery shopping took quite a lot of time even with one person driving. Unfortunately, we won't get anyone to drive on our next visit. Our community partners' suggestion about this is to email them in advance to confirm the recipe and maybe other activities beforehand so our group can shop for foods before we arrive. We plan to pick up the surveys from homework club by next Monday and use the results to improve our next recipe. Some of our recipe ideas for the next session are english muffin pizza, pita and sauce, cheese and vege…….
If you got any ideas about tasty, healthy, inexpensive snack recipes, please feel free to leave us a comment. We are looking forward to see your ideas!!!!!!
References
Interview. Audio Blog Post. 452: Poultry Slam 2011. N.p., 2 Dec. 2011. Web. 22 Oct. 2015. Retrieved from http://www.thisamericanlife.org/radioarchives/episode/452/poultry-slam-2011?act=3#play
–Sharon Wang (on behalf of group 22: Shirley, Lucy, Vita, Sharon, Ya and Kelly)