Our readings over module one have demonstrated what has gone wrong in relation to indigeneity, technology and education. I wanted to seek out what has gone right and how one might replicate or improve on it.
The Future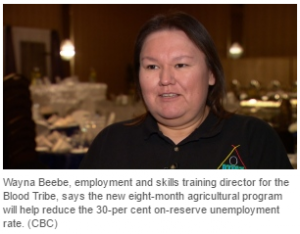 I loved the title of Ball's (2007) paper, Indigenous Learners Online: The Future Isn't What it Used to Be!. The paper highlights some of the most common demands for online post-secondary education, common issues and successful practices. Many of the issues were familiar to what I hear at my current school as well as at the college I used to work at; issues of internet access, a desire to learn as a cohort, challenges of work, family and community responsibilities. It got me to thinking about some of the successes that I have heard about in my workplaces. At ADLC, we have many indigenous students learning in cohorts at the school with an online teacher who makes occasional visits. At Lethbridge College, there have been some creative (and highly successful) initiatives that included cohort learning and a combination of on campus and in community learning. For example, the Blood Tribe Agricultural Training Initiative, saw college instructors travel to the Blood reserve as well as students travelling in to the college for field trips. This initiative was so successful that 20 of the 22 participants completed in the allotted eight months and the remaining two plan to finish. The Early Childhood Education program also has a dual credit course that is running at reserve schools near Lethbridge. In the first year, college instructors taught the course online with the assistance of an onsite facilitator. During this time, they trained the facilitator to take on more responsibility. The second year, the on site facilitator managed the course with the occasional assistance of the college instructors.
Got Heart?
A project that I found within the above resource was invaluable. I am sure that many of you have already heard of the Project of Heart, but it was my first experience with it. It is a unique site that I would classify as a Community of Inquiry. The site is intended to be a journey for students seeking the truth of indigenous peoples in Canada. There are resources by and for teachers as well as resources by and for students. Among the most impressive is this video produced by a group of Grade 8 students. The site also contains maps, historical documents, other literature, testimonials and more.
Strategies, Programs and Practices
Beyond the Shadows: First Nation, Metis and Inuit Student Success is a comprehensive document emerging from the Canadian Teacher's Federation (2013) President's Forum on First Nations, Metis and Inuit Education. It explores seven major themes centered around facilitating indigenous student success and engaging indigenous communities.
Themes in Beyond the Shadows retrieved from https://www.ctf-fce.ca/Research-Library/BeyondShadows_EN_Web.pdf
Instructional Design and Culture
McGloughlin and Oliver (2000)  raise the issue of culture in instructional design, noting that instructional design, like technology, is not neutral. The article discusses the possibility of culturally pluralistic design and suggests ten design principles for culturally inclusive instructional design. Although somewhat dated, this article addresses a very specific and relevant issue in online education.
References
Blood Tribe farming training program aims to cut unemployment. (2015, February 5). CBC News. Retrieved September 14, 2016, from http://www.cbc.ca/news/canada/calgary/blood-tribe-farming-training-program-aims-to-cut-unemployment-1.2946131
Ball, P. (2007). Indigenous Learners Online: The Future Isn't What It Used To Be! (Rep.). Retrieved from http://www.ecdip.org/docs/pdf/Ind Ed Conf paper 07.pdf
McLoughlin, C., & Oliver, R. (04/01/2000). Australian journal of educational technology: Designing learning environments for cultural inclusivity: A case study of indigenous online learning at tertiary level Australian Society for Educational Technology.
National Center for Truth and Reconciliation. (nd). Project of Heart. Retrieved from http://projectofheart.ca/filmsvideos/
Toulouse, P. R. (2013, August). Beyond the Shadows: First Nation, Metis and Inuit Student Success (Publication). Retrieved https://www.ctf-fce.ca/Research-Library/BeyondShadows_EN_Web.pdf