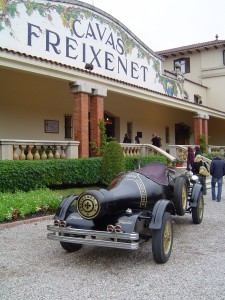 Or maybe not, but in Spain, more exactly in Barcelona, the city where I have lived for the last 8 years the Christmas lights and decorations start to appear.
Another signal that Christmas is coming is the digital marketing campaign that I found last week, Freixenet is letting us, the consumers, make his Christmas spot!!!
I guess not Spanish people or someone that never lived in Spain would be wondering now what the hell I am talking and why is this important enough to be in a post in my blog. Well this spot in Spain is like the spot in the half time for the American Superbowl.
So what Freixenet is and why its Christmas campaign is that important? Freixenet is one of the most (if not the most) important brands of cava (Spanish champagne). And this spot is very important because nowadays it became a tradition, Freixenet usually hires very important stars to perform in their spots, not only Spanish like Placido Domingo (1984), Antonio Banderas (1992), but also American stars like Lizza Minelli (1977), Gene Kelly (1981), Paul Newman (1989), Kim Basinger (1993) and many more. Freixenet spots have also directed by recognized directors like Martin Scorsese (2007). You can see all the stars that participated in Freixenet spots here: http://es.wikipedia.org/wiki/Freixenet.
That is why I found this campaign amazing, they are taking a huge risk changing from spots with super stars on them to a full digital marketing campaign where the spot is going to be developed by consumers and internet users and directed by a recognized Spanish director, Bigas Luna. And they are taking this risk with their most important event and during the most important time in the year, Christmas, because 37% of the annual production is sold during this period (source: http://es.wikipedia.org/wiki/Cava ). Congratulations Freixenet for this brave initiative, I am willing to see if the results are the expected.
Cheers!!
You can find more info about the campaign here