by ementoring ~ March 29th, 2012. Filed under:
Home
.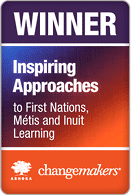 eMentoring won two awards:
1.  The J. W. McConnell Family Foundation Award for the top entry for post-secondary education from across Canada
2. The Donner Canadian Foundation Community Award for being one of the top entries from across Canada from the online community vote
We would like to take this opportunity to thank Changemakers and their partners* for all of their great work!
*Partners for the initiative include: the Ashoka Changemakers, Chagnon Foundation, The Circle on Philanthropy and Aboriginal Peoples in Canada, The Counselling Foundation of Canada, Donner Canadian Foundation, First Nations Child and Family Caring Society of Canada, The First Nations Education Council, The Girls Action Foundation, The J.W. McConnell Family Foundation, Lawson Foundation, Mamow Sha-way-gi-kay-win: North South Partnership for Children, Margaret and Wallace McCain Family Foundation, Martin Aboriginal Education Initiative, Ontario Trillium Foundation, RBC Foundation, Regroupement des centres d'amitié autochtones du Québec, Small Change Fund and Vancouver Foundation
We couldn't have done this without everyone's support – so thank you very much!