1:1 – An Introduction
by
VictoriaWoo
Hi everyone! My name is Victoria and I am currently in the midst of completing my third year at UBC while studying English literature. I was born and raised in the city of Surrey— a place many of you are surely familiar with, though probably for its high crime rate rather than for its vibrant multiculturalism. I am of mixed ethnicity (my father is Chinese while my mother is Polish/Irish), so I very much enjoy being able to experience a fusion of cultures, particularly for the food (I'm only half kidding).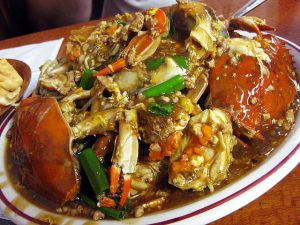 Vegetarians/vegans beware. Cantonese styled crab aka mouth-watering goodness. 
A personal philosophy I subscribe to is one of admitting and accepting ignorance in order to truly gain critical insights into an issue, and so I will admit that I have only taken one Canadian literature course prior to enrolling in English 407 with all of you. I will also admit that I was unaware of much of Canada's colonial history throughout high school and even into my first year at UBC, despite being fairly educated by then. Perhaps other Canadian citizens, like myself, have also been plagued by this same kind of ignorance; I have to wonder, then, if some of the widely idealized perceptions of Canada (just listen to the Americans promising to flee here if Donald Trump is elected) exist, at least in part, because atrocities concerning our Indigenous population (both past and contemporary) continue to be swept under the rug or denied altogether.
As outlined by Professor Erika Paterson, English 407 is a course which aims to help students "recognize colonizing narratives and representations." As a literature major, my main focus in this course is to eventually "be able to discuss, research, and write about the intersections and departures between literature and story," all while fostering compassionate sensibilities as I delve deeper into our country's controversial past (Paterson). I am ultimately hopeful for an eye-opening introduction to Indigenous discourse.
I look forward to becoming better acquainted with you all!
Works Cited 
D'entremont, Deidre. "Seeking Justice for Canada's 500 Missing Native Women." The International Decade of the World's Indigenous People. Cultural Survival., Fall 2004. Web. 12 May 2016.
O'Keefe, Derrick. "Harper in Denial at G20: Canada has 'no history of Colonialism.'" Rabble. N.p., 28 Sept. 2009. Web. 12 May 2016.
Paterson, Erika. "Welcome." ENGL 470A Canadian Studies Canadian Literary Genres May 2016. N.p., 13 Nov. 2013. Web. 12 May 2016.