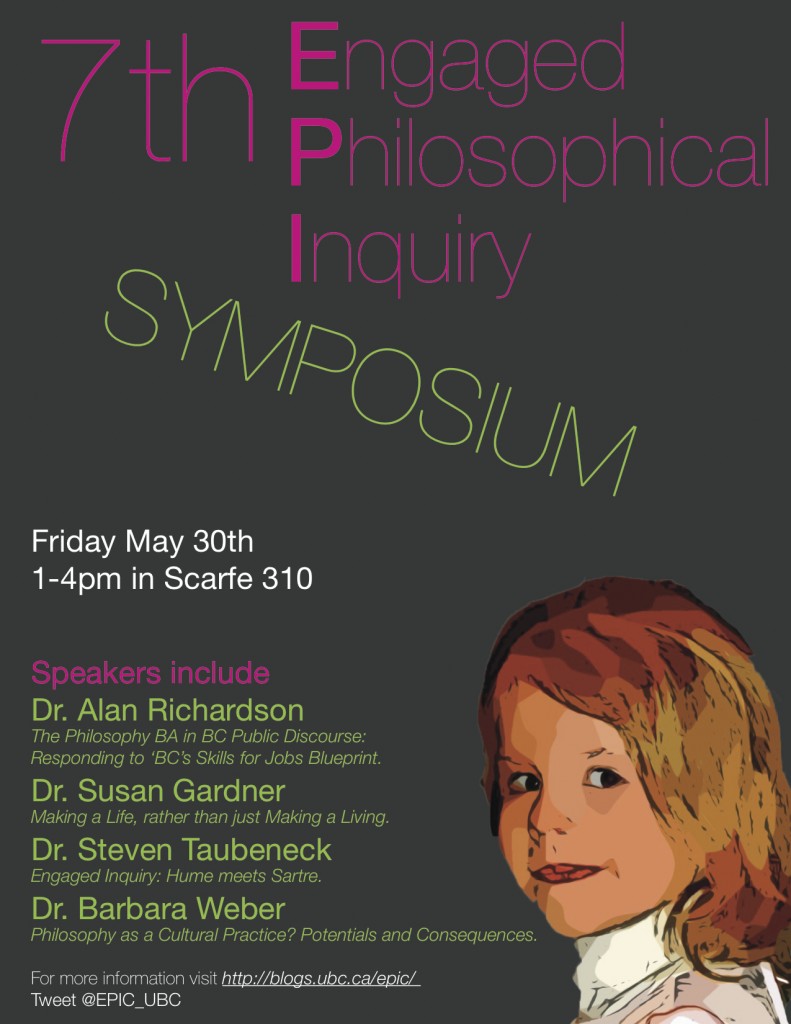 7th Engaged Philosophical Inquiry Symposium:
What is 'Engaged Philosophical Inquiry' and what is its Role in Education and Society?
On Tuesday, April 29, the Minister of Advanced Education, Amrik Virk, announced the BC Government's new "BC's Skills for Jobs Blueprint." With it came the demand for post-secondary institutions to focus their training programs and courses on 'high-demand occupations, such as business, commerce and sciences.' Thinkers like Hannah Arendt, Max Horkheimer, Max Weber and many others have criticized the insidious 'economization of the public' where the values and responsibilities of individuals would be superseded by those of market-driven corporate bodies which typically justify actions according to materialistic considerations of quantity, utility and efficiency (Weber 1973, Horkheimer 1967, Habermas 2004).
As a response to Amrik Virk's statement, our next EPI symposium will explore the deeper meaning of 'Engagement', 'Philosophy' and 'Inquiry'. In a second attempt we will investigate whether or not quantity, utility and efficiency should be the overarching values for school and higher education. Thirdly, we will discuss the role that philosophy ought to and could play in education and the public. We have four panel speakers who will give a very short presentation each. The focus, however, will be on discussion as well as a communal envisioning of the future of education.
Date: May 30th, 2014
Time: 1:00-4:00 pm
Room: Scarfe 310 (UBC campus)
Program:
1:00 – 1:10 pm: Welcome and short Introduction
1:10 – 1:45 pm: Dr. Alan Richardson, Head of the Department of Philosophy, UBC
Title: "The Philosophy BA in BC Public Discourse: Responding to 'BC's Skills for Jobs Blueprint."
1:45 – 2:20 pm: Dr. Susan Gardner, Full Professor of Philosophy, Capilano University
Title: "Making a Life, rather than just Making a Living."
–        20 MINUTE BREAK     –
2:40 – 3:15 pm: Dr. Steven Taubeneck, Associate Professor of Literature and Philosophy, UBC
Title: "Engaged Inquiry: Hume meets Sartre."
3:15 – 3:50 pm: Dr. Barbara Weber, Associate Professor of Human Development, Learning and Culture, UBC
Title: "Philosophy as a Cultural Practice? Potentials and Consequences."
3:50-4:00 pm: Updates on Webpage, Projects and other News