Activity 2: The great dudes
According to Dudeism, Dudeists prophets and peacemakers have existed throughout history.
Part 1: Portrait of a dude

Via Wikipedia Commons
What is the essence of being a great dude?
In pairs, read through the Great Dudes of History page, and review 2-3 articles of your choice from the "Dudes of History section" of the "Dudespaper." Compile a list of characteristics that  exemplify what being a "Great Dude" is all about.
We'll discuss the characteristics as a group when you're done.
While brainstorming think about the following:
What actions/in-actions make a great dude?
What attitudes and perspectives?
What professions?
How do dudes conduct themselves?
What does success look like to a great dude?
What do dudes think about technology?
Part 2: Getting involved! Writing for the Dudespaper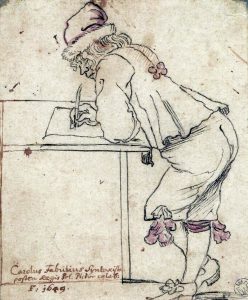 Via Wikipedia Commons
With your "Dude profile" as a guide, use the internet to help  identify and research a new "Great Dude". The person you select can be a historical figure, a character from literature or someone from the present.
Write a succinct, 1-2 page explanation of why your selection should be considered "A Great Dude". Include relevant biographical details and consider the tenets of dudeism. Also consider the online dudeism community and comment upon whether you think your selected person would be interested in learning more about his/her connection to other like-minded dudes from around the world.
Students interested can submit a copy to the  Dudepaper here.
Images:
https://commons.wikimedia.org/wiki/File:Jesus_is_a_cool_guy.png
https://commons.wikimedia.org/wiki/File:Fabritius_A_man_writing.jpg