Welcome to FREN 102. On this site, you will find basic documentation for the course. The most up-to-date official version will always be that on this present site.
QUICK NAVIGATION
IN CLASS THIS WEEK and next…
SEMAINE 3
Du 15 au 19 janvier 2018
SEMAINE 4
Du 22 au 26 janvier 2018
SEMAINE 5
Du 29 janvier au 2 février 2018
WORK IN CLASS:
❊ Ch. 6: compétence 2-3 (230-241)
ASSIGNMENTS IN CLASS:
❊ Vocabulary QUIZ: ch. 6 compétence 1
TO DO BY THE END OF THIS WEEK:
❊ iLrn ONLINE EXERCISES on ch. 6 compétences 2-3
SEMAINE 6
Du 5 au 9 février 2018
WORK IN CLASS:
❊ Ch. 6: compétences 3 (continued)-4 (236-245)
❊ reading & culture (248-251 or alternative)
❊ music and/or poetry (256-257 or alternative)
ASSIGNMENTS IN CLASS:
❊ Vocabulary QUIZ: ch. 6 compétence 2
TO DO BY THE END OF THIS WEEK:
❊ iLrn ONLINE EXERCISES on ch. 6 compétences 3-4
SEMAINE 7
Du 12 au 16 février 2018
MONDAY: NO CLASSES (BC FAMILY DAY)
WORK IN CLASS:
❊ Test 2: ch. 6
❊ Ch. 7: regional focus + compétences 1-2 (258-269)
ASSIGNMENTS IN CLASS:
❊ TEST on ch. 6  (in your first class this week, 10-15 minutes)
TO DO BY THE END OF THIS WEEK:
❊ iLrn ONLINE EXERCISES on ch. 7 compétences 1-2
❊ COMPOSITION 2 (on ch. (5-)6 material)
FAQ ABOUT FREN 102
● Where and when is the lab / laboratory?
● What materials do I need for this course?
● How do I set up and use the online (iLrn) course materials?
● Whom should I contact for further questions, support, and troubleshooting about iLrn exercises?
● What assignments do I have and when are their due dates?
● What's this "lab"? Do I have to register in a lab? When and where are the labs?
NB: there are NO LABS in the first two weeks of term
● What will be on the final exam?
● I think I'm entitled to an accommodated exam, or to exam accommodations?
FAQ ABOUT FRENCH AT UBC: PLACEMENT, REGISTRATION, ETC.
● Is FREN 102 the right course for my level and requirements?
● I have already done some French: which course would be more appropriate for me?
● How do I find out what level my French is at?
● What can and should I do if a class/section is full?
InFAQ
● I have other questions about French at UBC…
● I have other questions about enrolment, registration, my degree programme, and other academic matters… whom should I contact?:
● I have other questions about UBC life: well-being, access and diversity, finance, health, being an international student, security
● HELP! I need help. Please help?
More Q…
Further questions, uncertainties, comments, other issues throughout the term:
Email: juliet.obrien@ubc.ca
—Dr O'Brien reads her email at least twice a day during usual working hours: that is, Monday to Friday, 9:00 a.m. to 6:00 p.m. She usually replies by the next working day—if you email between a Friday evening and a Sunday evening: then Monday—and sooner if the matter is urgent.
—NB: Please include your course information—ex. "FREN 102-201″—in your email subject-line; otherwise your email will go to "junk" rather than a filtered priority folder.

Office hours:
—t.b.a. January 2018
HOW TO USE THIS SITE
Search box: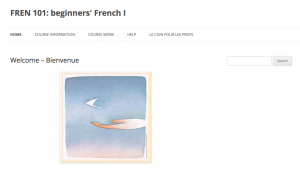 Drop-down menu: see especially FAQ: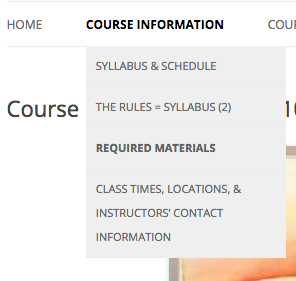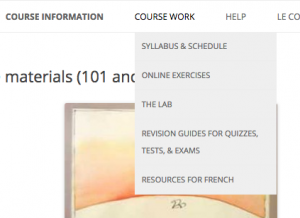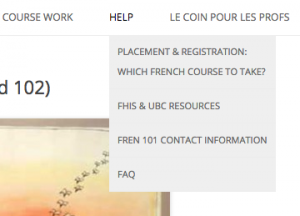 ACKNOWLEDGEMENTS
Thanks to:
The Department of French, Hispanic & Italian Studies; and UBC.
Joël Chauvin for technical and creative support.
Special thanks to previous co-ordinators of FREN 101 & 102: Jocelyne Baverel, Jacques Bodolec, and Maryse Duggan. The present incarnation of FREN 101 & 102 builds on their work; their approaches and ideas are integral to it and remain integrated within it.
Consulting contributions to FREN 101 & 102 from instructors (2011-), lab monitors (2013-), and research assistants (2015-):
Joanna Alexis, Ignace Ankomah, Behnaz Arabian, Hananeh Arandi, Vanessa Archambault, Sylvia Bascou de Vallarino, Steven Bealle, Emily Beatty, Mélanie Bennett, Magali Blanc, Jacques Bodolec, Liza Bolen, Pooja Booluck, Camille Chaillou, Deanna Chan, Jason Cyr, Grace Donovan, Monika Edinger, Sara Emami, Desiree Fa, Destinee Fa, Han Fei, Piers Fleming, Luc Fotsing, Brianne Fenrich, Brittany Glenn, Arezou Hashemi, Eleanor Hoskins, Ben Huberman, Mary Kazuko Hikosaka, Massoumeh Khaleghi, Marie-Gérald Jean, Jane Ladesma, Line Lavoie, Farah Leplat, Michelle Levit, Bridget McCartin, Niall Mann, Anne-Claire Marpeau, Caitlin Midgley, Soline Milet, Robert Miller, Yoonbin Min, Marie-Claire Mushiya, Liza Navarro, Michael O'Hagan, Susa Oñate, Stéphanie Palisse, Chantal Phan, Thalia Platis, Arielle Prele, Mariantonia Ramogida, Karen Roy, Carl Ruest, Sarah Shamash, Molleen Shilliday, Dorian Simonneaux, Sinead Sprigg, Simida Sumandea, Elina Taillon, Marilyse Turgeon-Solis, Cristina Uroni, Marie Vondracek, Xuebing Xu, Wenyan Yang, Maryse Zeidler.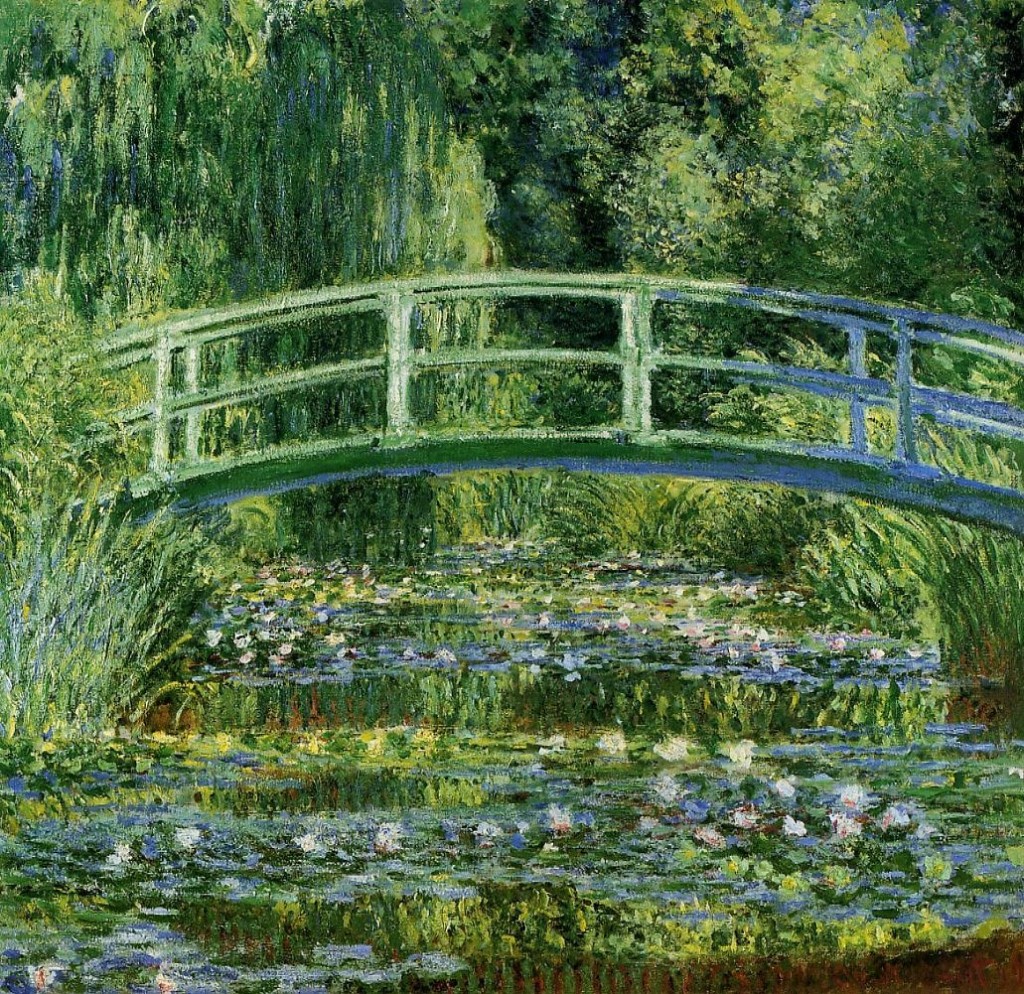 Claude Monet, Water lilies and Japanese bridge (Giverny); oil on canvas, 1897-99.
Princeton University Art Museum.
Image source: Wikimedia Commons
Other images around the site: Jean-Michel Folon (1934-2005). For more of his works, see inter alia the Fondation Folon and Folon-art.
Materials, including this present site UBC FREN 102: beginners' French, produced for FREN 102 by its co-ordinator, Juliet O'Brien is copylefted under a Creative Commons Attribution-NonCommercial-ShareAlike 4.0 International License.
Attribution — You must give appropriate credit, provide a link to the license, and indicate if changes were made. You may do so in any reasonable manner, but not in any way that suggests the licensor endorses you or your use.
Share Alike — You are free to share (copy and redistribute the material in any medium or format) and adapt (remix, transform, and build upon the material). If you remix, transform, or build upon the material, you must distribute your contributions under the same license as the original.
NonCommercial — You may not use the material for commercial purposes: that is, financial profit, commercial advantage, or monetary compensation.
Materials from this site available online elsewhere for a fee = illegal and theft.
(This Creative Commons licence does not affect the course materials provided by and associated with the course textbook; they remain the copyright of their authors and publishers.)