The Team: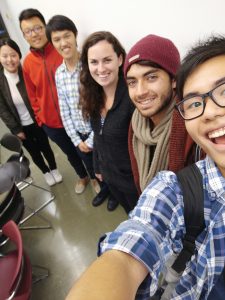 Adelia Jacobs, FNH, interests include: hiking, photography

Wayne Li, FNH, interests include: squash/racquetball, calligraphy

Yiwu Zhang, FNH, interests include: badminton, photography, cooking

Ernest Wu, Plant and Soil Science, interests include: biking, nature walks, travel.  

David Ontaneda, Global Resource Systems. Interests include: Sustainable business, surf, biking,

Zilu Ye, FNH.Interests include: travel,hiking,and cooking.
Group interests, goals, reasons for choosing our project:
Our collective interests as a group include food security and food sovereignty and the importance of learning about these issues in the real world through first hand experience. In this project, our goal is to highlight specific food assets, such as grocery stores and small food retailers, within the neighborhoods of Vancouver, and use this information to contribute to the on-going Vancouver Food Asset Map. In addition we will also collaborate with community members in the Renfrew-Collingwood neighborhood for the trailing and testing of the applicability of the Vancouver Food Asset Map with the targeted local residences.  Our intentions for this project is to further quantify where food assets in Vancouver are located and  address the key aspects for creating food security through the presence of grocery outlets. The development of this map is intended for use by people in need of locating nearby food assets and providing them with details on store hours and proximity of their location. For example new immigrants to Canada is a target demographic that can benefit from the usage of this map to locate culturally appropriate grocery stores that offer foods suited to their palate, which may otherwise be difficult to find. Throughout this project we hope to gain insights into food security in Vancouver and better understand the impacts of community networks in the city. We also hope to contribute to the community by helping those in need through the development of this map to access a wide variety of grocery and small retail stores near their location.
Introduction to our project and community partners:
The first part of our project entails a collection of data relating to grocery, markets and small food retailers. Information such as addresses, opening hours, and any contact information will be necessary to providing relevant information on the Vancouver Food Asset Map. With this map, we hope to create an easy to use platform for those who are food insecure. For this project we are working closely with Vancouver Coastal Health and other partners to complete the task of populating the map to a significantly more detailed level and debrief after data collection. In the second stage of this project, we aim to clearly explain to community members in the Renfrew-Collingwood neighbourhood how to utilize the food asset map and use their feedback to further develop and enhance the ease of use and information on the map.
Current Vancouver Food Asset Map- Grocery, Small Retail Stores and Small Markets (Sept. 22, 2016)
Describe first impressions of process to date (integrating the themes from Ernesto Sirolli's TED Talk and the principles of Asset-Based Community Development + Food Justice)
We will be working to integrate food assets within the community into the map and asking for feedback/ community input on the map. Community input can be crucial in the development of the food asset map as the logistical concerns and ease of use of the map is determined upon its acceptance within the community members. We must listen to the community members instead of interpreting our data with a closed mind. As Ernesto Sirolli said in his Ted Talk "the most important thing is passion, if you give someone an idea and they don't want to do it, what are you going to do?" and "I do something very very difficult, I shut up and listen to them!". We intend on listening to community members without imposing an idea on them and fully take in what they have to say about the Food Asset Map. Going into the meeting with Vancouver Coastal Health and other project partners, we had only a vague understanding of what exactly we were expected to accomplish, however, we listened to what was needed to help complete the task of finishing the Food Asset Map and we left with an idea of what is needed, what needs to be done, and how we could approach.