Welcome to UBC Blogs. This is your first post. Edit or delete it, then start blogging!
This ad is for the beauty company Glossier, and specifically sells their Perfecting Skin Tint foundation. Glossier's focus on glowing, dewy skin is emphasized in their brand slogan "Skin first. Makeup second", and is also embodied by this product promising to give just that. The ad's imagery of funky graphics and the stripe of muted millennial pink bordering the product codes for their intended audience: Millennial and Generation X women. The model appears effortless and casual with a fresh faced 'no makeup' look and slightly tousled hair, accentuating natural beauty complimented by the carefree and youthful attitude of her pose that also makes her and the brand look friendly and relatable. The nudity is not explicitly sexual, but more so embodies a comfort in her own skin, which should be noted, is flawless and is this highlighted feature of the ad. Even though these images are presented as a celebration of the self, this is still an ad selling foundation. It is implied that buying this product will allow the customer to achieve the same 'perfect skin', as well as the embodied fun lifestyle and take on the "cool girl" persona represented not only by the model, but Glossier as a brand in general. The lack of prices listed allows the audience to be enveloped into the fantasy of the lifestyle and aesthetic Glossier is selling them without any financial distractions. Despite Glossier's minimal aesthetic, their prices are anything but: just 30mL of Skin Perfecting Tint costs CAN$26, excluding shipping. Unlike older, 'traditional' beauty advertisements, Glossier does not use blatant sex appeal or gaudy opulence to advertise their products on television, but instead opts for using trendy minimalism and 'modern' ideals tailored towards younger generations like embracing natural beauty. Although the practice of marketing a desirable lifestyle to sell products is not new, Glossier is interesting because they perform the guise of being different from the more traditional marketing that came before them by using millennial-targeted aesthetics and advertising through influencers and social media – this is what I will be analyzing with my ad jamming.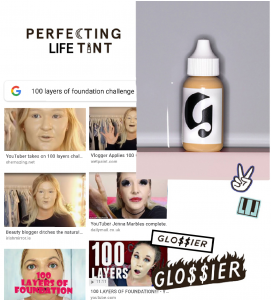 In my ad jam, I turned the implicit promises summarized in the analysis of the original Glossier ad into an explicit statement by editing the foundation name from "Perfecting Skin Tint" to "Perfecting Life Tint". This name bluntly describes the fantasy Glossier uses to sell its product with, and points to the absurdity of believing that buying foundation can transform ones' lifestyle into one that Glossier markets – a concept reproduced by essentially every other beauty advertisement. I replaced the picture of the model with a screenshot of some videos of the 100 Layers of Foundation Challenge, a trend that went viral during the summer of 2016, and was also reproduced using other cosmetics. It is clear how Glossier's chic minimalism juxtaposes the ridiculous, maximalist nature of the 100 Layers Challenge, where 'participants' apply 100 layers of a cosmetic for humour and entertainment, with the most popular video currently bragging 9.4 million views. The challenge's virality is comparable to Glossier's considerable online presence, as they both utilize social media to reproduce and self-propagate, and have achieved popularity amongst a similar targeted demographic. The jammed ad's association of the Skin Perfecting Tint with the 100 Layers of Foundation Challenge videos allows the viewer to reasonably fathom the product creating a look that is the antithesis of what it was marketed for, regardless whether or not it is specifically being used by the people in the videos. This demonstrates that without the brand's meticulously curated aesthetic, it is not so different than any other similar product. The 100 Layer Challenge also serves as a metaphor for how prone many consumers are to surrounding (or slathering) themselves in "perfecting" products that in reality, would not be life altering. By depicting these people using so much product, I wanted to create a narrative that would mirror the reality of mass consumerism ironically encouraged using minimalist aesthetics. Turning the S's in "Glossier" into dollar signs was straightforward way to showcase that although Glossier tends presents themselves as a trendy lifestyle, they are ultimately a company trying to turn a profit. The 100 Layers Challenge can also be interpreted as a self-deprecating way to poke fun at and critique how Glossier's seemingly progressive embrace of 'natural beauty' is largely through showcasing models who are already conventionally attractive – if high coverage foundations are used to mimic the same perfect skin advertised, then what could possibly be more perfecting than bathing in them?