This is an Adidas advertising campaign for Hip-Hop & Fashion Icon Kanye West, this vintage sneaker ad directly guides me back to my youth and memories of how much I coveted my favourite athlete or idols and most influential sneaker. The sneakerhead cultural is a someone who obtains, trades, or admires sneakers as a hobby. Sneaker collecting is often demonstrated by the use and accumulation of shoes made for particular sports and can range from designers, musicians and fashion icons. Adidas has recently been receiving backlash for not dropping Kanye West due to his negative comments, outlandish outbursts and his political views. Adidas CEO Kasper Rorsted stated there had been no conversation about dropping Kanye West, but that he intended to consult with the rapper about his public statements declaring "there are some comments Adidas does not support". Rorsted also declared that "Kanye has been a significant part of our strategy, and has been a phenomenal creator. Adidas has also stated that the "YEEZY" collaboration as "the most significant partnership ever created between a non-athlete and an athletic brand". The problem I am going to address in this ad is Kanye West due to his recent political view as a Donald Trump supporter and recent arrogant remarks about slavery. Trump and West relationship dates back to 2016 with West comments at Kanye's Saint Pablo Tour stop in San Jose stating "If I would've voted, I would've voted for Trump" after his triumph over Hilary Clinton in the 2016 presidential election. Shortly after his San Jose Saint Pablo tour stop, West was admitted to the hospital for stress and exhaustion. Days after being hospitalised, the rapper was released and visited Donald Trump at the Trump Towers, which was frowned upon by West's companions or supporters. Most recently West spoke to Ebro Darden, the infamous host of Hot 97 radio show in New York about his comments. His support for Trump did not change at all as he stated his support and affection for Trump quoting "I do love Donald Trump." In this assignment wanted to combine popular culture with politics and current events due to my concern and beliefs on both these icons and this specific brand. Kanye West is a very successful African-American male in the United States and the majority of the young black men in the world much like myself look up to him and his lifestyle. With him making such negative and ignorant remarks about slavery and showing support for one the most arrogant politician in history I believe its unacceptable for the progression of black youth and men in a positive way.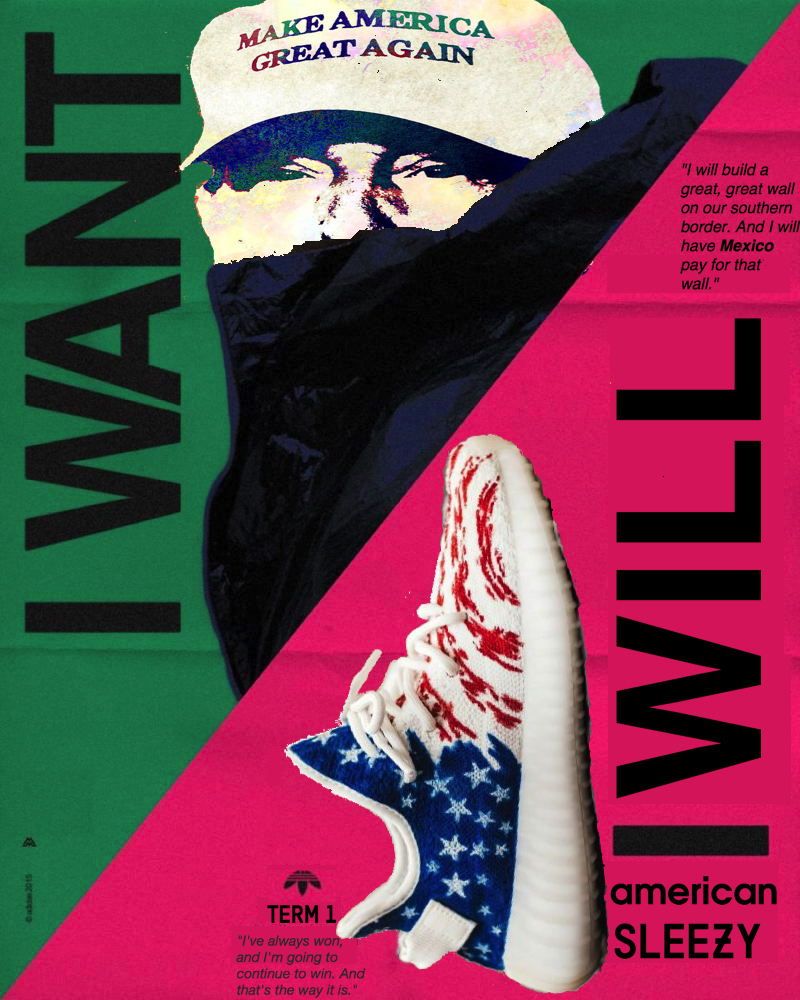 My philosophy in this Cultural Jamming Assignment is to utilise this Adidas Kanye West advertisement along with images I created and accumulated of Donald Trump to produce this American propaganda poster to sell the viewers the "American Dream" and Donald Trump's political views. I made many alterations to this ad by removing Kanye West entirely from the ad. I replaced him with an artistically modified photo of Donald Trump wearing his infamous "Make America Great Again" hat.

 

The reason I removed Kanye from the ad is that I feel like he has been brainwashed or confused entirely by Donald Trump. I genuinely feel his individuality has been changed or altered so that why I chose to cover up his identity with Donald Trump. Ironically recently Kanye West has been seen taking a selfie with several politicians wearing this infamous hat. This specific advertisement is apart of the "I Want, I Can" campaign, so I chose to alter the I Can section with I Will. My reasoning for doing so is because I believe its always the outcome of the current president of the United States. Donald Trump continues to disrespect other nations along with his own so there is no doubt to me that he will do anything he wants. Within this ad, there are many short descriptions of the shoe and why you should purchase this product. I replaced these texts with quotes that Trump has stated, more specifically the one about the wall he intends to build to help keep out the "illegals" and reiterating that he will get Mexico to pay for this wall.

 

This comment is unacceptable and absurd as it is racist and prejudice against Mexican and Latino heritage and culture. At the bottom of the ad, I flipped the Adidas sign upside down and added another quote by Trump with one stating "I always won, and I will continue to win, and that the way it is." As arrogant as this remark is, it is the truth to an extent as Trump has excelled in multiple aspects of his life especially financially and politically. The last alteration I make to this advertisement is to the product that Adidas is attempting to sell in this ad which is the Yeezy 350 Boost sneaker. I photoshopped the American flag on these sneakers to signify American Pride and Dominance that always seem to be the goal and result especially when Trump is in power. Furthermore, my assignment aspires to invoke the views of people we idolise and how our support for them can be hurtful and degrading our people. With that being said I look up to Kanye West artistically, but as a human being, I question some of his action and remarks. As a person who has supported Kanye's brand does that make me a supporter of Trump? I hope not because I refuse to support a man of that magnitude of ignorance and hypocrisy.