Laneway housing: A creative use an of an urban backyard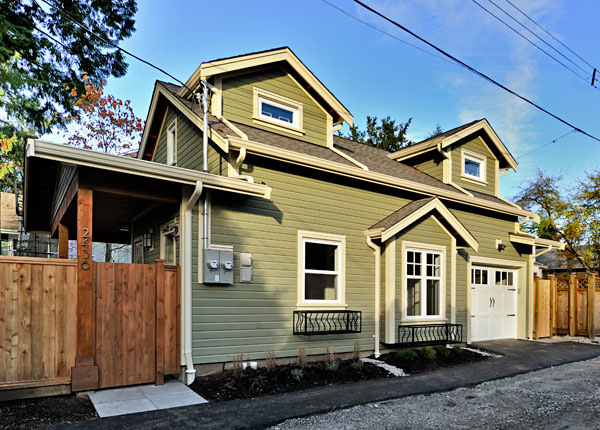 "Since when did they start building two floored garages?" I thought to myself as I passed by what looked like a miniature housing unit being constructed behind a main residence. I took a closer look and there was in fact a kitchen, a living space, and stairs to the upper floor. This, apparently, is called a laneway house (LWH).
Having come from the suburbs, this idea of laneway housing was completely foreign to me. For those of you who are also unfamiliar with LWHs, they're basically small houses and the back of a lot near the lane that includes both a dwelling unit and parking space. A single family home can now have a laneway house in addition to the secondary suite in the main house; however, laneway houses are only permitted in certain single family areas in Vancouver at the moment. Furthermore, owners are allowed to put these homes up for rent. For additional information, download the City of Vancouver's Laneway Housing How-To-Guide.
Sustainable benefits of LWHs include:
1. Affordability: LWHs costs approximately $250,000 to $350,000 to build and they increase diversity in housing choices.
2. Size: The maximum size of a LWH is approximately 750 square feet; thus, it's cleverly compact and maximizes the use of space. The size greatly impacts the home's energy use and sustainability. Smaller homes conserve significant resources in their construction, maintenance, and operation. Additionally, LWH make use of existing municipal infrastructure – getting more people in while maintaining environment.
3. Construction process: Factory prefabrication allows reduction in construction waste and reduces site disturbance. It takes 16-18 weeks to build.
4. Lane enhancement & social sustainability: LWHs make lanes greener, more livable, and safer by providing living space and planting where regulations otherwise permit garage and paving. Regulations and design guidelines ensure that LWHs: maintain backyard open space and stay as close to garage form as possible to limit impact on neighbours. LWH complies with the Green Home Program.
5. Landscape design: Vertical planting is required along the edge of the lane as well as permeable surfacing for parking. Green roofs, walls, and planting of deciduous trees are encouraged. Lighting in the back lanes help make the lane a safe and welcoming to pedestrians.
6. Shorter commute: Closer to transit stops, stores, schools, and workplaces.
Personally, I think this is a great and innovative way of altering our current surroundings to improve sustainability, affordability, and livability. However, there are groups who are strongly against this movement – their main arguments include the impact on privacy, concerns from neighbouring properties not being considered by planning departments, increased shading of neighbours' backyard, and increased noise levels. What's your say?