HeyyGirlHEYYYYYYYYYYY.
So, tonight, I will attempt to tactfully tackle my opinion on Lily Allen's comeback single/video: "Hard Out Here."
For those of you who haven't watched it:
Cool, so there's a lot going on in there, and there's a lot going on in the song, and there's a lot going on with Lily Allen.
She's had two kids. She's miscarried. She said she was retiring from music.  She opened a clothing store with her sister. She launched her own record label.  She got married.  She took her married name, as her stage name.  She took her maiden name back, as her stage name, shortly after.  She covered some Keane. She tweeted a little bit.  She's been busy, ok??
So, it's really no surprise that her "mumback" record would be just as busy as her.  I mean, she's got a lot of bases to cover.  She's been sitting on the sidelines, as a solo artist, since 2000.  And this single, is a series of observations from years of being on the bench.
This video is clearly satire, but everyone who says it is completely ludicrous and malicious is completely right, too.  But that's how Allen rolls, guys.  She wrote a song titled "F*** You" for George Bush, and she's a Brit.  She so isn't into be subtle.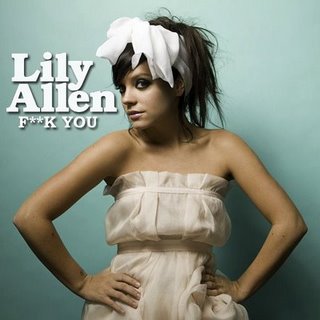 You can either choose to jump on her ship, or not.
The music industry today is falling apart.  I mean, it has been the year of Miley Cyrus and Robin Thicke.  Both are talented artists, in their own respective ways, but by no means should they have received the amount of attention that they did.  Anyone can cross the line in the industry, quite easily, but few actually have the chops to do it with a ground-breaking social message.
That is why I'm in love with Allen, all the more.  She's willing to put it all on the line, to attempt to change the industry norms.
She's willing to shove twerking in our faces long enough, for us to see how demeaning it is to women.  I mean, you don't see guys twerking it hardcore in videos, do you?
She's willing to publicize her body-image struggles, after two babies.  Especially, with all the pressure the industry has put on her to come back "fighting thin."
She's willing to shove money, and products in our face, so many times, that we actually might figure out what is wrong with the capitalist society we live in.
She's willing to straight-up call-out Robin Thicke with lyrics like: "Have you thought about your ass?/ Who's gonna tear it in two?" (A direct reference to T.I.'s verse on Thicke's "Blurred Lines.")  But, even more visually, in the video, dancing in front of identical balloon letters spelling out: "Lily Allen has a baggy pussy," a dig at the "Robin Thicke has a big dick" balloons present, in his video.
Also, on-point, her sly sneer to Cyrus' antics: "there's a glass ceiling to break… there's money to make." Citing all of Miley's antics as more of a business deal, than anything, but with her dignity essentially gone.
On a separate note:
Many articles have blatantly accused her of objectifying women of colour.  Wow, cool, like, thank you so much for pointing that out.  She wasn't saying that's what a cyclone full of videos in the past have done, at all.
To those people, who do think that, alright, cool. But, she makes a serious point about the industry, I mean, the ones as background singers are likely women of colour, in a live performance, but that doesn't imply lower/non-existent star power, whatsoever.
And, various articles have said she "disassociates" with her dancers, by not being dressed-down to the same degree.  But, honestly, she had a baby at the beginning of the year, and she's dealt with enough flack for her figure, so do you really think she's going to want people criticizing her body *again*?
She's human.  She's terrified of failure.  She's sensitive.
All in all,
The record is a totally controversial thing.  It's kind of disturbing on many levels.  Its lyrics are hard-hitting.  But, this is her, as almost the martyr for an easier tomorrow, for female artists.
Because right now. Things are pretty #cray.
So, call it what you will, call Lily Allen racist, call her fat, call her manipulative, or hypocritical, because she is still technically part of this industry.  But, I think she's well-aware of that; she knows she's simply a cog in the wheel.  But, at least she's making her fight in the wheel an interesting one.
Because if there's one thing we've learned, if you want to get yourself noticed, and talked about, in 2013, you have to offend some people, and do a lot of controversial things.
But, at least hers are in the name of justice.