Editorial board member:
European Urban and Regional Studies
European Urban and Regional Studies is a vital resource which meets the needs of todays policy-makers, academic analysts and commentators.
This major journal provides a means of dialogue between different European traditions of intellectual enquiry on urban and regional development issues. In addition to exploring the ways in which space makes a difference to the future economic, social and political map of Europe, European Urban and Regional Studies highlights the connections between theoretical analysis and policy development. The journal also places changes in Europe in a broader global context.
Journal of International Relations and Development
JIRD is an independent and internationally peer-reviewed journal in international relations and international political economy. It publishes articles on contemporary world politics and the global political economy from a variety of methodologies and approaches.
This is the official journal of the Central and East European International Studies Association (CEEISA), implementing a rigorous peer-review system and opening its pages to submissions from all scholars, regardless of regional affiliation.
New Perspectives: Interdisciplinary Journal of Central & Eastern European Politics and International Relations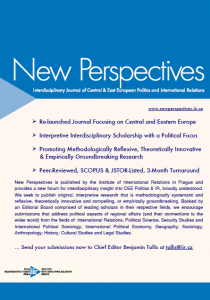 New Perspectives seeks to provide interdisciplinary insight into the politics and international relations of Central and Eastern Europe (CEE). In encouraging interdisciplinary perspectives on CEE IR and Politics – broadly understood – we seek to widen and deepen interpretive and explanatory frameworks for creating useful knowledge on and in the region.
New Perspectives seeks to attract submissions which address political aspects of regional affairs and their connections to the wider world, from the fields of: International Relations, Political Science, Security Studies and International Political Sociology; International Political Economy; Geography; Sociology; Anthropology; History; Cultural Studies and Legal Studies.
Geography Compass (Political Geography section)
Unique in both range and approach, Geography Compass publishes peer-reviewed surveys of the most important research and current thinking from across the entire discipline.
Geography Compass is inclusive: it does not privilege any one perspective over another, it is open to all authors, and publishes articles that are both theoretical and practical in orientation, or concerned with methodology, as well as issue-oriented reviews. The journal's emphasis is upon state-of-the-art reviews, supported by a comprehensive bibliography and accessible to an international readership of geographers and scholars in related disciplines. Geography Compass is aimed at students, researchers and non-specialist scholars, and will provide a unique reference tool for researching essays, preparing lectures, writing a research proposal, or just keeping up with new developments in a specific area of interest.