March 3rd, 2011 by jpopo | Comments Off

on CRW 2011 @ UBC is here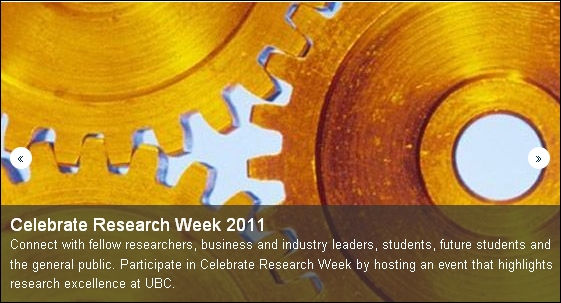 Celebrate Research Week comprises a great number of interesting and diverse events, each with their own approach and audience.  In 2010, an international conference on Sport and Society was held; corresponding with the Olympic Games and CBC's Quirks & Quarks Question Show was taped live at the Chan Centre where UBC experts answered the top 10 questions submitted for the Celebrate Research Week Quirks & Quarks Question Challenge.

Core events encompassed by Celebrate Research Week include:

Celebrate Research Awards Gala
UBC Excellence in Research Lecture (sponsored by the Vancouver Institute)
Multidisciplinary Undergraduate Research Conference (MURC)
Upcoming UBC Library at Celebrate Research Week Workshops include:
RefWorks for the Sciences

RefWorks for the Health Sciences
Noon-hour Refworks
Writing the Research Paper: Student Workshop
Get Published – Sources and Resources
What's the Impact of Your Research? Tips and Tools for Measuring Usage
RefWorks for Business Researchers
Intro to PubMed
Get Published -Sources and Resources
Finding and Using Images in ARTstor
Happy Celebrate Research Week everyone!
Did You Know?
The Centre for Women's and Gender Studies' Beyond Binaries and Borders symposium held on March 13-14, 2009 was part of UBC's Celebrate Research Week. Click here to see their Spring/Summer 2009 newsletter in cIRcle.
Above excerpt in italics and image is courtesy of the Celebrate Research Week website.