March 7th, 2011 by phchow | Comments Off

on Asian Library Open House 2011: Exhibits
The Asian Library and the Department of Art History, Visual Art and Theory are pleased to present two displays – Identiverse and Dimensions of the Asian World at UBC – as part of the Asian Library Open House 2011.
DIMENSIONS of the ASIAN WORLD at UBC: A display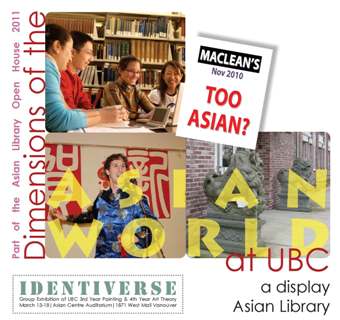 Viewers are invited to conceptualize "Asianness" as a construct in Canada by examining various cultural products – paintings, writings, photographs, quotations, images and video clippings, facts and figures.  Alongside the growing Asian student population at UBC is a rich array of Asian-themed activities, the ever-expanding Asian Studies programs and research, and the participation of non-Asian students and staff in these initiatives.
By featuring the 2010 Maclean's article entitled "'Too Asian'?" alongside B.C. responses to the segregation of coloured students from Caucasian children in the 1920s, viewers are prompted to ponder the tension between coercive practices of exclusion and assimilation. Excerpts of UBC's forum on the thought-provoking Maclean's article, as well as quotes from the Library's Diversity Caucus discussion on the same piece, capture some thoughts about the Asian world on campus.
Please come and visit the display which is in the foyer of the Asian Centre from March 13, 2011.
INDENTIVERSE: Group Exhibition of UBC 3rd Year Painting & 4th Year Art Theory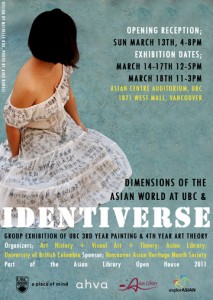 Identiverse, a combination of "identity" and "diversity," explores the transitions and struggles of ethnic groups regarding their individual and cultural identities. The identities of university students are also examined.
Opening Reception:
Sunday March 13 4-8pm
Exhibition Dates:
March 14-17   12noon-5pm
March 18  11am-3pm
Asian Centre Auditorium & Asian Library Upper Floor
Co-organizers Asian Library | Art History + Visual Art + Theory
Sponsor Vancouver Asian Heritage Month Society
Collaborators Institute of Asian Research |  Chinese Language Program, Asian Studies Department | Punjabi Language, Literature & Sikh Studies, Asian Studies Department