April 21st, 2011 by phchow | Comments Off

on Film on the making of Asian Centre now in cIRcle
April 21st, 2011 by jpopo | Comments Off

on Just arrived in cIRcle: Wash With Care Project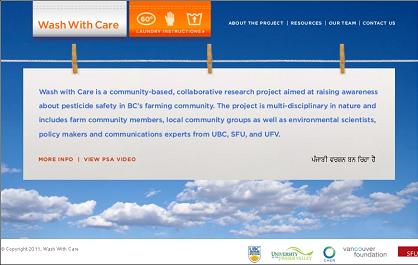 One of the honourable mention submissions for the UBC Library's 2011 Innovative Dissemination of Research Award competition is now available in cIRcle, UBC's Digital Repository!
Some quick facts about this community-based collaborative research project include:
Raises awareness about pesticide safety in BC's Lower Mainland farming communities
Demonstrates how to safely launder pesticide-contaminated clothing via Public Service Announcement (PSA) videos
Features specially-choreographed bhangra dance and well-known Punjabi actors to disseminate the Wash With Care Project message
Includes text-based resources (in English and Punjabi) for laundry instructions
Research team are researchers from Simon Fraser University, the University of the Fraser Valley, and the University of British Columbia
To view the Wash With Care Project videos, be sure to check out these resources in cIRcle at:
Wash With Care: Laundry Instructions
http://hdl.handle.net/2429/33873
Wash With Care: Public Service Announcement
http://hdl.handle.net/2429/33872
To learn more about the UBC Library Innovative Dissemination of Research Award, visit the Scholarly Communications @ UBC website at: http://scholcomm.ubc.ca/events-awards/award/
Above image and partial excerpt are courtesy of the Wash With Care Project website
April 21st, 2011 by sromkey | Comments Off

on Easter weekend closure at Rare Books and Special Collections
A reminder that Rare Books and Special Collections, University Archives and the Chung Collection will be closed for the Easter long weekend (Friday April 22 through Monday April 25 inclusive). Also a reminder that last Saturday was our final open Saturday for the 2010-2011 academic year- our summer hours are in effect  after the long weekend (Monday to Friday, 9-5).
The image above is from the B.C. Historical Photograph Collection and depicts a Good Friday procession from the St. James Anglican Church on Cordova Street in Vancouver in 1914. It is on the front side of a postcard, produced by Timms's Photography. St. James was established in 1881, but burned down in the Great Fire of 1886. The current building, at 303 Cordova St.,  was designed by architect Adrian Scott and opened in 1936 (see The History of Metropolitan Vancouver- 1936).
About

An aggregation of UBC Library blogs that highlight the Library's collections, services, spaces and events.