October 17th, 2011 by elena | Comments Off

on Should Chess Be Taught in School?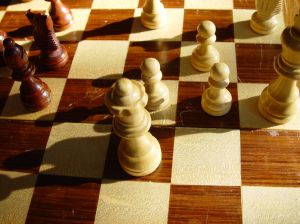 The 120 elementary school children sat so quietly and intently that you might have assumed this was a mass detention period.
But it was chess, not confinement, in an Oak Brook hotel ballroom on Columbus Day.  And the lessons learned might assist school leaders everywhere, including those attempting a systemwide resuscitation for Rahm Emanuel, Chicago's very disciplined, if impatient, mayor.
"My dream is to get in front of education decision makers and convince them to make chess part of the curriculum for K through second grade," said Susan Polgar, the star of the show. "That's when thinking patterns and habits are formed. It should be mandatory, like physical education."
To read the rest of the New York Times article please click here