May 29th, 2012 by Dean Giustini |

Comments Off
"…he presided over UBC Library during a period of extensive growth but he was not a mere administrator; he was a scholar, a lover of history and a gentleman…..in short, a librarian's librarian…."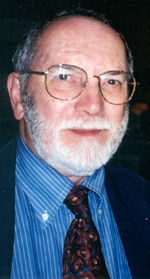 Basil Frederick Stuart-Stubbs (1930 – 2012) was born in Moncton, New Brunswick and earned a Bachelor of Arts degree at the University of British Columbia in 1952, and a Bachelor of Library Science degree from McGill University in 1954. His library career began at McGill where he was a reference librarian from 1954 to 1956. In 1956, Stuart-Stubbs began his career at the UBC Library, working in various divisions such as cataloguing, serials and special collections. He became UBC's University Librarian in 1964, and remained in that position until 1981, when he became Director of the UBC School of Librarianship, later renamed the School of Library, Archival and Information Studies. He retired as Director in 1992.
His support of publishing / resource sharing
In 1971, Stuart-Stubbs (with Anthony N. Blicq) was instrumental in the creation of UBC Press. In 1977, he oversaw the creation of an inter-library lending network for provincial universities on behalf of the BC Ministry of Education. During his career, he contributed as an author, editor and conference presenter on library history and education, publishing, copyright and resource sharing. He was a Fellow of the Royal Society of Canada, and received many awards including the Canada Medal in 1967, Outstanding Academic Librarian from the Canadian Association of College and University Libraries in 1978, and the Order of Canada in 2005. He was presented with the Gray Campbell Distinguished Service Award in 2004, for his contributions to the British Columbia publishing industry. In the mid-1960s, Basil was a founding member of the Alcuin Society which was concerned with book production and appreciation – he continued to be active in the society well into retirement. Following retirement in 1992, he was named Emeritus Professor of UBC.
Community service
Stuart-Stubbs was one of the founders in 1978 of the Canadian Institute for Historical Reproductions in Ottawa, an organization that made early Canadiana more widely accessible to the public. He was its third President from 1986 to 1988. In 1987, he served on the founding Board of the Canadian Centre for Studies in Publishing at Simon Fraser University. As a consultant to government, Stuart-Stubbs served on the BC Arts Board, the Social Sciences and Humanities Research Council, the Canada Council and the National Library. In 2004, he was chair of the Publications Committee of the Bibliographical Society of Canada.
Awards
Canada Medal, 1967
Royal Society of Canada Fellow, 1984
Canadian Association of College and University Libraries. Outstanding Academic Librarian Award, 1987
Gray Campbell Distinguished Service Award, 2004
Order of Canada
Basil Stuart-Stubbs, C.M., B.A., F.R.S.C., B.L.S.
Vancouver, British Columbia
Member of the Order of Canada
Awarded on June 29, 2005; Invested on February 17, 2006
Monographs
Stuart-Stubbs B. Maps relating to Alexander Mackenzie: a keepsake for the Bibliographical Society of Canada. Vancouver: University of British Columbia Library, 1968.
Stuart-Stubbs B. Developments in Library and Union Catalogues and the Use of Microform in British Libraries (Ottawa: National Library of Canada, 1973)
Stuart-Stubbs B. A short account of a Northwest Voyage performed in the years 1796, 1797 & 1798. By Ebenezer Johnson. With an introduction by Basil Stuart-Stubbs. Illustrations by Fritz Jacobsen. Edited by M.S. Batts. (Vancouver: Alcuin Society, 1974)
Stuart-Stubbs B. A survey and interpretation of the literature of Interlibrary Loan. With K. Nichol, D. McInnes and M. Friesen. Ottawa: National Library of Canada, 1976.
Stuart-Stubbs B. The northpart of America. Toronto: Academic Press, 1979. With Coolie Verner.