September 10th, 2019 by lcrema | Comments Off

on New Scholarly Publication Fund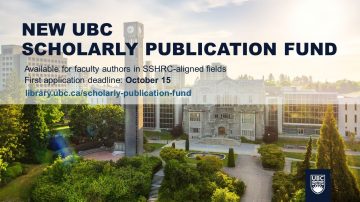 UBC faculty authors are invited to apply to the new UBC Scholarly Publication Fund. The fund is designed to assist with the costs of book or journal publishing in Social Sciences and Humanities Research (SSHRC)-aligned fields. Faculty from any discipline may apply but publications must be directly aligned with SSHRC's General Guidelines for Eligibility of Subject Matter for SSHRC and Eligibility of Applications Related to Health. The fund is intended to overcome challenges faced most acutely by early-career faculty and can be used towards publisher subventions and other costs such as indexing, images or copyrighted materials.
The first deadline to apply is October 15. The fund is  a three-year pilot program and approximately $75,000 is available annually. For full details of the fund, including how to apply visit: https://scholcomm.ubc.ca/ubc-scholarly-publication-subvention-fund/