April 3rd, 2013 by madgett | Comments Off

on MyiLibrary: Watch for the Locked eBook Warning

MyiLibrary has set a limit on how fast you can flip pages in order to protect entire ebooks from being downloaded by machine. If you happen to be flipping through an ebook (and you have to be flipping mighty quickly) and see this message pop up: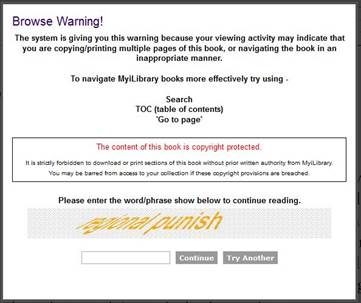 …please fill in the captcha and prove you are human. One an ebook is locked, it is locked for everyone for 24 hours… and that's no fun at all!