Recipe Ideas
Fettuccine with Sweet Pepper-Cayenne Sauce
"Very flavorful and spicy. You'll never know it's a healthy dish. You can also add some cut up grilled chicken – wonderful!"
Ingredients (for 4 servings)
12 ounces dry fettuccine pasta
2 red bell peppers, julienned
3 cloves garlic, minced
3/4 teaspoon cayenne pepper
1 cup reduced fat sour cream
3/4 cup chicken broth
3/4 cup grated Parmesan cheese
salt and pepper to taste
Directions
Bring a large pot of lightly salted water to a boil. Add pasta and cook for 8 to 10 minutes or until al dente; drain.
Meanwhile, spray cooking oil in a large skillet and saute red bell peppers, garlic and cayenne pepper over medium heat for 3 to 5 minutes.
Stir in sour cream and broth; simmer uncovered for 5 minutes. Remove from heat and stir in cheese.
Toss hot pasta with sauce and season with salt and pepper to taste; serve.
Spanakopita (Greek Spinach Pie)
Check out the how-to cooking video!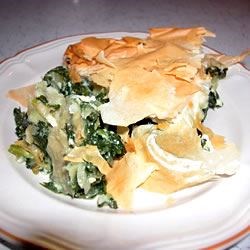 INGREDIENTS:
3 tablespoons olive oil
1 large onion, chopped
1 bunch green onions, chopped
2 cloves garlic, minced
2 pounds spinach, rinsed and chopped
1/2 cup chopped fresh parsley
2 eggs, lightly beaten
1/2 cup ricotta cheese
1 cup crumbled feta cheese
8 sheets phyllo dough
1/4 cup olive oil
DIRECTIONS:
1. Preheat oven to 350 degrees F (175 degrees C). Lightly oil a 9×9 inch square baking pan.
2. Heat 3 tablespoons olive oil in a large skillet over medium heat. Saute onion, green onions and garlic, until soft and lightly browned. Stir in spinach and parsley, and continue to saute until spinach is limp, about 2 minutes. Remove from heat and set aside to cool.
3. In a medium bowl, mix together eggs, ricotta, and feta. Stir in spinach mixture. Lay 1 sheet of phyllo dough in prepared baking pan, and brush lightly with olive oil. Lay another sheet of phyllo dough on top, brush with olive oil, and repeat process with two more sheets of phyllo. The sheets will overlap the pan. Spread spinach and cheese mixture into pan and fold overhanging dough over filling. Brush with oil, then layer remaining 4 sheets of phyllo dough, brushing each with oil. Tuck overhanging dough into pan to seal filling.
4. Bake in preheated oven for 30 to 40 minutes, until golden brown. Cut into squares and serve while hot.
How To Make Microwave Potato Chips
March 13 2012
What You Need
Ingredients
1 or more potatoes or other root vegetable, scrubbed clean
Salt and other seasonings, optional
Olive oil, optional
Equipment
Mandoline
Bowl of cold water
Microwave-safe plate
Paper towels
Instructions
1. Thinly Slice the Potato – Cut the potato in half. Slice one half on a mandoline, aiming for slices 1/8 to 1/16-inch thick. Immediately put the slices in cold water. Repeat with the other half of the potato and any other potatoes you are preparing.
2. Soak and Rinse the Slices – Rinse the slices in cold water until the water stays clear. If you have time, let them soak for a few extra minutes before rinsing.
3. Dry the Slices – Dry the slices between two clean dish cloths or spin them in a salad spinner.
4. Season the Slices – Arrange as many slices as will fit in a single layer on a dinner plate lines with a few paper towels. Make sure the slices do not touch or else they stick together. If desired, sprinkle with salt or other spices. For richer-tasting chips, brush the slices with olive oil first.
5. Microwave the Slices – Microwave the slices at 100% power for 3 minutes. Flip them over and microwave at 50% power for another 3 minutes. Remove any chips that are starting to crisp and brown. Continue cooking the remaining chips at 50% power in 1 minute intervals until they are all crispy and golden.
6. Repeat with Remaining Batches – Transfer cooked chips to a bowl and repeat microwaving with the remaining slices of potato.
Storing – Chips will stay crispy for a few days if kept in an airtight container or zip-lock bag. You can also prepare the raw slices ahead of time, store them in cold water in the refrigerator, and bake them off as you want them.
Vanilla Tea Latte
Credit to Stephanie Mervyn – January 23 2012
Ingredients:
Tetley Vanilla Earl Grey Tea
1/4 cup Skim or 1% Milk
Directions:
Boil the water for the tea. Put 1/4 cup milk (or so, I never measure) into a microwavable-safe mug. Microwave on high for 1 minute. Add tea bag to mug and then boiling water. Stir and enjoy! Keep tea bag in for longer for stronger tea. I generally keep it in there for a long time, because I prefer strong tea.
Homemade Fruit & Nut Granola with Greek Yogurt
Credit to Stephanie Mervyn – January 16 2012
Check out her health and fitness blog!
http://swervyn-mervyn.blogspot.com/
 Ingredients:
1/2 cup walnut halves
1/2 cup almonds
2/3 cup peanut butter
1/2 cup liquid honey
2 tbsp canola oil
3 cups old fashioned rolled oats
1/2 cup chopped dried apricots
1/2 cup raisins
1/2 cup chopped dates
Directions:
Preheat oven to 350 degrees F. Spread nuts on baking sheet. Toast in preheated oven for 15 minutes or until lightly browned. Check often and stir in the final 5 minutes to avoid burning. Remove from oven leaving oven on, and transfer nuts to a cutting board. Let cool completely, then coarsely chop. In a microwave-safe bowl, stir together peanut butter, honey and oil. Microwave on high for 1 minute or until bubbly. Set aside. In a large bowl, stir together oats and the hot honey mixture. Spread evenly on baking sheet. Bake for 10 minutes, remove from oven to stir and repeat two more times, baking for a total of 30 minutes. Let cool completely on baking sheet. Return to bowl and stir in chopped nuts and dried fruits! Makes 20 – 1/2 cup servings.
Usually I will put Greek Yogurt (aim for 0%, I currently am using 2%) into a bowl and then place the granola on top. Mix it up or make it into a parfait! Add fresh or frozen fruit if you would like. Change it up. Use plain yogurt some days or flavoured yogurt. Get creative and add things such as ground flax on top. The possibilities are endless! The above mixture of mine has dragonfruit added. (VERY DELICIOUS!)
Personalized Breakfast Bars
Credit to Raurie Williams – January 9 2012 
There's a lot of variation in this recipe! Make it your favorite breakfast by using your favorite ingredients 
Ingredients
Dry mix:
5 cups – rice crispies OR kamut OR some other kind of puffed cereal
2.5 cups – oatmeal OR rolled oats OR mixture of rolled oats with flax seeds and millet (which is what I like to use)
2 cups – dried fruits, ex: dates AND/OR apricots AND/OR raisins AND/OR cranberries, etc.
2 cups – nuts/seeds, ex: peanuts AND/OR almonds AND/OR pumpkin seeds, etc.
Wet Mix:
1.5 cups – peanut butter (I like using natural no salt/no sugar crunchy peanut butter to add texture)
1.5 cups – honey
Directions

Cut the dried fruits into small squares (if necessary), and mix all the dry ingredients in a big bowl.
Heat and mix together the peanut butter and the honey in a pot.
Poor the heated peanut butter & honey onto the dry mix, and mix the whole thing together.
Spread onto a large cookie sheet or whatever you have that is big
enough and has sides.Push it down to crush everything, and so that it all sticks together.
Let it sit. (I like to stick it in the refrigerator to speed up the process.)
Cut into pieces and enjoy!
Store in a sealed container in the refrigerator.
Sweet Holiday Quinoa
Credit to Kelsey Mooney – December 14 
Ingredients
1 medium butternut squash, halved and emptied
2 cups cooked quinoa
3/4 cup dried cranberries
1/2 cup dried apples, diced
1 large yam, peeled and cubed
1-2 tbsp honey
1 tsp cinnamon
1/2 tsp nutmeg
1 tbsp brown sugar
Preparation:
Preheat oven to 375 degrees Fahrenheit. Place halved squash on a baking tray, and bake for 35 mins, or until tender when tested with a fork.
Meanwhile, mix together cooked quinoa, cranberries and apples in a large mixing bowl.
Bring 1 cup of water to a boil in a pan, and add cubed yam. Add cinnamon and nutmeg. Allow yam to boil until tender. Lay yam on a clean baking tray, and drizzle with honey and brown sugar. Bake in oven for 15 mins, or until lightly browned. Allow to cool before mixing into quinoa mixture.
Place cooked yam on serving dish, and fill with quinoa mixture. Sprinkle a pinch of cinnamon and nutmeg over dish, serve warm (pop in the oven at 350 just before serving for a couple minutes)
Fudge Brownies
Credit to Stephanie Mervyn – November 30

Ingredients
Olive cooking spray for the pan
2/3 cup mild honey, such as clover or orange blossom
1/3 cup natural, unsweetened cocoa powder
1/2 cup white whole wheat flour
1/4 teaspoon aluminum-free baking powder
1/4 teaspoon baking soda
1/4 teaspoon salt
1/2 cup unsweetened applesauce
2 tablespoons olive oil
1 large egg, at room temperature
3/4 teaspoon pure vanilla extract
Preparation
Preheat the oven to 350°F. Spray an 8-inch square pan with olive oil. Set aside.
Place the honey in a large glass measuring cup. Microwave on high power until the honey is runny and just bubbling, 45 to 60 seconds. Add the cocoa and stir with a fork until well combined. Let cool to room temperature.
Meanwhile, in a small bowl, place the flour, baking powder, baking soda, and salt. Whisk until well combined.
In a large bowl, combine the applesauce, oil, egg, and vanilla. Whisk together until well blended. Add the honey- cocoa mixture and whisk until smooth. Add the flour mixture to the liquid mixture and stir until no traces of flour remain. Scrape the batter into the prepared pan.
Bake until the surface looks dry around the edges of the pan and a toothpick inserted in the center comes out with moist crumbs clinging to it, about 25 minutes. Do not overbake. Place the pan on a cooling rack and let cool completely before slicing into 16 squares. (Store the brownies in an airtight container at room temperature for up to 3 days.)
Makes 16 (2-inch) brownies
Prep Time: 5 mins
Cook Time: 25 mins
Total time: 30 mins
Nutrition Facts
Number of Servings: 16
Amount Per Serving
Calories: 86.2
Total Fat: 2.2 g
Sodium: 63.6 mg
Total Carbohydrate: 16 g
Protein: 1.3 g
Chocolate Peanut Butter Fudge
Credit goes to Ben Morris – November 22

Ingredients:
3 ¾ C Icing sugar (about 500 grams)
½ C peanut butter (optional, but very tasty)
½ C Cocoa powder
1 C Butter or margarine (I find margarine tastes the best)
¼ C crushed walnuts (optional)
1 Tsp vanilla
Directions:
Mix icing sugar and cocoa together in a large bowl and mix thoroughly. Drop the peanut butter on top. Melt butter/margarine in the microwave and pour over the peanut butter. Add Vanilla and walnuts if desired. Mix thoroughly until the fudge is a uniform brown with no pockets of icing sugar remaining.
Press into a pan and let sit in the fridge until hard.
Cut and Enjoy
Left over Rice Pudding
Credit goes to Lynn Connally – November 15
If you've got lots of leftover rice and want to make rice pudding, try this leftover rice pudding recipe. This is a decadent and creamy rice pudding recipe that you can serve either as a sweet breakfast or for dessert. Rice pudding is a great way to use up all your leftover rice.
Ingredients:
2 cups milk
1 cup leftover pre-cooked rice
2 eggs
1/4 cup sugar
1/2 tsp vanilla extract
1/3 tsp cinnamon (or to taste)
1/3 cup raisins
Preparation:
Pre-heat oven to 350 degrees.
In a medium saucepan, heat the milk and rice, stirring frequently so the milk doesn't burn. Bring to a slow simmer.
In a separate large bowl, combine the eggs, sugar and vanilla. Add to the milk and rice and allow to cook for just a few minutes, stirring occasionally.
Pour into casserole or baking dish and bake for 20 minutes. Allow to cool slightly before serving.
Arugula Salad with Beets and Goat Cheese
Credit goes to Kelsey Mooney – November 8
Salad Ingredients:
Beets – (boiled until a fork easily goes in it, about an hour), peeled, sliced into strips
Fresh arugula – rinsed, patted dry with a paper towel
Goat cheese – chevre
Walnuts – chopped
Dressing ingredients:
Olive oil
Lemon
Dry powdered mustard
Sugar
Salt and pepper
Directions
The amount of ingredients depends on how many people you are serving and how much salad you intend to serve them. The important thing is that this is a good blend of flavors. I didn't try tossing this salad; each plate was composed individually.
The dressing for three individual salads was 1/4 cup of olive oil, 1/2 lemon, 1/4 teaspoon of powdered mustard, 3/4 teaspoon of sugar, salt and pepper to taste. Actually, it is all to taste. These are only approximate measurements.
Assemble the salad according to how much you want. A handful of arugula leaves, a few beet juliennes, some crumbled goat cheese, garnish with chopped walnuts. Use a vinaigrette salad dressing or what I've described above.
Broccoli Soup
Credit goes to Sarah Louie – November 1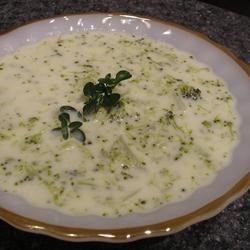 Ingredients
2 tablespoons butter
1 onion, chopped
1 stalk celery, chopped
3 cups chicken broth
8 cups broccoli florets
3 tablespoons butter
3 tablespoons all-purpose flour
2 cups milk
ground black pepper to taste
Directions
Melt 2 tablespoons butter in medium sized stock pot, and saute onion and celery until tender. Add broccoli and broth, cover and simmer for 10 minutes.
Pour the soup into a blender, filling the pitcher no more than halfway full. Hold down the lid of the blender with a folded kitchen towel, and carefully start the blender, using a few quick pulses to get the soup moving before leaving it on to puree. Puree in batches until smooth and pour into a clean pot. Alternately, you can use a stick blender and puree the soup right in the cooking pot.
In small saucepan, over medium-heat melt 3 tablespoons butter, stir in flour and add milk. Stir until thick and bubbly, and add to soup. Season with pepper and serve.
Lemon Raspberry Bars
Credit goes to Alex Berthin, October 26

Yield:  16 bars
Ingredients
For the crust:
1 ½ cups graham cracker crumbs
6 tablespoons salted butter, melted
¼ cup sugar
zest of one lemon
For the filling:
2 large egg yolks
1-14 ounce can sweetened condensed milk
½ cup fresh lemon juice
1 teaspoon lemon zest
6 ounces fresh raspberries
Directions
Preheat your oven to 350 degrees F. Spray an 8×8 inch baking dish with cooking spray. Set aside.
In a medium bowl, combine graham cracker crumbs, melted butter, sugar, and lemon zest. Stir until graham cracker crumbs are moist. Press crumbs into the prepared dish, pressing the crust mixture one inch up the side of the pan. Bake for 10 minutes. Remove from oven and allow the crust to cool to room temperature.
Once the crust is cool, combine the egg yolks and condensed milk until well mixed. Stir in the lemon juice and lemon zest. Stir until mixture begins to slightly thicken. Gently fold in the raspberries. Make sure you fold the raspberries in carefully so you don't break the raspberries and end up with pink bars.
Pour the lemon raspberry filling evenly over the graham cracker crust. Bake for 15 minutes, or until just set.
Cool to room temperature, then chill for at least a few hours before serving. We found that the freezer worked best to firm them up. Cut into bars and serve. Keep bars in the refrigerator for up to five days.
Source: http://www.livelovepasta.com/2011/07/lemon-raspberry-bars/
Guacamole 
Credit goes to Michelle Ah-seng – October 18

Ready In: 10 Minutes
Servings: 4
Ingredients
3 avocados – peeled, pitted, and mashed
1 lime, juiced
1 teaspoon salt
1/2 cup diced onion
3 tablespoons chopped fresh cilantro
2 roma (plum) tomatoes, diced
1 teaspoon minced garlic
1 pinch ground cayenne pepper (optional)
Directions
In a medium bowl, mash together the avocados, lime juice, and salt. Mix in onion, cilantro, tomatoes, and garlic. Stir in cayenne pepper. Refrigerate 1 hour for best flavor, or serve immediately.
Farmer's Market Vegetarian Quesadillas
Credit goes to Liv Yoon – October 11 2011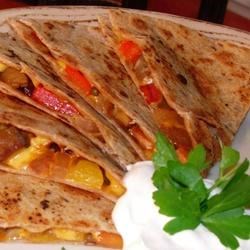 Prep Time: 15 Min
Cook Time: 15 Min
Ready In: 30 Min
Ingredients
1/2 cup chopped red bell pepper
1/2 cup chopped zucchini
1/2 cup chopped yellow squash
1/2 cup chopped red onion
1/2 cup chopped mushrooms
1 tablespoon olive oil
cooking spray
6 (9 inch) whole wheat tortillas
1 1/4 cups shredded reduced-fat sharp Cheddar cheese
Directions
In a large nonstick pan, cook red pepper, zucchini, yellow squash, onion, and mushrooms in olive oil over medium to medium-high heat for about 7 minutes, or until just tender. Remove vegetables from pan.
Coat the same pan with cooking spray, and place one tortilla in pan. Sprinkle 1/4 cup of cheese evenly over tortilla, and layer 3/4 cup of the vegetable mixture over the cheese. Sprinkle another 1/8 cup of cheese on the vegetables, and top with a second tortilla. Cook until golden on both sides, for approximately 2 to 3 minutes per side. Remove quesadilla from pan, and repeat with remaining ingredients. Cut each quesadilla into 8 triangles with a pizza cutter. Serve hot.
Nutritional Information
Amount Per Serving  Calories: 209 | Total Fat: 7.1g | Cholesterol: 13mg
Bacon Cabbage Stir-Fry
Credit to John-Jose Nunez – October 4 via http://allrecipes.com/recipe/bacon-cabbage-stir-fry/detail.aspx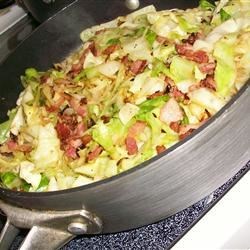 Ingredients
6 bacon strips, diced
1 small head cabbage, chopped
1 teaspoon garlic powder
3/4 teaspoon salt
1/2 teaspoon ground mustard
Directions
In a large skillet, cook bacon over medium heat until crisp. Remove to paper towels; drain, reserving 1 tablespoon drippings. Stir-fry cabbage in drippings for 5 minutes. Add garlic powder, salt, mustard and bacon; cook and stir until heated through.
Cajun Chicken Pasta
Credit to Carol Chu – September 27 via http://thepioneerwoman.com/cooking/2011/09/cajun-chicken-pasta/
Prep Time: 10 Minutes  |  Cook Time: 15 Minutes  |  Difficulty: Easy  |  Servings: 6
Ingredients
3 whole Boneless, Skinless Chicken Breasts, Cut Into Cubes
3 teaspoons Cajun Spice Mix, More To Taste
1 pound Fettuccine
2 Tablespoons Olive Oil
2 Tablespoons Butter
1 whole Green Bell Pepper, Seeded And Sliced
1 whole Red Bell Pepper, Seeded And Sliced
1/2 whole Large Red Onion, Sliced
3 cloves Garlic, Minced
4 whole Roma Tomatoes, Diced
2 cups Low Sodium Chicken Broth
1/2 cup White Wine
1 cup Heavy Cream
Cayenne Pepper To Taste
Freshly Ground Black Pepper, To Taste
Salt To Taste
Chopped Fresh Parsley, To Taste
Preparation Instructions
Cook pasta according to package directions. Drain when pasta is still al dente; do not overcook! Sprinkle 1 1/2 teaspoons Cajun spice over chicken pieces. Toss around to coat. Heat 1 tablespoon oil and 1 tablespoon butter in a heavy skillet over high heat. Add half the chicken in a single layer; do not stir. Allow chicken to brown on one side, about 1 minute. Flip to the other side and cook an additional minute. Remove with a slotted spoon and place on a clean plate. Repeat with remaining chicken. Remove chicken, leaving pan on high heat. Add remaining olive oil and butter. When heated, add peppers, onions, and garlic. Sprinkle on remaining Cajun spice, and add salt if needed. Cook over very high heat for 1 minute, stirring gently and trying to get the vegetables as dark/black as possible. Add tomatoes and cook for an additional 30 seconds. Remove all vegetables from the pan. With the pan over high heat, pour in the wine and chicken broth. Cook on high for 3 to 5 minutes, scraping the bottom of the pan to deglaze. Reduce heat to medium-low and pour in cream, stirring/whisking constantly. Cook sauce over medium-low heat for a few minutes, until cream starts to thicken the mixture. Taste and add freshly ground black pepper, cayenne pepper, and/or salt to taste. Sauce should be spicy! Finally, add chicken and vegetables to sauce, making sure to include all the juices that have drained onto the plate. Stir and cook for 1 to 2 minutes, until mixture is bubbly and hot. Add drained fettuccine and toss to combine. Top with chopped fresh parsley and chow down!
Grandma's Stew
Credit goes to Ben Morris – September 20 2011
The stew your Grandma made. Simple, tasty, cheap and you can freeze it.   Beautiful thing about stew is you can put in whatever you want or substitute anything in or out. This is just an example of a bare bones stew.   Ingredients:
0.5Kg (1lb) Stewing Beef – or any type of beef really cut into small bit-sized pieces
3 good sized potatoes – Yukon, Sweet Potato etc, whichever diced into small bit-sized pieces. For more nutrients, wash the potatoes but leave the skin on.
1 large carrot – peeled and sliced into bite-sized semi circles
Half a medium sized onion diced
Flour (optional, but makes the stew better)
Salt
Pepper
Cooking oil
Recipe
Cut the beef into bit-sized pieces and coat with flour.
Add a small amount of oil to a frying pan and over medium-high heat cook the beef until it is brown on the outside.
Chop the potatoes, onions, carrots into small pieces and add to a large pot.
Add the beef when ready.
Fill the pot with enough water to just cover all of the meat and veggies.
Bring the stew to boil while stirring and then turn down to medium.
Let stew for about 30 minutes minimum to bring out the taste.
Add 1tsp of salt and pepper or add to taste.
Chicken and Cheese Tostadas:
Credit goes to Ekjot Brar – September 13 2011
Ingredients:
–       4-6 Tortillas
–       1 lb Boneless, skinless chicken breast
–       1/2 Chopped onion
–       1 Garlic Clove, minced
–       125 mL(1/2 cup) Diced, canned tomato
–       1/2 mL each of cayenne pepper, and chilli pepper (powdered/ground for both)
–       1 mL Garlic powder
–       1 mL cumin
–       1 mL Worcestershire sauce
–       5 mL Soya sauce – 125 mL (1/2 cup) grated cheese
–       Chopped cilantro and tomato for garnish Instructions:
Preheat oven to 350 degrees F
In a large skillet, brown chicken with onion and garlic,
When the chicken is no longer pink, add canned tomato, cayenne pepper, chilli pepper, garlic powder, cumin, Worcestershire sauce, and soya sauce.
Simmer for 5 minutes with lid off, until thick.
Remove from heat, stir in half of the grated cheese (1/4 cup).
Put tortillas on cookie sheet, spoon chicken mixture evenly over tops of each tortilla.
Top with cheese and tomato. Bake for 5 minutes and garnish with cilantro and sour cream. **Note: This is a mild recipe so adjust spices and peppers to desired spiciness!
http://blogs.ubc.ca/marinedrive/recipe-of-the-week/
Leave a response