Currently listening to: "Hey Jack Kerouac" – 10 000 Maniacs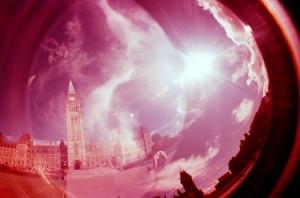 Ottawa, August '08
Fuji Sensia, ISO 100, cross-processed
I'm getting to the very very last of my expired Fuji Sensia film (expired 2006), and I've had no luck in finding a greater variety of slide films anywhere. I love the cross-processed Sensia look, but sometimes all the oversaturated red gets to me, and I'd love to get my hands on some different films – just to experiment with!
Short of getting them online (five rolls for 30 euro), I can't seem to locate them anywhere. Thus, I'm on the search for any of the following types of film (expired is perfectly fine by me):
Fuji Provia-100
Fuji Velvia-100
Kodak Elitechrome EB
Kodak Elitechrome EBX
Kodak Elitechrome ED
If you know where I could get these affordably or easily, PLEASE let me know! Also, if you have any 35mm slide film for sale, drop me a note here! A fellow photographer who shoots and cross-processes slide? I'd love to hear from you too!
Thanks so much in advance, and best holiday wishes all around!
Tags: photography2 Comments