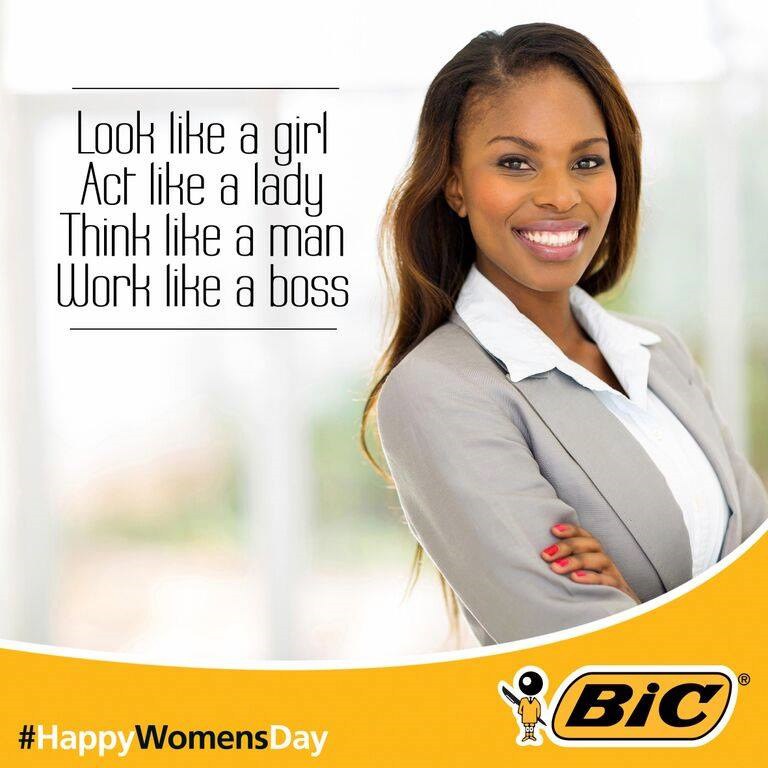 The above ad was published on Women's Day in South Africa by the stationary company BiC and it was intended to celebrate women. However, it caused major controversy because of the sexist message of the ad. The latter two statements of the ad, "Think like a man/ Work like a boss" suggests that women cannot be bosses because of their status as a woman. It implies that being a man is a prerequisite of being a boss. Therefore this subverts the intention of the ad and instead, promotes a sexist message. The other two statements, "Look like a girl/ Act like a lady" suggest that the woman in the ad is the "ideal woman" because she looks like the stereotypical woman. The "ideal woman" is young, wears makeup, wears nail polish, is slender, smiles, and has long hair. These are all characteristics that make a woman "Look like a girl". The ad also features a woman of colour, which shows that the company values diversity because they did not use a Caucasian woman. The woman in the ad is also in professional clothes which implies that she has an office job. With the addition of the text, "Act like a lady", it suggests that to be a woman is to work in the office sector or it could also suggest that the stance of the woman in the ad is the way to "Act like a lady". In addition, it also suggests that women who work in office jobs are the only ones who use stationery items when many people use pens daily.
I will be addressing the above issues regarding the sexist message of the ad and the idea of the "ideal woman". I want to erase the notion that there is an "ideal woman" because all women are different and they should be celebrated for their differences rather than criticized for them. The ad's original intention was the celebrate women so I intend to follow through with that ideology and promote a pro-equality perspective.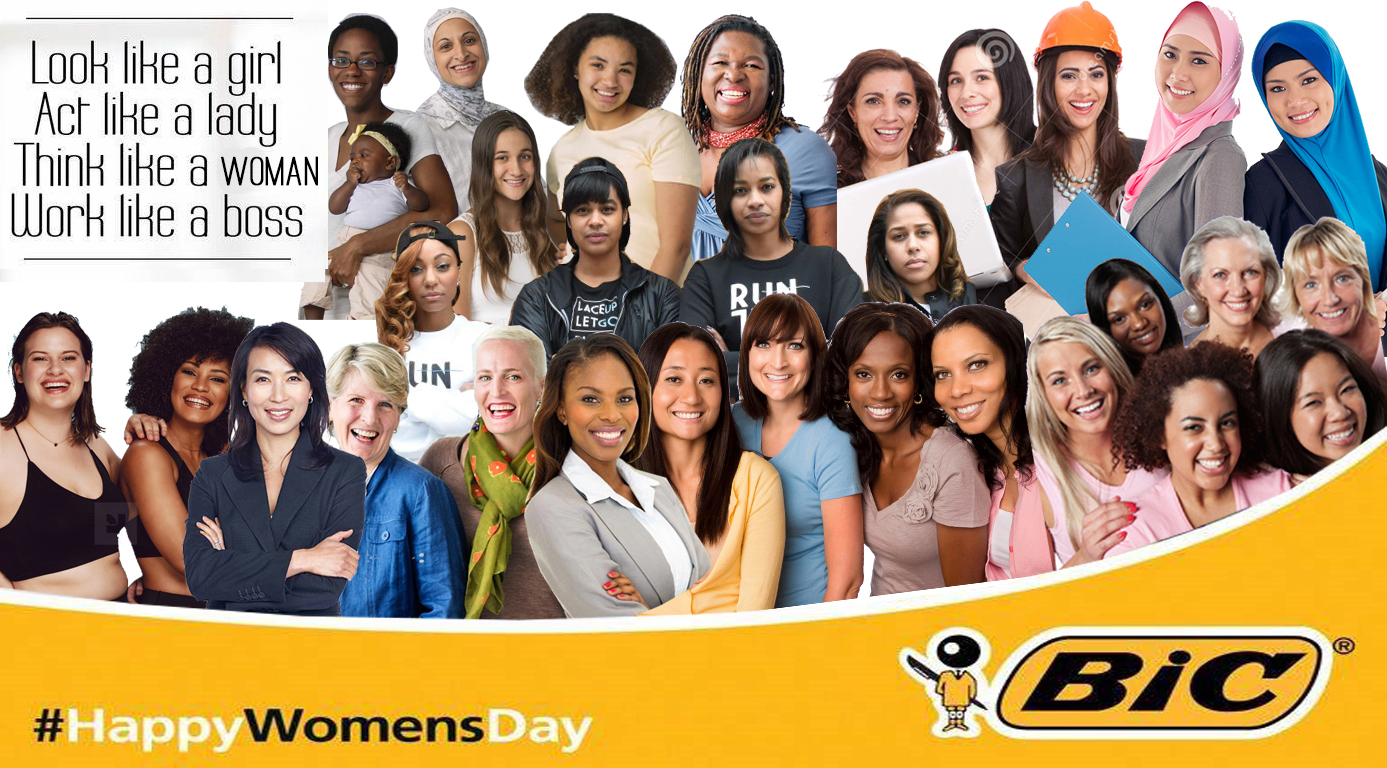 The overall layout of the jammed version of the ad is the same as the original, but I tweaked the text and I added in more women. My goal for this reconstruction was to erase the sexist message and to make the ad more inclusive by including more diverse women in the ad. 
I changed the third line of the text to "Think like a woman" because I wanted to show that women can be bosses and that they do not need to have the mindset of a man to be a boss. When people think about a boss, a male figure is often the first that comes to mind, but my idea was to show that women are just as capable as men. We are used to living in a patriarchal society where men often dominate, which is why men are typically thought of as bosses, but I wanted to change that mindset to show that women can achieve the same goals as men. I think there is often an assumption that women are bossy, but by changing the text I am showing that women are and can be the boss. My reason for changing the text was to convert the original sexist message into a positive one that encourages women to be themselves on a day that celebrates them. 
In addition, I also wanted to include more diversity in terms of race and ethnicity, age, and work sectors so I found images of diverse groups of working women online and I photoshopped them into the ad. My reason for doing this was to show that there is no one "ideal woman" and that there is not a certain way to "Look like a girl" and to "Act like a lady". Those phrases do not have to mean that women should wear makeup, have long hair, wear nail polish, etc., because a woman can also be someone who does not wear makeup and has short hair. I wanted to subvert the stereotypes placed on women and show that women do not have to follow certain stereotypes to be considered a woman. There should not be an "ideal woman" because all women are different and diverse and we should be celebrating the individuality of all women. 
Works Cited 
"A group of diverse women." Rawpixel, Rawpixel Ltd., https://www.rawpixel.com/image/86450/premium-photo-image-african-american-african-descent-asian.
"BiC Ad for Women's Day in South Africa." Daily News, The Associated Press, 14 Aug. 2015, https://www.nydailynews.com/news/world/bic-apologizes-sexist-comment-women-day-article-1.2325746.
"Business woman with arms crossed – stock photo." Getty Images, Getty Images, https://www.gettyimages.ca/detail/photo/business-woman-with-arms-crossed-royalty-free-image/165856154.
Dragon Images. "Two Vietnamese business ladies standing with documents in the office." Shutterstock, Shutterstock Inc. , https://www.shutterstock.com/image-photo/two-vietnamese-business-ladies-standing-documents-186454805.
"Diverse-Women." Working in Peel Halton , http://workinginpeelhalton.com/1000-women-volunteers-help-build-homes-for-34-hardworking-families-learn-more-about-women-in-trades/diverse-women/.
Imageegami. "Mulheres profissionais na mão-de-obra." Dreamstime, https://pt.dreamstime.com/fotografia-de-stock-royalty-free-mulheres-profissionais-na-mão-de-obra-image19584237.
"Leadership Should Not Be Lonely." Women's Ministry Council, WordPress.com, 26 Apr. 2016, https://womensministrycouncil.com/2016/04/28/leadership-should-not-be-lonely/.
Lund, Jacob. "Portrait of Group of Women Posing Together in Sportswear against a Gray Background. Multiracial Females with Different Size Standing Together Looking at Camera and Smiling." You Work For Them , 7 Jan. 2019, https://www.youworkforthem.com/photo/162746/diverse-women-embracing-their-natural-bodies.
Mary Elizabeth Creative. "RunGrl Is Making Distance Running More Diverse." Outside Magazine, 15 Oct. 2018, https://www.outsideonline.com/2348596/rungrl-making-distance-running-more-diverse.
Sparks, Dana. "Women's Wellness: 100 years of solutions, comfort and hope." Mayo Clinic, 8 Mar. 2018, https://newsnetwork.mayoclinic.org/discussion/womens-wellness-100-years-of-solutions-comfort-and-hope/.