I've been putting this off for a while now, so I guess that I should write another course review! I know it won't be super helpful, since not all that many of you incoming students will be going into music, but as long as it helps one person I'll be happy!
MUSC 205 – Musicianship III, Professor Grant Sawatzky
I'm still not really a fan of musicianship as a course, but it's pretty bearable as long as you have a good professor. This term I had Grant, and he was really great. He helped us learn what we needed to learn in class, and he was always available outside of class if we needed extra help. He was honest about the helpfulness of musicianship, which was much appreciated, and he coached our entire class so well that I'm almost positive all of us passed. I even skipped less musicianship classes this term than last term! Overall, the course itself was quite useless, but the professor made it bearable, and almost fun.
MUSC 121 – History of Music II, Professor Hedy Law
I am a huge fan of the history of music, since it's so fascinating, but I spent this term dreading going to history. We focused on Baroque and Classical music. The subject matter was quite a bit more boring than it was in MUSC 120, and Dr. Law was not a very effective teacher. You could tell that she knew her stuff, but she didn't communicate well and seemed to think that we were all deaf, so she spent the whole lecture screaming at us. Lectures themselves were really useless, since you could just read the textbook and do perfectly fine in the course. It was split up into a lot of little portions that made up our final mark, including 2 midterms, 3 midterm papers, a group project, a final paper, 10 weekly quizzes, and a final exam. None of these things were worth a huge amount, so you couldn't rely on doing well on a final exam or paper. Overall, I really disliked this course.
MUSC 119 – Introduction to Music Technology, Professor Robert Pritchard
This was one of my favourite courses this term, and easily my favourite music course. We had lectures twice a week, and an additional tutorial once a week. In this course, we covered a plethora of aspects of music technology, including biology of the ear, types of speakers and their setups, and MIDI technology. Dr. Pritchard was a great professor. At first, I didn't think I would like him because of how he treated his class slightly childishly, but by the end of the term he was my favourite professor. We had two worksheets due each week, 3 midterms, a final website project, and a final exam. The workload was reasonable, and it was very helpful and accompanied the lectures very well. This was my highest marking course of the term, and it was the only reason why I didn't hate 8:30AM classes.
MUSC 111 – Intensive Tonal Theory and Form II, Professor William Benjamin
This course was much the same as the theory course from last term. A few people dropped out of the class, so the few of us who still remained became pretty close since we spent so much time together. Dr. Benjamin didn't change at all from last term, and still rambled often and went off on tangents in the middle of lectures. He was very lenient with his homework expectations, and was always available to help if you had a problem. I did fairly mediocre in this course, but I learned quite a bit. This probably won't be relevant, since they're cancelling the intensive theory stream due to Dr. Benjamin retiring, but here's the review anyways! Also, I always fell asleep in class, which was 4 times a week.
MUSC 150C – Concert Winds, Professor Christopher Unger
This was for the concert winds course. We had rehearsals twice a week, and they were two hours each. I really enjoyed going to rehearsal; I could relax since I knew that there was nowhere else I could be at that time. Concert Winds was only about making beautiful music, and Dr. Unger really contributed to that. He was really invested in the ensemble, and did not have unrealistic expectations for anyone. Overall, I really enjoyed this course, even though the level of music was slightly rudimentary for me.
MUSC 182 – Tuba Lessons, Professor Peder MacLellan
I did not like this course. Although I love playing my tuba, there's a limit to how much time I can spend playing it daily. When I was working on homework for 7 other courses, my tuba time drastically decreased. My teacher couldn't accept that tuba wasn't the most important thing for me, so he penalized me for all the time I spent away from the tuba. The quality of the lessons was great, but it was too intense for me, since my focus here in the School of Music is not on tuba, but on composition. Unfortunately, that excuse didn't fly with my teacher, and he would tell me how I should spend more time with my tuba than I should spend composing.
MUSC 107C – Composition, Professor Stephen Chatman
Dr. Chatman was a phenomenal professor. This term, we had free reign with our pieces, and could write pretty much whichever type of music we wanted to. The only restrictions we had were on number of players. Dr. Chatman was incredibly reasonable with requests for help, and we received a few private lessons from him during the course of the course itself, which was very helpful. I really took a lot away from this course, but as a general warning, I would like to mention that it is a lot of work and definitely is not for everyone.
FIST 100 – Introduction to Film Studies, Professor Christine Evans
This film course was fascinating. The lectures were very helpful, and each class we would watch a different type of film. We went through technical aspects of film, wrote a midterm, then switched to learning about different types of films. I learned a lot in this course, and it was great to watch a movie each class. However, the papers and exams were marked very hard, and it wasn't easy to achieve a good mark. At least that's what I thought. However, I was focusing more on my music courses, since those are required for my degree, than I was on the film course. I couldn't give it my full attention. Professor Evans was also really awesome. She knew lots about films, and was incredibly passionate about them as well. Overall, I thought that this course was awesome!
So here's my course review! Hopefully it will help some of you guys understand what university music courses are like! At the moment, though, this summarizes my feelings toward school.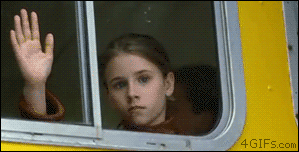 I'll see you all in September (hopefully) and have a great summer!