Holy moly. I'm done my first year of university! After dragging myself through 8 stressful months of homework, papers, exams, and learning, I'M FINALLY DONE.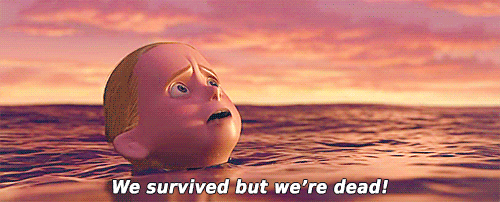 This is pretty much me right now. I've been home for a week, and I'm still trying to recuperate. I'm slowly remembering what it's like to just wake up late every day and make a really delicious and healthy breakfast, and most importantly, how to play my favourite video games. I have one more week off until I start work, so I'm making the most of it.
But anyways! Part of this blog post was to be a course evaluation, but I'm feeling super lazy right now, so I'll do that some other time. But really I'm just here to say how happy I am that I'm done first year uni, and how I'm super happy that I didn't fail any of my courses and that I kept a fairly reasonable GPA throughout the year. And how I already miss all of my friends from UBC even though it's only been a week, which is pretty unfortunate because I only have another FOUR FREAKING MONTHS without them.
It's also pretty cold here in Edmonton. Which sucks.
I'm not sure when I'll get these course evaluations up, but until then, sayonara! I probably won't blog too much during the summer, but I'm sure I'll get right back into it in September. So have a good summer everyone, and if you're a prospective student, then I hope to see you this fall!