Technology in research with and for people with disabilities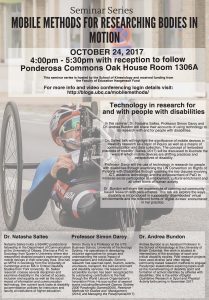 In the third seminar, Doctors Natasha Saltes, Simon Darcy, and Andrea Bundon shared perspectives about using technology for research with and for people with disabilities.
When Dr. Bundon initiated the Mobile Methods seminar series, she had always intended to bring in a session about technology and disability, as she has found that technology can both enable and hinder research. Dr. Bundon shared about some of her projects, including her digital storytelling work. When first approaching digital storytelling, she did so in a way that was ocularcentric, but soon realized there were different ways to do it which would open it up to more people. Similar to digital storytelling, Photovoice is often said to be 'low barrier' and universally accessible, although it may exclude some individuals.
Dr. Saltes discussed 'embodied practices of mobility' (Saltes, 2017) to illustrate the ways in which mobile devices are shifting practices and perspectives of disability as well as how researchers connect with participants and make sense of their experience. Embodied practices of mobility may be carried out via accessing information (e.g. accessible route apps), connecting with others (e.g. texting, photos), and engaging in advocacy (e.g. use of a mobile device to highlight disabling spaces). She highlighted the significance of mobile devices in disability research as both a topic of inquiry and a means of communication and data collection. Dr. Saltes shared about different forms of mobility: physical, sensory and cognitive, belonging, and connectivity.
Professor Darcy used the UN Convention on the Rights of Persons with Disabilities to frame a fascinating discussion regarding the use of technology in research for people with disabilities. He shared about projects involving technology, including private modified vehicles, smart phone technology platforms, and online accessibility. These projects include:
Disability citizenship through mobile technology
Private vehicle access modification market & information
Social Impact of community inclusion for Surf (using go-pro technology)
Disability Entrepreneurship in Australia
Tourism experiences from a blind/vision impaired perspective

Dr. Darcy highlighted that doing community inclusion work is not as difficult as many think it is, a point corroborated by Doctors Saltes and Bundon. Technology created in an accessible way facilitates a sense of belonging. Unfortunately, there has been an over-positive view of what communication technology can do for people and how it might open doors for accessibility because, all too often, accessibility is reactive rather than being considered at the outset.
Using technology in research can improve accessibility. For example, technology may improve participants' access to the researcher and the data. Perhaps technology can be used in such a way that facilitates a sense of belonging for individuals who do not interact in the way a typical normate does. Bearing this in mind, however, we must be vigilant to ensure we do not allow technology to reinscribe patterns of exclusion. Participatory research, or doing research with/for people – be it disabled people or any other group – is a process. It is perhaps a value statement with regard to how you'd like to do research.
Andrea Bundon is an Assistant Professor in the School of Kinesiology at the University of British Columbia. Her work is situated at the intersections of the sociology of sport and critical disability studies. Past research projects have used diverse (and often digital) community-based research methods to engage Paralympic stakeholders exploring topics such as the mainstreaming of disability sport and the formation of activist identities by athletes with disabilities. She is the editor of Digital Qualitative Research in Sport and Physical Activity forthcoming in November 2017. Find Andrea Bundon's work on Google Scholar here
Natasha Saltes holds a SSHRC postdoctoral fellowship in the Department of Communication at the University of Ottawa. She has a PhD in Sociology from Queen's University where she researched disabled people's experience using mobile devices in their everyday lives. She has an MPhil in Sociology from the University of Cambridge and an MA in Critical Disability Studies from York University. Dr. Saltes' research crosses several disciplines and examines disability in the context of access, inclusion and equality as well as the social impact of information and communication technology. Her current work looks at disability accommodation policies for instructors and faculty at institutions of higher education. Read Natasha Saltes' latest paper on 'embodied practices of mobility' here.
Simon Darcy is a Professor at the UTS Business School, University of Technology Sydney. He specialises in developing inclusive organisational approaches for diversity groups and understanding the social impact of organisations and individuals. Simon's research has spanned sport, tourism, events, volunteers, transport, the built environment and disability services. His research and industry collaboration on accessible tourism has been recognised for its outstanding contribution to the field through the World Leisure Organisation's Innovation Prize, the United Nations World Tourism Organization's publication on best practice and the Asociación Española de Expertos Científicos en Turismo best research paper published in 2015. In 2017 Simon presented the Richard Jones Oration for the Queensland Anti-Discrimination Commission examining issues of transport, travel, sport and tourism as it relates to the UN Convention on the Rights of Persons with Disabilities. He is co-author of Benchmark Games: Sydney 2000 Paralympic Games; Accessible Tourism: Concepts and Issues (2011); Best Practice in Accessible Tourism: Inclusion, Disability, Ageing Population and Tourism (2012); Australian Leisure (2013); Research Methods for Sport Studies and Sport Management (2014); and Managing the Paralympiics (2017). Find Simon Darcy's work on Google Scholar here