Cisco IP phones have become the new standard for office
desk phone communication.  These Cisco IP phones uses VoIP (Voice Over Internet
Protocol) technology providing digital wideband audio compare to the old
ATT/Bell analog pots phone lines.  As the result, they can take advantage
of the higher quality sound, thus higher quality wideband headset provided by
the digital VoIP signal – making your voice much natural sounding, rather than
like talking in a "mono" or "tunnel" tone like the old days.  The newer Cisco models such as
Cisco 6945, 7821, 7841, 7861, 7942G, 7945G, 7962G, 7965G, 7975G,
8811, 8841, 8851, 8961, 8961, 9951, 9971
have a built-in headset jack, design especially for a headset.   Furthermore we
recommend using a compatible headset on a daily basis instead of holding the
handset (telephone receiver) on your shoulder and next to your head.  Not
only does this method cause neck and shoulder pain for the office worker, it
also reduce office productivity as shown here in a recent study below.  The
study was done with over 2000 offer workers (ranging from salesman,
receptionist, to tech support specialist) over a 2 week period.  The users
without a headset was compared to users using a Cisco certified headset –
results was based on typing results, typing errors using two hands.  Office
workers using a headsets resulted in less errors.  The overall productivity
results was stunning.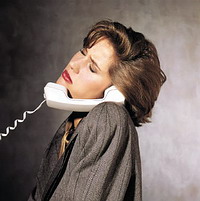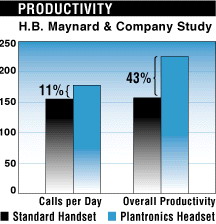 HeadsetPlus.com stock many Cisco certified wideband
headsets ranging from $80 – $300.  From the very affordable wired Jabra headset
(see below) to the more expensive wireless headset model.  The Cisco
compatible wireless headsets models also offer remote answering functions –
allowing the user to answer the phone
call 100ft-300 ft away from the phone, as well as multi device connectivity to Cisco
deskphone, Bluetooth cell phone (like our iPhone), and computer softphone (like
Skype) via the USB port.  So you can use the
same headset onall 3 devices when needed.  For example, when you're in the office,
if your cell phone (i.e. iPhone) rings, you can use the same wireless headset to
answer it as well as use it with any softphone (like Microsoft Skype for
Business) on your PC, and of course use it with your Cisco desk phone.
For a large Call center (or a large office), we recommend
the new Jabra Biz
1500 Cisco certified headset.  It's an entry level headset at the very
affordable price point.  It still a professional grade level headset with a
full 2 year warranty.  So you don't have to worry about the quality or
longevity.  see below picture.

For a wireless headset Solution, we recommend the
Plantronics
CS540+EHS Remote Answer Bundle for Cisco Phones package for your Cisco
phone.  It's an all-in-one package that provides remote answering as well
as wireless roaming.  It's pre-packaged with the
Cisco EHS cable You
never have to be at your desk to answer the phone.  Plantronics CS540 is
the lightest wireless headset on the market today.  It also comes with
attachments parts so you can wear the headset either over your headset as a
headband or on-the-ear.  So you can choose or switch to the style of your
choosing.  Once the wireless headset is fully charged, it's good for 7-8
hours of talk time.  So it's almost impossible to run out of battery during
the course of a work day.