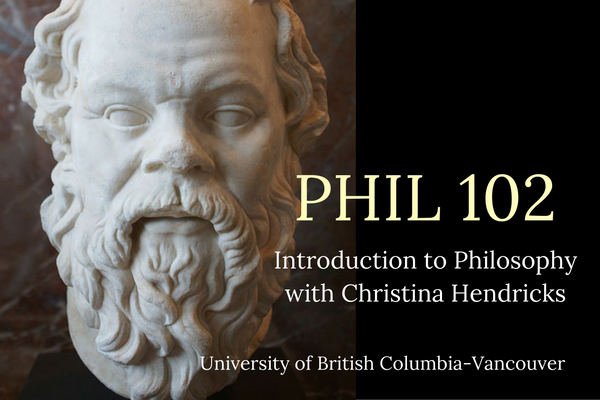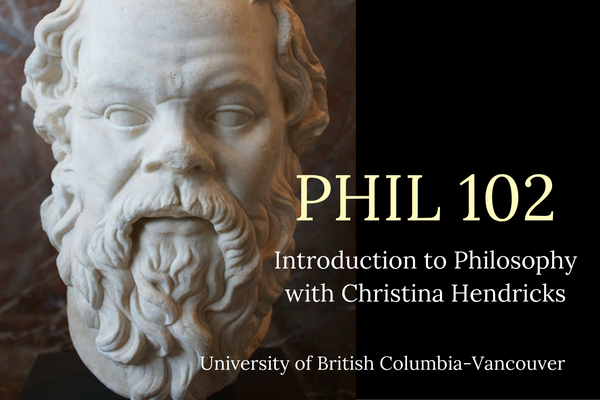 Philosophy 102 at the University of British Columbia, Spring 2017

Introduction to Philosophy II is broadly about "value theory," which includes topics such as ethics, political philosophy, aesthetics, and what is the "good life" for humans. This particular course is focused on asking the question: "Is the unexamined life not worth living, as Socrates claims?" We'll look at what the "unexamined" and "examined" lives are, according to the ancient Greek philosophy Socrates, and consider the possible value of living the "examined life." As this can be broadly construed as doing philosophy, we'll also be looking at the value of philosophy in everyday life.
Syllabus for the course: Please see this page
Collaborative guidelines for the course: please see this page
The Instructor for this course is Christina Hendricks
Christina's office hours for Spring 2017

Wednesdays, 11-12 (IBLC 373, in the Gateway programs space)
Thursdays, 11-12 (BUCH E, 375)
Also by appointment (just talk to me to set up a separate appointment)
TAs for the course (see syllabus (above) for contact info)
— Jiwon Byun
— Kinley Gillette
— Sophia Sideris
Credit for image at the top of this page: Image of Socrates is from: Bust of Socrates from the Louvre, by CherryX, licensed CC BY-SA 3.0, on Wikimedia Commons. This image as you see it here, with the words added, is licensed CC BY-SA 4.0.
Background texture for this site by Vasili Hartikainen, from the Free Web Gallery of Tile-able Website Backgrounds, licensed CC BY 3.0

All content on this site, unless otherwise stated and with the exception of any blog posts written by students, is licensed CC-BY 4.0, Christina Hendricks.