A Report by POLS 300 Students (Polish / English)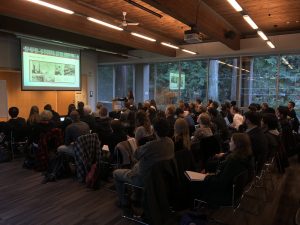 W dniu 6-go Marca, 2018 roku UBC Polski Klub Dyskusyjny miał przyjemność gościć Panią Dr. Ewę Wampuszyc, profesor języka polskiego z University of North Carolina at Chapel Hill. Pani profesor Ewa Wampuszyc przedstawiła wciągającą lekturę w eleganckiej sali instytutu Liu. Tematem spotkania było ,,Od Gruzu Do Retoryki, czyli: Jak Warszawa Powstala Po Wojnie". Wykład fizycznie i teoretycznie nakreślił odbudowę Warszawy po jej całkowitym zniszczeniu pod koniec II wojny światowej. Pani Doktor Ewa Wampuszyc wyszczególniła role komunistycznej propagandy, która istniała w tamtych czasach na rzecz przebudowy miasta i skąd ona powstała. Równowaga wiedzy Dr. Ewy Wampuszyc i stymulujących wizualizacji Warszawy pozwoliły stworzyć przyjemny i akademicki wieczór. Na spotkaniu byli studencii i absolwenci uniwersytetu UBC, jak również ludzie niezrzeszeni z uczelnią. Publiczność była mile zaskoczona i imprezę zaliczono do udanych. Pan Norman, czlonek Polskiego Klubu Dyskusyjnego, powiedział, że: ,,był szczególnie pod wrażeniem eksperckiego portretu polskiej historii, kultury i języka dla zróżnicowanej i globalnej publiczności". Studentka, ktora przeprowadziła się z Polski do Vancouver, jako dorosła juz osoba, zdradziła, że dorastając w Polsce, historia odbudowy Warszawy była w szkole ledwie wymieniana, a wiedza Dr. Ewy Wampuszyc dodała znaczącą głębię do zrozumienia miasta, w którym dorastała. To wydarzenie zostało zorganizowane przez Polski Klub Dyskusyjny przy wsparciu Polskich Nauk, Global Fund, Global Lounge, UBC Tandem i Polskiego Konsulatu.
On March 6th, 2018 the UBC Polish Discussion Club was honoured to host the distinguished Dr. Ewa Wampuszyc, professor of Polish at the University of North Carolina at Chapel Hill. Dr. Ewa Wampuszyc led diverse audience through her engaging lecture In the serene surroundings of the Liu Institute Multipurpose room. The talk was titled " From Rubble to Rhetoric: How Warsaw was reconstructed in Image and Word after the War". The lecture physically and theoretically mapped out the rebuilding of Warsaw in the aftermath of its near complete destruction at the end of World War II. Dr. Ewa Wampuszyc outlined how the perceptions of the rebuilding of the city were framed in the states communist ideology of the time, and how these depictions of the cities rebuilding evolved. The balance of Dr. Ewa Wampuszyc's expertise and the stimulating visuals of Warsaw combined to create a pleasurable and academically engaging evening. The audience included current and former UBC students, as well as numerous members of the community at large. The audience's reception was overwhelming positive and everyone felt that the event was a success on numerous levels. Norman a member of the Polish discussion club said, "he was especially impressed by the speaker's expert portrayal of Polish history, culture, and language to a diverse and global audience". A student in attendance who moved from Poland to Vancouver as an adult shared that while growing up in Poland this history of Warsaw's rebuilding was barely mentioned in school and the knowledge provided by Dr. Ewa Wampuszyc added meaningful depth to her understanding of the city she grew up in. This event was staged by the Polish Discussion Club with the support of Polish Studies, Global Fund, Global Lounge, UBC Tandem, and the Polish Consulate.