Is there a one amongst us who doesn't love Youtube, (not necessarily the site itself, but rather the concept and delivery of 'tube' style user-posted videos), or anyone who would argue that it hasn't brought the world a little bit closer? I sometimes have a hard time recalling what the internet was like before I was able to access unlimited audio/visual content with a few simple clicks and search queries. Allow me to list just a few of my favorite affordances bestowed upon us by youtube:
The pipeline was unclogged! Pre-youtube one would really have to dig deep (often into their pockets) to find anything other than 'fit for print' content. Let's say you love 80s rockers 'The Radiators', and you'd like to watch their music (the one about how to eat shrimp properly). What next? Sit in front of your TV all day watching Much Music or its spinoffs, hoping to get what you want? Maybe you would contact the band members or their manager directly, and plead for them to send you a VHS copy of their videos? Sure, you might stumble upon it someplace or another, but the odds of access and retrieval were slim to none. So instead of relying on Moses Znaimer and his team to provide access, Bill Buckshot in Oklahoma, by publishing his copy to the web, is your new supplier.
Checking the pulse of popular culture. Justin Bieber has 10 million hits in three weeks? That might just indicate certain preferences among users. An upcoming movie posts a trailer for its summer release, but barely makes 200,000 hits? If not many people are willing to invest 90 seconds and $0 to watch a preview, how many people will invest 90 minutes and $10 to watch the whole thing? This takes market research to a whole new level, and if box office betting ever takes off, check youtube before placing your wagers.
Making you a star! 'You-tube sensation' has blurred the boundaries of 'celebrity' status. You don't have Hollywood good-looks? That's OK, just be willing to dance like a monkey in your underwear and you'll surely be a hit.
Feedback on the fly. After you watch a program, it's nice to feel re-enforced by the published thoughts of others who have watched the same program. Conversely, what better opportunity to dissent from the popular opinion, than in the comfort of anonymity?
It's global! Fans of Korean drama, Persian sitcoms or Ugandan socially-conscious rap videos are no longer distanced from their favorites.
These are just a few of my favorite elements of youtube and online video-sharing. There are certainly a few drawbacks, things that youtube doesn't do well (or at least not yet).
Copyright infringement.
Enables slander
Capable of making anyone a celebrity, especially for the wrong reasons…
 Mis-leading titles
Duplication of content = waste of bandwidth
Sketchy video quality (at times)
Potential for exploitation. Does John Smith know what his 15 year-old daughter is doing/saying online? Does he know that 3 million people saw it?
Addictive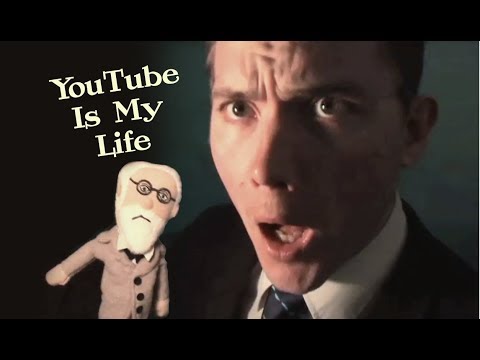 I won't go into too much detail about the negatives, as much has already been said on the issue elsewhere.
Bottom-line, youtube has changed the face of popular culture, business/marketing and scholarly research – purely by taking a pre-existing concept (the video) and making it a social media for all to partake in.  Sounds like a 1.65 billion dollar idea to me.
3 Responses to "You say you don't love youtube? Liar!"
on 18 Jul 2010 at 10:08 am

1

Maggie Hodge Kwan

Hi Shawn!

I really enjoyed this post, especially the point about using YouTube for marketing and for predicting future trends. I'd never before thought about how much information companies could glean from their video views and comments left by users.

You mentioned that a movie trailer's page views might be indicative of how it does at the box office – few video views, few movie goers. Yet there are tons of unprofessionally made videos out there that get hundreds of thousands or even millions of hits – why do you think this is so? You did mention that YouTube is a spot for those of us with non-Hollywood looks, but what else do video makers need to have to attract so many more views than a studio-produced trailer? Maybe we are looking for more real representations of ourselves in the media?

Anyway, again, great post. You brought up a lot of great points that I hadn't considered before!

And as a final note – you mentioned that one of the downsides of YouTube is "potential for exploitation" and that not everyone knows what they, or their children, are doing online. I just read this story on Friday and thought that it might interest you:

http://gawker.com/5589103/how-the-internet-beat-up-an-11+year+old-girl?skyline=true&s=i




on 18 Jul 2010 at 8:31 pm

2

Patricia Foster

Re: Constraint of sketchy video quality

Although it's not as accessible and as well known I prefer the quality of the alternative french video platform "Daily Motion." In Andrew Keen's book "Cult of the Amateur" he expounds the fact that there is so much junk on the internet of poor quality, that it's difficult to sift through it to get at the media of good value to the point that it's destroying or at least weakening creative culture as well as the value we place on it. While the expression of his point may be seem to be a bit extreme, it's well taken in terms of what I've seen in YouTube. Trying to do a search dredges up quite of bit of poor quality items and just sifting through it is a pain. Due to this I find myself going to Daily Motion more often.

Patricia F.
LIBR559M




on 21 Jul 2010 at 1:26 pm

3

Shawn

Thanks for the feedback and comments.
Maggie, I took a look at that link regarding the 11-year old girl. As shocking as it is, the scarier part of it all is that such a situation can unfoldall too easily in everyday teen life without ever going 'viral', with much more dangerous consequences.



Leave a Reply