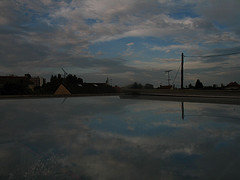 New Scientist reports about the final draft of the American Meteorological Society's carefully worded position paper on geoengineering. The AMS is the first major scientific body to officially endorse research into geoengineering.
From New Scientist:
The document states that "deliberately manipulating physical, chemical, or biological aspects of the Earth system" should be explored alongside the more conventional approaches to climate change. Conventional approaches means reducing emissions – "mitigation" in policy-speak – and adjusting to the unavoidable effect of climate change – known as "adaptation".
The paper states that "even aggressive mitigation of future emissions cannot avoid dangerous climate changes resulting from past emissions. Furthermore, it is unlikely that all of the expected climate-change impacts can be managed through adaptation. Thus, it is prudent to consider geoengineering's potential benefits, to understand its limitations, and to avoid ill-considered deployment".
http://www.newscientist.com/article/dn17490-climate-engineering-research-gets-green-light.html?DCMP=OTC-rss&nsref=online-news
** photo by courambel
Jul 20th, 2009 by Eugene Barsky | No Comments »