Google released a new performance inspection tool for Chrome today called Speed Tracer and I am impressed. It is very similar to the Web Inspector profiling but with an additional slick timeline feature.
Googles description of the tool:
Speed Tracer is a tool to help you identify and fix performance problems in your web applications. It visualizes metrics that are taken from low level instrumentation points inside of the browser and analyzes them as your application runs. Speed Tracer is available as a Chrome extension and works on all platforms where extensions are currently supported (Windows and Linux).

Using Speed Tracer you are able to get a better picture of where time is being spent in your application. This includes problems caused by JavaScript parsing and execution, layout, CSS style recalculation and selector matching, DOM event handling, network resource loading, timer fires, XMLHttpRequest callbacks, painting, and more.
**It is supported for OSX as well they need to update the description**
Example usage:
Using LEAP as an example again because it is a total pig of a site, we can see where Speed Tracer picks up the sluggishness.
Sluggishness is designated by events taking longer than 100ms which is generally when latency is noticed. Starting at 3.13s we had one of these events on the LEAP homepage.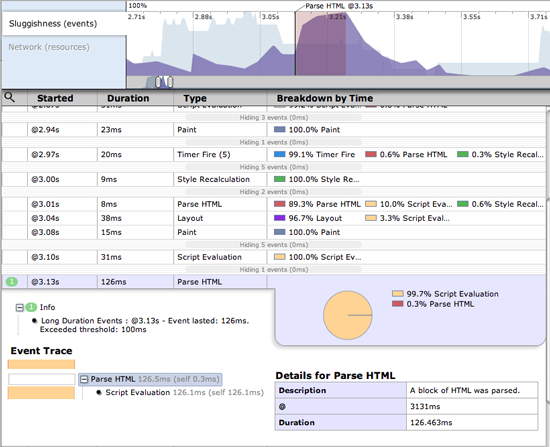 Looking at the Network activity for that range you can see we have some calls to Facebook and Google Analytics which are slowing things down.
I love tools like this because they are great for answering the "Why is my blog so slow?" If the user is blaming the server (and you know it is not the server) and know it's their shoddy web design send them some screen shots from Speed Tracer showing them their bottle necks.
Google Speed Tracer Intro: