Today we implemented probably my favorite new feature on UBC Blogs. It's not a sexy plugin like the Section Widget which is very cool and useful for someone trying trying to make a WordPress/CMS , but is is a VERY useful and VERY MUCH needed Add User feature on blogs.ubc.ca. If anyone has tried to add more than one user to a blog on our setup they know what I am talking about, for those that haven't here was the problem. There was a huge bug in our system if someone tried to add a user to a blog that was not already in the system the user would most often not end up in the blog, the problem resulted from the CWL layer and a username/email mismatch. They could add a user to the blog IF they read the instructions on how to add a user to a blog properly on our system (basically ensure the user is in the system then add the exact username and email they signed up with) sounds easy? Wrong 95% of people do not read instructions doesn't matter how many PhD's they have nobody RTFM anymore they just fill out forms and click. So there has been ALOT of support issues especially at the beginning of the term and quite a few unhappy users. We told users about the "Add User Sidebar Widget" to bypass these issues which worked for some but was still too many steps for most to comprehend (amazes me really).
Now with the new Add User site admins can bulk add users either by email or Student/Staff/Faculity ID. By email users receive an invite similiar to the default WordPress Add User if they are in the system they will be added, if not they will be directed to sign up. If the admin uses ID's they will have to tell the user ahead of time to sign up for an account (I expect some problems with this) once the user logs in for the first time they will be added.
I know there are bulk add user plugins out there already but they would not work with the CWL and to be honest I think this Add User functionality is much slicker.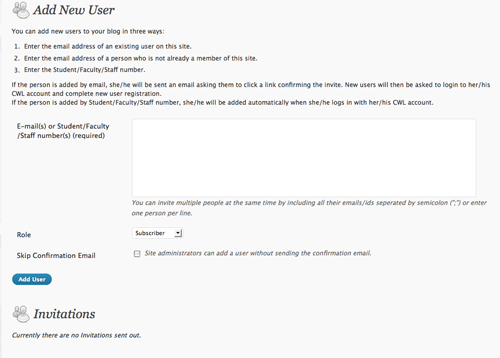 Also we are not connected to the SIS (probably never will be) so this is the next best thing at the moment. Special thanks to OLT super programmers Pan Luo and Godfrey Chan for working on this. This was Pan's first time working with WordPress and he did a great job implementing the new CWL features, Godfrey showed him the ropes in WP plugin development which he is pretty much a master of. The Selenium QA tests they developed for this also make me very happy 🙂