When I wrote this play, I dug deep inside my soul and found issues that I believe really needs to be talked about: racism and cultural identity.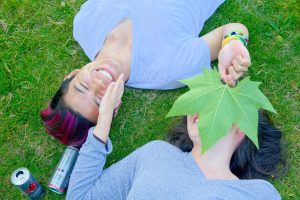 This is what I wrote for the program:  "Many youth struggle with identity at some point in their lives and get stereotyped based on something superficial such as ethnicity. Through the lens of the current generation of youth, Canadian Beer discusses the awkwardness of shaping your own identity when you're caught between cultures, and explores the complexity of prejudice. The main characters, Yusuke and Mina, face conflict, confess truths and learn more each other and themselves. Their feelings are relatable, and their bickering friendship realistic, funny and adorable. " 
I hope that audience members can take away a message that discrimination, particularly racism, is complex and the way you interact with others is influenced by who you are and your own experiences. I hope that 'Canadian Beer' makes people think about racism and cultural identity in a new light.
My play will be part of Eternal Theatre Collective's very first new play festival. Square 1 will be taking place August 15th and 16th, 2016 at Studio 1398 on Granville Island! Square 1 includes four international debut productions by youth playwrights and will boast a cast, crew, design and creative time entirely made up of people between the ages of 13 and 25. Come and check out the immeasurable talents of the Lower Mainland's youth theatre community!