Planners I've used have and planners I've yet to use. Do you have any planner reviews/recommendations? 
Rainbow Dot Daily Diary (www.gomfancy.com)
I'm currently using this gift from a former piano teacher (thanks AL!) . It include monthly plans, daily plans and daily cash balance tracking.
Pros:
Small size that is very portable as it is so small so that it fits in shoulder bags and purse-backpacks
A TON of room to plan out each day which is great if you like to schedule out your day hour by hour. Also enough room that you also write a mini diary entry about something great or funny that happened during the day. It's essentially your planner and your diary.
It looks super cute
Cons:
The cover ripped apart and away from the paper.  I repaired it with tape and copious amount of glue. To be honest, this could be because I'm rough to my planner and take it everywhere but a planner should be able to remain in one piece for more than a couple months.
The monthly calendars were too small for me. No monthly tabs
Sugar Paper Weekly Monthly Planner
One of my best friends, JL, bought this for me (thanks JL!!) and it became my favourite planner ever. Sadly, I was unable to repurchase this because Target Canada, where this planner was purchased, went bankrupt and now there are no more Target stores in Canada. I loved it and highly recommend you buy this planner if you find it.
Pros:
Huge monthly calendars and plastic month tabs
Sturdy – metal rings and hard plastic cover
Weekly plans that give equal space for Saturday and Sunday. Does anyone else get bothered by school-issued planners giving Sat and Sun less space than weekdays? Those are usually my busiest days!
Cons: The notes on the right side weren't that useful to me. Instead, I would make the weekly plans spread over two pages and remove the notes.
Recollections Calendar (purchased at Michael's)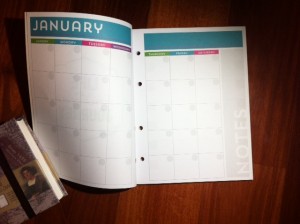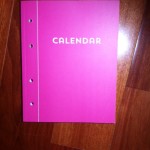 This could possibly be the first planner I've purchased for myself. It was inexpensive. I will start using this in September.  I've been so fortunate to have amazing friends who know how much I love my planners and gift me cute planners.
Pros:
Huge monthly calendar
Relatively thin and light
Undated monthly and weekly spreads, which I think is nice but some people don't like
Cons:
Cover is not durable because it's only made of paper. Likely need to laminate or protect with washi tape.
It's very plain so will need embellishments. That's fine for me because I'd rather personalize it myself than get it already decorated.
I will Fancy Co., Ltd 365 Days Diary (Local Dollar store)
My mom actually bought this for herself but didn't up using it and gave it to me. The 365 days Diary is composed of monthly calendars and daily plans.
Pros:
Small size and light
Planning every day will feel very special when you use this beautiful planner. Each day has a different quote and/or artistic drawing or photograph. Most of the art is related to travel and Paris.
Daily plans are half lined and half blank, which give you a lot of freedom.
Comes with thick elastic band to keep planner closed in your bag
Cons: Monthly calendars are way too small for people who like to use monthly calendars.
Artbox Monthly Planner – Basic Scheduler
A lab partner turned close friend, SYP, gave this to me when a classmate ripped the planner I was using in half. She's also a fellow planner fan but prefers daily/weekly plans over monthly planners. She said she was never going to use this because she does her monthly planning on her cellphone. However, SYP was probably just being a sweet friend.
Pros:
Light, thin
Big monthly spreads
Cons: No weekly or daily plans. Not enough space if you have a lot of To-Dos. If university life turns out to not require much daily/weekly planning, then I'll use this planner when I'm done with the Recollections one. For first year, a weekly planner is better because if I don't use all the planning room, I can write down anecdotes to remember first year better 🙂
Ban.do 17 Month Classic Agenda "I am Very Busy" (Bought at Chapters)
My best friend M recently started using this planner. This video is from her.
Pros:
Very aesthetically pleasing – this planner is cute enough to be considered a fashion accessory
Large weekly spreads
Cons: More expensive than my planners but the pages seem to be of higher quality. You get what you pay for.