Michael Kors is a high-end brand known for producing and designing luxury accessories and clothing. They are particularly distinguishable by their popular hand-bags. Recognize?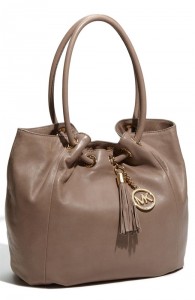 On Saturday, November 26 2011, Michael Kors launched a new Facebook campaign called Bag Alert! Established street-style bloggers are asked to photograph real women they see carrying Michael Kors bags. As mentioned in Wright's blog, the campaign was driven by an effort to engage and interact with their Facebook community, as well as to increase digital presence.
This campaign was a huge step outside of Michael Kors' typically limited marketing strategy; however I think it was a risk worth taking that will see large returns both financially and in terms of building long-term customer relationships.
Nevertheless, with every new venture, there are potential risks. It is plausible that some consumers may perceive this campaign as a negative in that it detracts from the company's image of being high-end. Interacting with customers via social networking sites, however, has become such a norm that it is unlikely that it will do so.
If you think of Michael Kors' and its main competitors – Burberry and Armani, even other high-priced brands like Louis Voutton – they all have traditional touch points consisting of print ads in fashion magazines, fashion shows, and designer 'look-books,' but rarely anything that allows for interactions with customers. Thus, with the launch of this campaign, Michael Kors is setting itself apart.
Coming across this campaign, I was really excited! I am a huge fan of MK and I love that they are trying to connect with consumers on a more personal level. It is incredible to see the influx of brands capitalizing on online direct marketing strategies to pull in their customers!
Michael Kors stated that "social media is now part of the brand's DNA."