About Us
Our group consists of six members from the faculty of Land and Food System at UBC. We are all studying different majors, working in different fields and holding different specialties. Yet, we all have one big dream – to make Vancouver a better place to live. In the fall of 2016, our group is collaborating with CityStudio and the City of Vancouver in an ongoing project, which aims to increase waste diversion rates at community centres in Vancouver.
---
What are our common interests?
In our group, each member is interested in food system sustainability and waste management, hense being LFS students. Especially living in such a big city like Vancouver, we want to all be part of the solution to a daunting problem we face here. As mass amounts of waste are generated everyday, we hope to learn what we as community members can do to reduce landfill waste, increase recycling and make Vancouver the greenest city.
What are our group goals?
As a group, we hope to combine our unique backgrounds, experiences and perspectives to plan and implement a successful project which will give valuable information and data to our community partners for the future. One important goal is to work cohesively as a group and help each other's learning by sharing ideas and maintaining an open and welcoming collaborative environment. More specifically, we hope to obtain valuable data on waste diversion rates at Killarney Community Centre, and discover the effectiveness of the new waste management decals designed by CityStudio and the City of Vancouver. In order for our project to be successful, we hope to design effective data collection methods and even find additional ways that the City of Vancouver could improve it's waste management program. Overall, our goal is to plan, implement and create a straightforward and informative analysis that will further contribute to progress the overall goal of a greener Vancouver. We are excited to be a part of the City of Vancouver – Put Waste in its Place project as we feel it is very applicable to our own lives, and will give us a chance to directly connect with our community and, hopefully, contribute to a greener Vancouver. 
In addition, we are also interested in applying the concept of Asset-Based Community Development (ABCD) approach in this project. Mathie and Cunningham (2003) believe that ABCD can be an alternative approach to the usual needs-based approach that focuses on the problems. This approach focuses on encouraging and empowering community members to "create and seize opportunities for sustainable development, and to claim and retain the rights and entitlements of state and global citizenship" (Mathie and Cunningham, 2003). Rather than focusing on the problems and needs, we are trying to focus on the strengths of the community. We are trying to promote change by applying the concept of "lead[ing] by taking a step back" in order to encourage the communities of their capabilities (Mathie and Cunningham, 2003). We are trying to observe if there will be a behavioural change with the addition of decals added onto the front of the bins, particularly appealing to children by making it easier for them to see examples of the correct items that go into each bin. Then, we will be able to find out if the decals will improve the waste diversion rates at Killarney Community Centre. After, we can analyze the data obtained to determine whether this is an effective strategy for reducing food waste to create a greener community. 
What we wish to gain from the LFS 350 experience?
In participating in LFS 350, we hope to apply skills that we have learned through the course in a community setting through our Zero Waste project. We also plan to connect what we learn in LFS lectures, readings and discussions to our specific project, and use those skills to implement our project in meaningful ways. In collaborating with each other, we hope to gain unique perspectives to the LFS course, as we all have different interests within the context of the course.
---
Meet the team!
Joshua Sungkarto
Hello, my name is Joshua! I was born and raised in the bustling city of Jakarta, Indonesia, where people are too busy to sort their garbage. I enjoy cooking, and have learned to throw organic waste in a special organic bin in the kitchen since I moved to Vancouver. While I am not cooking, I usually play guitar, watch movies, explore beautiful places in Vancouver, or try new places to eat! When I am not doing my hobbies, I spend most of my time in UBC. I am a third year student majoring in Food, Nutrition, and Health interested in the science of processing food. Besides learning about the science of food, My time in UBC also helps me to be more aware of food sustainability issue. Being able to team up with the City of Vancouver and CityStudio to make small steps towards making zero waste in Vancouver a reality is a great opportunity for me to turn my awareness into real action. I look forward to learn what we can do to better manage our food waste and make our food system economically and environmentally more sustainable in this project!
Linda Phan
Hello! My name is Linda Phan and I am a 4th year student majoring in Food, Health, and Nutrition. I was born in the lovely town of kitchener, Ontario but I consider Vancouver, BC my home. My interest in health, sustainability and the environment began in high school, where I got to be part of a leadership program that implemented zero waste days, climate change conferences, garden workshops, and many other environmental initiatives! I love learning, observing, growing, educating and being creative. Therefore, I can connect with "Put Waste in its Place"project because I get to be one step closer to spreading my knowledge and creating innovative solutions to help produce a more sustainable future! Some of the things you might see me doing outside of school and work include running, dancing, playing basketball, hiking, jamming with my guitar and trying new foods! I am excited to be part of the City of Vancouver and City Studio project and look forward to learning more about Vancouver's waste system.
Kayla Tsang
Hello! My name is Kayla Tsang. I am a third year international student at UBC. I'm majoring in Global Resource Systems, with a focus on environmental sustainability and conservation which intrigues me to this project. I was born and raised in my home-town Hong Kong, a small yet dynamic city in Asia where it still does not have a holistic recycling and composting system. Now that I have such a great opportunity to get involved in this project to learn and work on achieving zero waste target in Vancouver, which inspires me to bring this knowledge back home and make my home-town a greener city like Vancouver. I love cooking and sharing food with friends and family. My dream is to run a small coffee shop somewhere in the world and serve hearty comfort food from sustainable food source to people (and puppies) and promote the idea of sustainability to everyone. Small changes leave a big impact as i have always believed. I look forward making small changes and bringing a big bright future to our beloved city with all of you!  
Cheryl Zhang 
Hello! My name is Cheryl Zhang, a fourth year student majoring in Global Resources Systems. I was born in China and went to Universities in both Canada and Japan. According what I have observed so far, the waste management systems in the three countries were exactly different, and people living there also show different behaviours in terms of the waste classification sector. All of my observations aroused my awareness that the deep gap of waste disposal still existed between developed and developing countries. I began to think about how to decline the waste and make our environment better. That is the reason I chose this project. I hope I could seek a better way to manage the waste efficiently for people not only living in Vancouver, but all around the world. I am looking forward to enhancing both my academic and networking skills by doing this project with this group!
Jean Tan
Hello, my name is Jean! I am 20 years old and in my third year at UBC in the Food and Nutritional Sciences program. I have lived in Coquitlam, BC my entire life. I am a foodie that loves to explore new places to eat around Vancouver and I love trying new things! I also enjoy music, reading novels, watching TV shows, and hiking. I was initially intrigued by this project because of what I have learned in previous LFS courses already taken; in particular, LFS 250. It was not until I started university at UBC that I really began thinking about topics such as sustainable food systems and how all of the aspects of sustainability are all related to each other. I did not really consider food waste as being such a crucial component in sustainable food systems, but I now have a better understanding of the significance and the impact of food waste. Therefore, I am excited to work on this project with City of Vancouver and CityStudio as I am very interested in efforts that will potentially help reduce food waste to create a more sustainable community.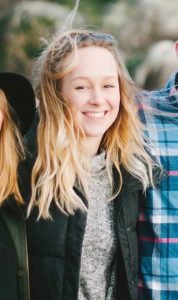 Emma Clark 
Hi! My name is Emma Clark. I am a 21 year-old, fourth year student in my first year of the Dietetics program at UBC. I am from Kelowna, BC, and completed my first 2 years of university at UBC-Okanagan studying general sciences. I have been living in Vancouver for almost a year, and have been loving the big city life so far! My interests include food (of course), art, music, volleyball, photography, hiking, and just being outdoors. I also love working with children and hope to incorporate that into my future career. I am very excited for our LFS 350 project, as I am interested in learning about the steps we can take towards a more sustainable food system. I grew up recycling, but never really connected to the true importance of it. Now, being in LFS and learning about the importance of sustainability, I can recognize and appreciate the intricate aspects of the food system, including food waste. I believe that achieving zero food waste is a huge step towards promoting sustainable lifestyles and being more aware of our own global footprint. For these reasons, I am excited to be a part of our group in working towards a local goal, which will lead to global results. 
---
We are very excited to go to our first site-visiting in Killarney Community Centre on Oct, 7 2016. More blog posts will be coming up soon. Stay tuned! 
References
Mathie, A., & Cunningham, G. (2003). From clients to citizens: Asset-based Community Development as a strategy for community-driven development. Development in Practice, 13(5), 474–486. Retrieved through the UBC Library Website.