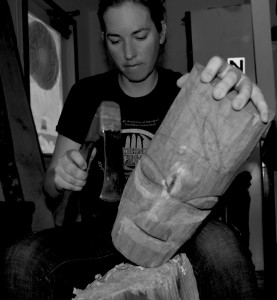 Jennifer Wolowic completed her PhD at University of British Columbia in December 2016. She received her Masters from the same university and graduated from San Francisco State University with a BA in Film Production and a BA in Anthropology. Originally from Northern California, her research explores the affective nature of First Nation youths' social networks and how film can be used to create new representations of those usually only represented through a criminalizing gaze.
Her dissertation explored the appropriation of Facebook by the Nisga'a and Tsimshian in Prince Rupert based on their experience with other forms of technology, cultural values, and ongoing impacts of colonization. As an ethnography of technology use, youth and cultural continuity. Within the thesis she discusses the objects and protocols visible in the Northwest Coast potlatch system as a means to outline the history of media used by First Nations peoples and their ideology.  She argues Facebook use in Prince Rupert is influenced by long standing First Nations' cultural practices and the more recent repurposing of short wave radio technology. The use of Facebook by First Nations is motivated by the importance of witnessing and the desire for extensive families to remain connected. Today, Facebook use supports and adds to already existing social gatherings that support extensive social and supply networks that keep urban and reserve communities connected.
She's twice received the American Anthropological Association's Society For Visual Anthropology Award for Best Student Work. Most recently for her film "For Our Street Family" made with the Prince Rupert Friendship House and the youth who attend its teen drop in center. She returned to Prince Rupert in 2011 to continue her PhD work following a cohort of First Nations teens as they transition into adulthood. A project currently titled Sumaxs Affect. She is currently writing her dissertation.
She is also the Managing Director of the Stigma and Resilience Among Vulnerable Youth Centre and volunteers on committees for the city of New Westminster. She is also an avid road cyclist and triathlete, having successfully made a swimming escape from Alcatraz.