Reading through a recent article about tobacco regulation in Australia on The Economist, I believe Australian has done some sort of efforts to reduce the demand for tobacco. However, the recent policy seems terrible. It requires every producer to have the same packs. This is nothing, but seems that the packaging departments gets nationalized. Although I disapprove the sales of tobacco, this is a bad idea because it will loosen the competition in the markets. For same packs, confusion may occur and sales may be mixed up.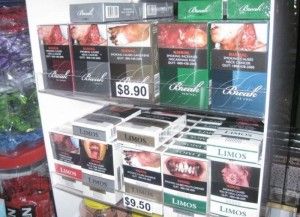 Instead, why doesn't it keep the current packaging rules, just like Singapore. The rules require firms to have images of serious problems associated with tobacco labeled on the pack. This is an effective policy as it creates anxiety in consumers before they decide to buy a pack of cigarettes. Moreover, Australia should follow what Singapore has been successfully doing by raising the tax higher (i.e 69%) and introducing a price band within which tobacco can be sold.
This will still create a fair market for producers but also ensure that the price band is high enough to give consumers an incentive not to continue buying cigarettes.
Source: http://www.economist.com/news/business/21566682-cigarette-makers-will-weather-spread-plain-packaging-laws-look-what-theyve-done-my
Leave a Reply