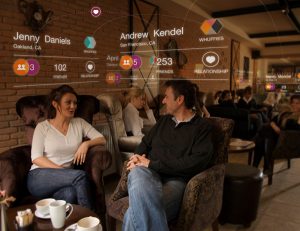 It is believed that in 2018 many companies will be incorporating Augmented Reality (AR) into their social media. When discussing technologies, Virtual Reality (VR) and Augmented Reality (AR) are often mentioned simultaneously. And quite often they are discussed interchangeably, despite all of their differences.
What is Augmented Reality (AR)?
AR adds digital elements to a live view often by utilizing a camera on a smartphone. It transforms your existing environment by enhancing digital information to your line of sight. AR is integrated and developed into applications and used on smartphones to blend digital components into the real world in such a way that they enhance each other. AR technology is gradually becoming quite common now and soon it will become mainstream. It is used to display score overlays on telecasted sporting events, 3D emails, text messages, photos on smartphones.
What is Virtual Reality (VR)?
Whereas, VR is an artificial, computer generated simulation or recreation of a real life situation or environment. VR uses a 360-degree video to move from your current environment to a new digital world. The VR experience submerges the user by making them feel like they are experiencing the simulated reality firsthand, by simulating their hearing and vision. VR is achieved by using a headset like device such as Oculus Rift, Sony PlayStation VR and HTC VIVE.
AR is predicted to result in more spending by 2022; it is picking up the pace quite rapidly. More companies and brands are showing importance in incorporating the technology, while others are already setting precedence in the industry.
So what does this mean for companies and social media?
Since many people globally rely on social media, companies use social media to advertise products and services, and use it a way of communication and feedback with their customers. Many brands are continuing to utilize social media in its traditional ways, however companies such as L'Oréal, Apple and Google have been experimenting with AR and investing heavily into the technology to stay ahead of the curve. The rise of AR will have a huge impact on SEO as well, as the SEO industry always vary according to trends and latest technology.
In the middle of all of this, a completely new market is being generated. Since consumers always want quick and convenient processes, companies are introducing AR ads and methods to bring the actual products to social media consumers. With this new technology, prospect customers can experiment with various products before making the purchase. This will result in more knowledgeable decisions, increase in sales and loyal customers.
Beauty giant L'Oréal has partnered with Perfect Corp, which integrates makeup collections from L'Oréal brands worldwide in the YouCam Makeupp app. This allows the customers to virtually experience makeup collections from L'Oréal brands, learn about the products and shop through the app in-store. This app makes the customer more aware about the product; it allows them to see if this product will suit them before making the purchase. If they like the product, they can purchase the product with a click of a button. This also plays a huge increase in impulse purchases. This is the beauty of combining technology with your business.