The following is a list of resources for teacher candidates (and their faculty advisors) doing an UBC international CFE.
A) INTERNATIONAL PLACEMENTS
Please click this link (or image below) for a list of current international CFE placements.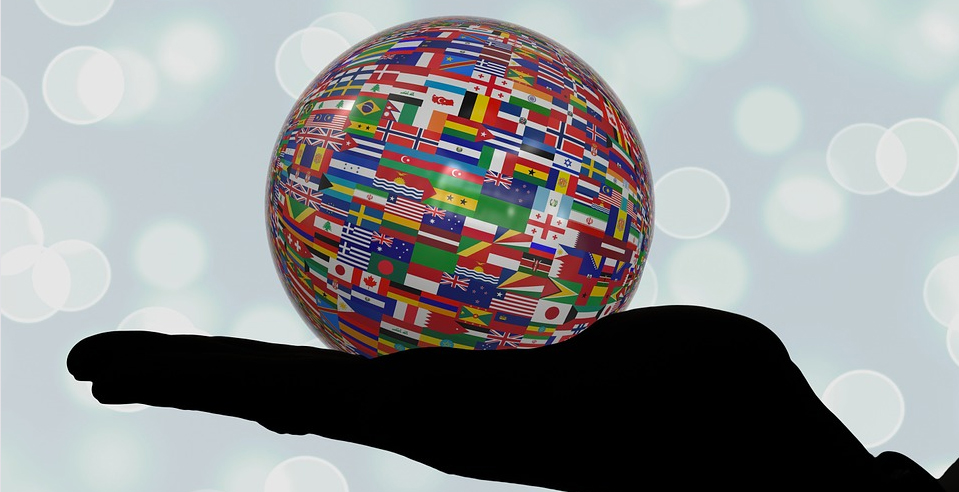 (https://pixabay.com/p-1030552/?no_redirect)
B) DOCUMENTS FOR TEACHER CANDIDATES
The following lists  documents, registration procedures, presentations and 'to dos' that teacher candidates are required and/or recommended to complete before leaving for an international CFE.
1) International Documents:
2) International Registrations:
3) International 'To Dos':
C) PRESENTATIONS FOR TEACHER CANDIDATES
International_Orientation PPT, Sep_2017 .pdf
D) DOCUMENTS FOR FAs ADVISING INTERNATIONAL CFEs

The following lists  documents and templates that faculty advisors can use when communicating with teacher candidates scheduled to do an international CFE and the teacher candidates international partners.
International Partner Thank You Template (for FAs) – MS Word
Accommodation Partner Thank You Template (for FAs) – MS Word
E) COMMON Qs & As FOR INTERNATIONAL CFEs

1) SELF PLACEMENT PROTOCOLS
a) What are the protocols for teacher candidates wanting to contact institutions for international self-placements ?
It is the teacher candidate's responsibility to: contact the potential self-placement partner, introduce the UBC CFE to the partner, discuss expectations for all stakeholders, and request a possible placement. Teacher candidates are encouraged to use the resources  in section B1 to support their request.
For example,  a secondary teacher candidate may include links to, or information from, the Introductory Letter for self-placed Secondary TCs (from CFE Coordinator) and the Summary of Expectations for International Partners, when asking a partner to host the TC's international self-placement CFE.  Often these links are used to add credibility and authority to the request for a placement.
2) ESSAYS, MOTIVATION LETTERS & RESUMES
a) What is the difference between the application essay that self-placed CFE applicants must write during their international CFE registration process, and the motivation letter? 
All international-bound TCs must fill out an international 'supplemental form' (See http://cfe.educ.ubc.ca/international-cfe-application/ and during the registration process, are prompted as per the screen shot below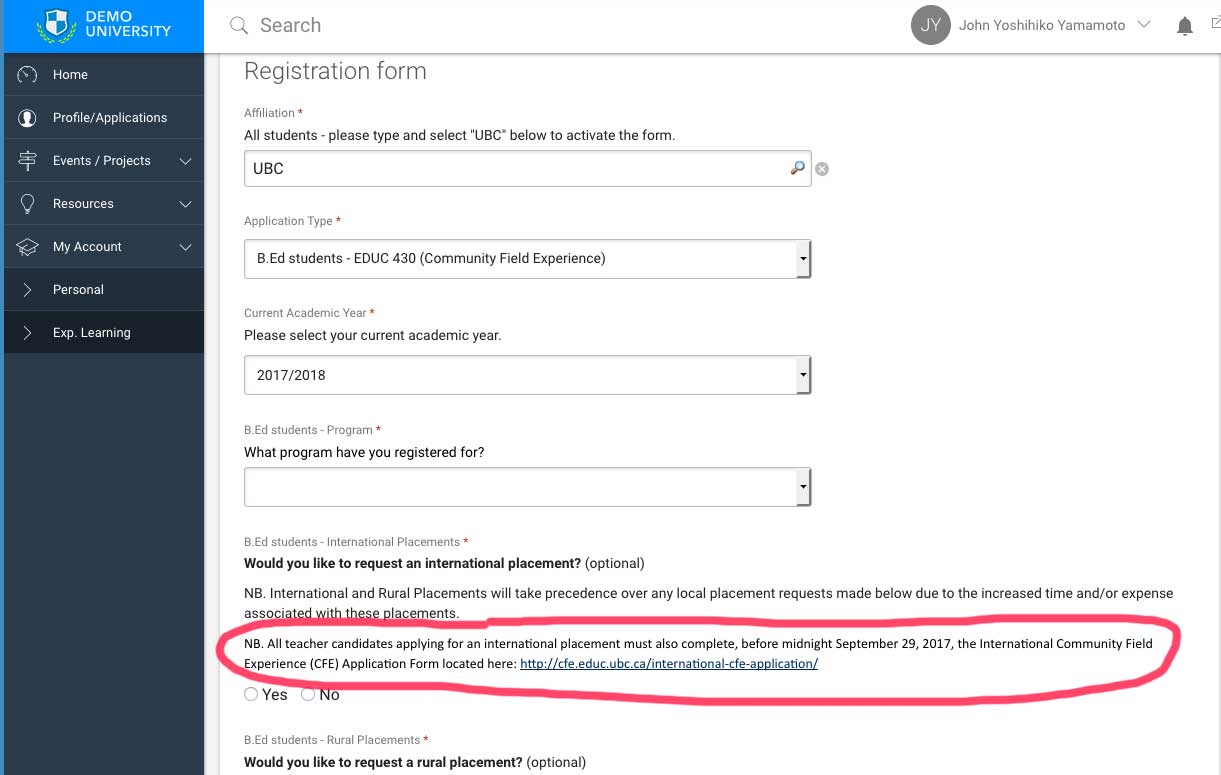 Within this 'supplemental form', teacher candidates who indicate they wish to self place themselves in an international context will be prompted to write an essay  (or application essay) that answers these two questions:
"Why are you a suitable candidate for this experience?"
"What do you expect to learn from your self-placement CFE?"
Important: This application essay is only for self placements.  Once a teacher candidate has written their self-placement application essay, they upload it to our website and then click 'submit' at the bottom of the form.
The application essay is not the same as the letter of motivation. The application essay is for self placements only, is written during the registration process, and helps the CFE coordinator determine if a teacher candidate is choosing a self-placed international CFE for reasons that parallel the goals of the CFE. On the other hand, the letter of motivation is written by the majority of teacher candidates, is written after they have been offered and have accepted an international CFE, and it is emailed to the international partner as part of the teacher candidate's introduction.
In the past, teacher candidates who applied for and were offered a self placement, cut and pasted large portions of their application essay into their motivation letter.
b) What is a motivation letter, how long should it be, and why might a teacher candidate be asked to send one to an international partner?
Some international practicum partners require teacher candidates to write a 'letter of application' or 'motivation letter'.  This letter is usually 1/2 to 1 page long (200 – 500 words) and should give the international practicum partner a strong sense of the instructional skills, knowledge, and attitudes that a teacher candidate brings to the placement and what motivates the teacher candidate to do a placement with them. An example is posted here: http://blogs.ubc.ca/ubcfe/files/2015/03/International-CFE-Letter-of-Motivation.pdf
Information that is often presented through a motivation letter:
the grade level and the subject specialization (Major/Minor) of a teacher candidate's undergrad and 10 week practicum (the subject specialization is more applicable for secondaries, however elementary teacher candidates are also encouraged to mention their undergrad subject specialization/s),
A sense of a teacher candidate's flexibility and initiative as an educator (e.g., is the teacher candidate open to a range of grades and subject areas and if so which ones?),
An idea of a teacher candidate's goals and hopes for a CFE with the partner,
What a teacher candidate would like to see and do while working in the partner's organization/school system,
What a teacher candidate hopes to bring and 'give back to' during their time with an international partner.
Some other things that a teacher candidate may consider (but remember most motivation documents are only 1 page long):
Previous teaching experiences (prior to UBC),
How the organization./school can help meet a teacher candidate's long term goals (and the a teacher candidate meets the partner's goals),
The teacher candidate's philosophy of teaching and how it shapes how and where they teach,
The teacher candidate's desire to work with children with challenges,
The teacher candidate's language abilities and how it might play into the placement.
The international partner uses the teacher candidate's motivation letter (and the teacher candidate's resume – see next question) to place the teacher candidate. Thus the information should give the partner a solid idea of the teacher candidate's flexibility in grade and subject placement (remember most teacher candidates will be asked by their international partner to teach some ESL/ELL), as well as offer concrete ideas on where and with whom the teacher candidate could be placed.
Since teacher candidates are not being evaluated on their instructional abilities during an international CFE, UBC encourages teacher candidates to stretch themselves by observing and teaching in various grades and subjects.  However, teacher candidates are also cautioned to not teach something which they know they are very uncomfortable teaching.
c) Why would an international partner require a teacher candidate to submit a resume? How should the resume be formatted, how long should it be, and what information should the resume contain?
Some international partners request teacher candidates to submit a resume for two reasons.  First, like the letter of motivation, a resume serves as a way for the international hosts to become familiar with the teacher candidate prior to the teacher candidate's arrival.  It is so much easier to strike up a conversation with someone whom you have never met before, but you know a little bit about before their arrival.
Second, international parters use the information from the motivational letter and resume to place a teacher candidates. The resume usually gives our international hosts opportunities to match you up with teachers and/or schools who most closely match your interests, goals, experiences, and CFE grade and subject preferences.
International partners know that  teacher candidates are kept very busy throughout the tightly scheduled UBC BEd program, and thus they may not have time to fully develop a polished and detailed resume.  Since international partners are largely using this resume to place teacher candidates in schools and engage them in related education activities (as opposed to finding teacher candidates jobs), a resume in bullet form listing your education (including completed BEd courses), teaching experience (including practicums with grade levels and subjects), and credentials/volunteer experience, is more than adequate.
Unless a teacher candidate is looking at acquiring a job through their international partner, the resume need only be two pages maximum and in bullet form.
3. MEDICAL and DENTAL
a) Does the AMS student dental/medical plan cover a teacher candidate's medical and dental while on CFE? Does the AMS provide travel insurance?
UBC's student abroad gives teacher candidates an overview of what the AMS/GSS health and Dental does and does not cover. See http://safetyabroad.ubc.ca/insurance-amsgss-ubcsuo.  It is important to note the two following statements on this site:
"If you are authorized to travel to regions where DFAIT has issued a travel advisory level of "AVOID NON-ESSENTIAL TRAVEL" or "AVOID ALL TRAVEL," it is your responsibility to ensure that you have adequate medical and travel insurance coverage while you are away. Note that the AMS/GSS Extended Coverage Plan is automatically void for regions with these advisories".
and,
"What AMS insurance will not cover:
Travel health coverage does not apply to international students traveling to their home country under any circumstances. This coverage depends on your residency status in the home country. If you also have a passport and permanent residency in your home country, any expenses incurred while travelling there are not eligible under the student plan.

You and your dependents are not covered for out-of-province or out-of-country emergency services once you reach age 65

If you are not participating on an academic exchange or internship, you are not able to extend your travel insurance past the standard 120 days. In this case, Pacific BlueCross suggests that you look into purchasing a separate travel insurance policy for the period of travel which exceeds the 120 days".
It is highly recommended that UBC teacher candidates visit the Insurance Learning Module to learn more about choosing the right insurance (including other insurance such as baggage insurance, etc.).
Please note, AMS insurance does not cover trip cancellation, lost/damaged baggage, trip cancellation, flight accident and other losses incurred while travelling.
It is important to realize 1) that insurance policies change from year to year, and 2) that TEO staff/faculty are not trained authorities on AMS medical and dental plans. Thus teacher candidates are required to contact the AMS insurance authorities to verify the credibility of this information and to purchase adequate travel insurance  (use this link to find AMS medical and dental contact information: http://www.ams.ubc.ca/services/health-dental-plan/).
b) Should we take out medical and dental insurance through our international partners?
A recent email from an international partner asking if UBC teacher candidates needed to buy insurance while in their country, prompted a response from Go Global which answers this question, and reminds teacher candidates that they are responsible for having adequate insurance coverage while out of BC and Canada. Here is Go Global's response to he question about purchasing an international partner's insurance plan:
Hello [name of partner],
Thank you for asking the question around insurance as it is indeed very important for students to know. As Keith has said (thank you, Keith, for looping me in), the students at UBC are typically covered under the AMS/GSS Health and Dental plan as long as they haven't opted out. There is a process in which the opting out happens so students should know if they have done so. If they haven't done anything, then they probably do still have the AMS/GSS plan because they pay into it as part of their tuition fees and thus are automatically enrolled in the plan. Any students that are unsure, should call iHaveaPlan to double check by using their UBC student ID number.
The link here to the IHaveaPlan website indicates the coverage students will have during their travel under the AMS/GSS Health and Dental plan. There is a summary of the coverage on our Safety Learning Module for Insurance as well but I would strongly encourage students to read through both sites carefully.
For those that don't have any coverage, they will be required by UBC policy to obtain at least extended insurance. On our Leaning Module, there is also a list of potential insurance providers students can look into if they would like to purchase insurance, as well as a list of questions that would be useful to ask when shopping around.
Note for all students: extended and emergency plans are automatically void without a basic plan so you must be paying for your basic plan in order to keep your extended coverage like the AMS/GSS plan. For more information, please view the Insurance Learning Module.
That being said, students are welcome to purchase the [name of school] plan if they would like and if they feel the coverage would be sufficient for them. The AMS/GSS plan is quite comprehensive so I don't think students will need to purchase the Tec plan on top of that but that is still the students' decision. We do sometimes have students who prefer to have a plan that hospitals in their host country would recognize but they keep the AMS/GSS plan at the same time so there is double coverage. Again, students are welcome to do that if they choose.
I hope that helps and please let me know if you have any further questions.
Best,
[Name of Go Global contact]
4) FLIGHTS and TRAVEL
a) Should a teacher candidate book their flight/s right away?
We recommend teacher candidates do not book any flights until midway through their 10 week certification practicum.  However, if a very good flight price comes available, and you do book the flight, be sure to also purchase 'all inclusive' flight cancellation insurance (insurance that covers you regardless of the reason for cancellation).
b) Should teacher candidates purchase flight/trip cancellation insurance?
Each teacher candidate is responsible for determining if they should accept or decline flight or trip cancellation insurance for their CFE.  However, the TEO also strongly recommends a teacher candidate wait until midway through their 10 week certification practicum to purchase their flight and other prepaid travel costs.  If a teacher candidate feels compelled to prepay for any travel services before then (e.g., flight routes get filled up or there is a very, very good seat sale), the TEO also recommends the teacher candidate purchase 'all inclusive' travel or trip cancellation insurance (insurance that covers them for any trip cancellation reasons).
It is important to note that standard trip cancellation insurance rarely covers trip cancellations of a 'academic nature' (e.g., not being able to move forward with travel to/from an international destination due to not passing and exam, practicum, etc.). Moreover, most inclusive travel insurance rarely reimburse more than 75% of the total cost of all prepaid travel costs.  Thus it is the teacher candidate's responsibility to check the amount the trip cancellation insurance policy will reimburse, and that the policy covers them for any type of trip cancellation – especially of an academic nature.
Finally, teacher candidates are encouraged to review at the BCAA standard trip cancellation policy (http://www.bcaa.com/-/media/BCAA/files/brochures/TI-Policy-Wordings.pdf), as it illustrates how limited standard trip cancellation insurance can be – even in medical situations!
c) Can a teacher candidate leave their practicum early to make their way to their CFE, and/or can they arrive back late from their CFE?
Teacher candidates traveling to Africa or India are permitted to request permission from their practicum faculty and school advisors. Both advisors must give their permission for a TC bound for a CFE in Africa or India.
Outside of these countries, there are also only two circumstances that permit teacher candidates to leave early.  These are explained in the CFE Teacher Candidate Guide. Aside form the exceptions outlined in the CFE Teacher Candidate Guide, under no circumstances are teacher candidates permitted to plan return late to coursework immediately following their CFE.
5) GO GLOBAL's INTERNATIONAL LEARNING AWARD
a) How much is Go Global's  International Learning Award, and how and when do teacher candidates receive it?
The International Learning Award is $593.00 CDN for each teacher candidate doing a CFE outside of Canadian borders. In actuality a teacher candidate first pays a $407.00 Go Global processing fee and then are given a $1,000.00 learning award, leaving them with a net of $593.00.
The International Learning Award fee will be charged to teacher candidates roughly 4 weeks prior to departure, with the award coming soon after the fee has been paid.
Teacher candidates doing a self placement CFE outside of Canadian borders also receives a $593.00 (net) International Learning Award, and they receive it in the same manner.
The only group who receives a different net amount are those TCs traveling to Chongqing. This group first pays a $407.00 Go Global processing fee and then are given a $2,500.00 learning award, resulting in a net award of  $1907.00.
b) How do teacher candidates pay the ~$400.00 Go Global processing fee?
Please be aware that the Go Global International Learning Award processing fee, and the UBC Tuition fee, are processed through two different 'accounts'. Teacher candidates should not pay their Go Global Fee through their UBC Tuition fee account.
The best way for teacher candidates to pay the Go Global fee is directly through their Student Service Centre under Finances > Pay Fees. The system is automatically set up to ensure that fees paid through this method are sent to the correct account.  Please read  Paying the Go Global Fee and How to Pay Your Go Global Fees document for more information and step by step instructions.
Note that teacher candidates will not be able to make payment in-person at Brock Hall, the Go Global office, or their financial institution. Moreover, paying this fee directly through a financial institution's online banking interface only credits the teacher candidate's tuition, and, more importantly, leaves the teacher candidate's Go Global fee  unpaid.
If a teacher candidate accidentally pays their Go Global fee through their UBC Tuition account (either via bank transfer to their UBC tuition account or through a cheque or in-person payment at the Advising Centre in Brock Hall), they must contact Go Global at go.global@ubc.ca to request that the fee be transferred from their UBC Tuition account into their International Learning Award (Go Global) fee account.
c) What happens to a teacher candidate's award if they are unable to proceed to their international CFE?
If a teacher candidate is unable to proceed to their CFE (e.g., due to personal reasons or withdrawing or failing course or practicum), they are required to contact Go Global (go.global@ubc.c) to request a refund of the Go Global fee.  Moreover, a teacher candidate is required to return the International Learning Award, thus Go Global will charge their SSC account the amount of the award granted.
6) UBC's SAFETY ABROAD
a)  What if a teacher candidate is unable to enter all their contact information into the UBC Safety Abroad Registry before the due date (Nov 30)?  For example what if a teacher candidate will not know the exact address of their accommodation for their international CFE until the new year?!

Although we encourage teacher candidates to have as much of the registry completed as possible before the end of November, teacher candidates do not have to have all fields filled in with the exact information before the due date.  However, at the very least, teacher candidates do need to enter into the registry,
their name,
their contact information for the UBC program, and
the country and city of their international  CFE.
For Go Global to be able to identify and advise those teacher candidates whose travels may place them in known areas of risk, teacher candidates must have entered into the registry the destination city and country where they will be doing their international CFE.
b) What does a teacher candidate do if they run into any fields they can't complete (and thus to move forward in the registry?
As your registration in the UBC Safety Abroad registry can be repeatedly saved and updated at later dates, it is recommended that teacher candidates enter in general 'placeholder' information for section they do not have full information on yet. This will allow teacher candidates to move forward in the UBC Safety Abroad registry.
For example, a teacher candidate may not know the name of their international partner's emergency phone number or the address of their international accommodation.  In this case, it is recommended that the teacher candidate add in the CFE coordinator's name, phone and email (e.g., Keith McPherson, 604-822-5069, keith.mcpherson@ubc.ca) as a 'placeholder' for the international partners contact information, and the name of the city and/or country for the teacher candidate's international accommodation address (e.g., Chongqing, China). This will allow the teacher candidate to pass along to the next step of the registry, with the option of  returning at a later date to update the information more accurately.
Keeping this information updated on UBC's Safety Abroad Registry is very important, especially if UBC needs to convey important information to you or come to your aid if there is an emergency during your international placement.
b ) Who do teacher candidates contact if have questions about completing their UBC Safety Abroad registry or logging into the UBC Safety Abroad Modules, or about the International Learning Award issued by Go Global?
If you have any questions regarding the UBC Safety Abroad Registry, UBC Safety Abroad Modules, or the International Learning Award, please email go.global@ubc.ca.
c) When completing the UBC Safety Abroad Registry, what information are teacher candidates expected to enter for: 1) the nature of the student's (teacher candidate's) activity and details of the program, 2) the program 'year level', and 3) the name for the teacher candidate's UBC contact?
Go Global suggests that for: 1) the nature of the student's (teacher candidate's) activity, enter 'field experience' or 'practicum', 2) the program year level enter '1' or '4', and 3) the name of the UBC teacher candidate's contact enter "Keith McPherson".
d) In the UBC Safety Abroad registry, who should I enter as the emergency contact? 
Please use the contact listed at the bottom of your partners international CFE blog entry.
e) How do teacher candidates log into the UBC Safety Abroad Modules?
Log into connect.ubc.ca using your Campus-Wide Login (CWL). Then return to these instructions and continue onto Step 2
Click on the Submit button. You have now been enrolled as a Student into the course.
a) Once you have logged in, you can navigate to 'Course List', where you will find the three themed modules.
b) On the left-hand side of the screen, you will see 'Home', 'Learning Modules' and 'Resources'. You can navigate through sequentially
c) You can also use the 'Table of Contents' on the left-hand side of the screen to choose which element of the module you want to explore. You can bypass the activities by using the arrow keys in the top right-hand corner.
7) ACCOMMODATIONS
a)  Are teacher candidates able to find their own accommodations (other than those recommended by their international partners)?
Teacher candidates are strongly recommended to accept the accommodations recommended or provided by the international partner.
The main issue with a teacher candidate finding their own accommodation is safety. Since a teacher candidate may not know how safe their chosen accommodation and/or nearby neighborhood is, (and how safe the transportation routes to/from the school and their accommodation are), they may be inadvertently placing themselves in an unsafe situation.
It would be somewhat similar to the difference getting a great prices with the Waldorf Hotel on East Hastings Street, Vancouver, and a less than great price on a dorm room in the UBC Gage residence – in this case the less costly hotel is not always the most safe hotel.
However, if the teacher candidate is willing to read, understand, sign and email the CFE program coordinator back a scanned and signed copy of this Accommodation Assumption of Risk form (with the original signed hard copy to be mailed to the coordinator no later than 1 week after the scanned copy has been emailed), then the teacher candidate may find their own accommodation.
8) ASSESSING the CFE.
a) What is the minimum teaching time that a teacher candidate must complete to pass a classroom-based international CFE?
The minimum daily 'on-task' time expected for a UBC  teacher candidate engaged in a classroom-based or school-based international CFE,  is 15 different days, at between 5-8 hours a day. The term 'on-task' time is used instead of 'teaching' time because hours used to plan, hours used to observe and reflect, and hours spent attending to other non-classroom-based  learning activities (such as assisting a school coach, working with specialists, assisting with school projects outside of classroom time, visiting other classrooms, etc.) is also viewed as powerful on-task time that meets the CFE's objectives.
The time spent teaching in a classroom will vary with each teacher candidate and will usually increase as the three weeks progress. For example during the first few days, a teacher candidate will likely be doing more observing, visiting other classrooms, and learning of classroom/school routines and expectations than they will teaching.  However,  by the end of the three weeks many will be doing more teaching (4 to 6 hours a day) than observing.
So to summarize, 1) there is no minimum teaching time that a teacher candidate must complete to pass a classroom-based international CFE., 2) the amount of time a teacher candidate spends teaching is different for every teacher candidate, and is left up to the host teacher and UBC teacher candidate to negotiate. 3) once the UBC teacher candidate has settled in, they should be expected to teach as much as they are capable doing and as much as the host teacher is willing to 'give up', and 4) to receive a 'pass' for the CFE, teacher candidates must be engaged in learning (on site and/or off site) for between 5 to 8 hours a day.
b) What kind of evaluation will the hosting international school teacher have to do with their teacher candidates?  
All teacher candidates have undergone a rigorous and detailed assessment and evaluation of their teaching abilities throughout their UBC Bachelor of Education program. Thus when they arrive at their international school, they have been deemed 'capable as a beginning teacher in BC'. Therefore, there is no expectation for the school to produce a formal detailed evaluation of the teacher candidates teaching abilities.
The CFE focuses on giving the teacher candidates time to explore and teach in different contexts in a manner where they are encouraged to learn from others and apply and develop  their own growing teaching skills – without the worry of formal evaluation. Of course if the host teacher is willing to give feedback to the UBC teacher candidate and the UBC teacher candidate is open to receiving feedback, we encourage this – especially informally.
Having said this, the CFE program Coordinator depends on feedback from international hosts aimed at improving the CFE program. Thus international teacher hosting a teacher candidate are required to complete a 4 question feedback form located here: http://cfe.educ.ubc.ca/community-partners/feedback-form/ It is important to note that this form must be completed for the CFE coordinator to assign the UBC teacher candidate a passing grade for their CFE.